ACUSA PARK is an off road motorcycle ride park at Harrogate in the Adelaide Hills. Incorporating 2 MX Tracks, a Trail Loop and Junior Beginners Area.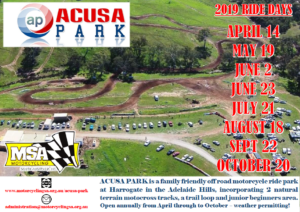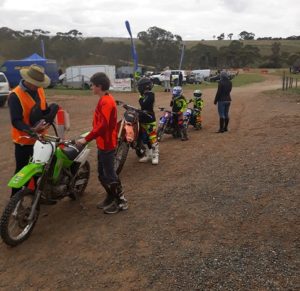 2019 Open Public Ride Day Dates:
14th April –

Postponed

 due to dry weather, new date TBA

19th May
2nd June
23rd June
21st July
18th August
22nd September
20th October
Public Ride Day Information
A series of open to the public Ride Days from April – October will be hosted at ACUSA PARK.
Ride days are subject to weather conditions (particularly when very dry) and dates can be altered at short notice.
Facebook page for the most up to date details.
Come along and ride your bike on the two MX circuits, Dirt Track (If Open) & trail loop.
A schedule for the use of each track will be in place to allow for a fair rotation of rider groups. A small junior training track has been built for the littlies. Bring the whole family, we cater for everyone.
Tracks will be open from 10am – 3pm (gates open 9am) for anyone with a safe and ride-worthy motorcycle. Juniors, beginners & experienced are all welcome. 
This is a controlled and safe riding environment for the whole family where juniors are supervised and separated at all times from seniors.
This is a great opportunity to try out the different tracks. You may even decide to enter an event at this or another venue, officials on the day can advise you how to go about this.
*Full Catering services are available on the day with food and drinks
2019 PRICING: Open to Public Ride Days (Weekends)
ACUSA Park prices 2019
Mini 4 to 7 years of age $15.00
Junior 8 to 17 years of age $35.00
Senior 18 + $60.00
If people want Personal Accident insurance it will cost an extra $15.00
Cash Only
Riders Please Note:
The property will be open for riding from 10am till 3pm. Rain will not cause the closure of tracks, flooding may.

If a Ride Day needs to be deferred due to weather conditions another ride day may be added to the calendar as a replacement. .

You MUST sign in, pay your fees, fit your wristband and have your bike checked wearing your riding gear before riding.

The wristband must be visible at all times when riding and shown to the officials each time you enter a track.

Machines & helmets will be inspected for compliance with the GCR's regarding safety issues for your safety.

A schedule for the use of each track to all allow for a fair rotation of riding groups will be used It is an explicit conditions of the permit that adults and children (under 16) do not share the same track at the same time.

The trail loop is marked. Please stay on the marked track please and do not indiscriminately ride around the property If you deliberately ride off the marked track you will be given one warning, a second offence will result in your exclusion from the property. All traffic on roadways must keep to the 10 KPH speed limit. Remember to STOP and look for traffic each time you cross the access road at the completion of your lap.

Medical Services will be available on site and local emergency services will be alerted so they can render speedy expert care and transport if required. Ambulance cover is a requirement.

 Sorry we are unable to cater for  Quads. 

Total number of riders on the property or each track may be limited if unfavorable hot weather or dusty conditions persists on any given Ride Day. On busy days rider numbers will be restricted on each track and session times can be altered by officials at short notice for safety reasons.

All riders must follow the directions of officials while on the property. Officials have the authority to refuse entry to the property to any person or persons.