Trial is the discipline that develops the skills for all disciplines!
SPORTS MANAGER (for 2020/21); Andrew Warnest, 0410 510 107, projects@motorcyclingsa.org.au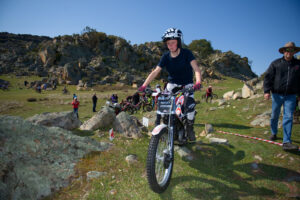 Trial, originally known as observed trials, and also, for a time as moto-trials, is a non-speed event on specialised machines. Trial is often utilized by competitors in other motorcycle disciplines (such as motocross, enduro and even road race) as a way to cross-train, as trials requires fine throttle, balance, and machine control.
Modern trials motorcycles are distinctive in that they have evolved to become extremely lightweight, lack seating (they are designed to be ridden standing up) and have suspension travel that is short, relative to a motocross or enduro motorcycle.
Each event is split into sections where a competitor rides through a natural terrain, or even man made, course while attempting to avoid touching the ground with the feet.  In all South Australian events, the sections are divided into separate courses to accommodate the different skill level of riders, aged 4 to +74 years, who compete in skill-rated classes.
South Australian trials, or Trials SA annually run a 11-12 event winter season, culminating in the 2 day South Australian Trial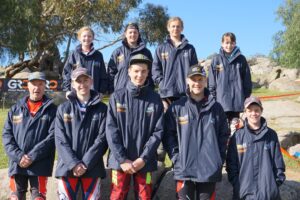 Championship, and are also developing a man made venue at Wingfield (the Junior Development Park) where a summer season series will also be run.
Each year in the Trials SA calendar, there are a number of Come & Try Days, Coaching & Practise Days, and, a number of Special Events, including those for aged bikes (the Classic Trial), 2 sidecar trophy events (the Peter Sparkes & Diener/Holmes) and the SA Women's Cup (for junior and senior girls and women – which has twice been nominated for an FIM Women in Motorcycling Award). Also in the calendar is the 4-5 round TROY Series SA (or Trials Rider Of the Year), which showcases each of the clubs running trial events in SA, and compliments the SA Championship event.
Annually a large contingent from SA travel to compete in the Australian Trial Championships, held in a different state of Australia each year, with 2 official South Australian State Teams selected each year – giving many SA riders the chance to represent their state!
Australian (Championship) senior classes are as follows, with difficulty of sections in descending order;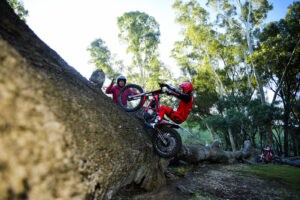 Green line; Trial 1 –

The premier class in Australian trials, with the winner of this class at the Australian Championship being recognised as Australia's best, or Australia #1

Red line; Trial 2 
Yellow line; Youth (13-U19 years), Trial 3, Masters (+35 years)
Blue Line; Women, Trial 4, Veterans (+40 years), Twinshock
White line; Trial 5, Classic
** In regards to the aged classes for bikes (Twinshock & Classic) in South Australia, with small numbers and very well restored machines, instead of forcing the twinshock machines to ride the blue line, they are allowed, as are all riders to choose from the following classes, Historic Blue (blue line) and Historic White (white line)
Australian (Championship) junior classes are as follows, with difficulty of sections in descending order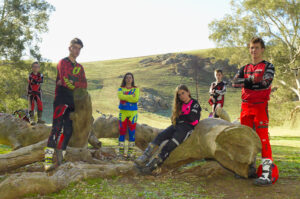 Blue line; Junior 9-U16 years (125cc)
White line; Junior Girls 9-U16 years, Junior 9-U13 years (125cc)
Black line; Junior Girls 9-U13 yrs (125cc), Junior 7-U11 yrs (80cc), Junior Girls 7-U11 yrs (80cc)
Mini Trial; 4-U9 years, boys and girls on small wheeled bikes – and non-competitive)
** In regards the above junior classes in South Australia; as talented junior riders are able to compete in senior competition, SA run a Junior A competition on the white line and a Junior B competition  on the black line to help with rider development (and split into Boys and Girls at the SA Championship event).
Sidecars; As well as the traditional solos, South Australia also has a long and successful history in Sidecar Trial. The competition is run in the same way as a standard motorcycle trial with the only exception being additional ways to be given a score of 5. This involves the passenger, who will earn the competitor a 5 if any part of the passenger's body touches any terrain.
Sidecar Classes in South Australia are;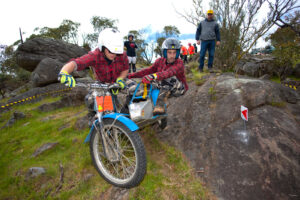 Red/White line; A Grade
Black/Yellow line; B Grade
Run of Section; Classic Sidecar
** A Classic Sidecar is defined by having an air-cooled motor, drum brakes and NO sidecar wheel brake.
In every section, the competitor is scored by an observer (hence the sport's original name) who counts how many times the competitor touches the ground with the foot (or any other part of the body). Each time a competitor touches the ground with a foot (commonly called "dabs"), the penalty is one point.
The possible scores in each section consist of 0, 1, 2, 3, or 5. If a competitor makes their way through the section without touching the ground with a foot, they earn a score of 0 (which is called "cleaning the section"). If they touch the ground once, they receive a score of 1. If they touch down twice, they receive a score of 2. If they touch the ground three or more times, they earn a score of 3—as long as they complete the section without stalling the motor, dismounting, going out of bounds, or going backward. If the competitor fails to complete the section a score of 5 is earned. The winner is the competitor with the fewest points at the end of the event.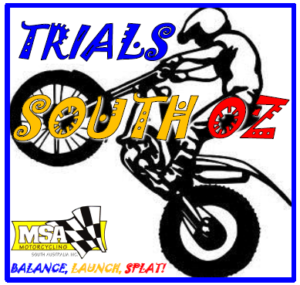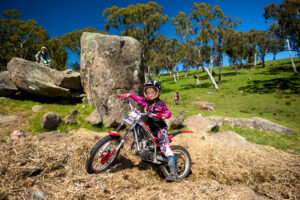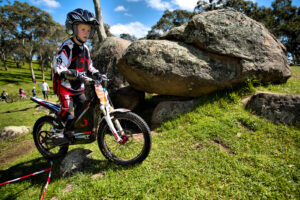 Official Merchandise

Look amazing out there with our Trials SA  Official Merchandise. Mens, Womens and Kids styles available online now.
Looking for a Trials Club ?