It may be said that Motorcycling South Australia (MSA) came into existence shortly after the turn of the century….
…with the foundation of the first motorcycle club in South Australia in 1911 and named it, if not imaginatively then certainly appropriately, the Motor Cycle Club of SA. Its formulation was probably inevitable given that Adelaide Oval had begun to host motorcycle racing only a few short years previously.
Until 1952 all motorcycle sports in South Australia were controlled by the Motor Cycle Club of SA. In September 1952 the Auto Cycle Union of SA (ACUSA), the precursor of MSA, was formed and this organisation, which affiliated to the national body, became the controller of motorcycle sport in South Australia.
ACUSA was incorporated in 1967 and changed its name to Motorcycling Australia (SA) Inc. in 1991. In 2002 the name changed get again to Motorcycling South Australia Inc (MSA) and qualifies as a non-profit association and accordingly is exempt from income tax.
Structure
MSA has affiliated clubs in metropolitan Adelaide, as well as country clubs as far widespread as Mt Gambier, Port Lincoln, Ceduna and Renmark. It continues to be the sole governing body of motorcycle sport in South Australia, and currently consists of 42 affiliated clubs.
Each club provides a Councilor to represent it at MSA general meetings. MSA through its Councilors elects a President, Vice President and two Board members at each alternate annual general meeting.
Under auspices of MSA, each sporting discipline is represented by a Sports Manager which, in turn, has its national counterpart in the form of MA Commissions. Representatives at state level are elected by the affiliated organisations. Each Sports Manager generally meets with a group of Consultants on a monthly basis to determine the direction of their discipline.
As the governing body of motorcycle sport in South Australia, MSA prepares annually a calendar of projected open sporting events for the forthcoming year. These events area allocated to the various clubs according to their applications and availability of dates. There are on average 120 calendared events conducted each year, and considerably more on an ad hoc basis.
Representation
Motorcycle sports which are governed by MSA include Speedway, Motocross and Supercross, Road Racing, Road Trials and Enduro, Dirt Track, Quads and Moto Trials; this governance also includes special provision for junior (4-16 years of age) and historic competition.
Another group in MSA that are not directly involved in competition but which provide an integral and essential supporting role include the South Australian Flag Marshals Association. SAFMA is not an affiliated organisation but works tirelessly to support the MSA sanctioned meeting in South Australia.
Benefits
Co-ordination of competitive meetings at club and state level with the facility for progression to national and international levels of competition
Access to government funding for a multitude of purposes such as the training of coaches, coaching and development of motorcyclists at all levels including those in elite athlete courses, and filling staffing requirements
Access to MSA-owned facilities such as ACUSA Park in the Adelaide Hills
Access to all levels of state and federal government
The strength of numbers where numerical representation may be significant in terms of effecting particular outcomes
The strength of the backing of a National Sporting Organisation; and one of the most important points:
Access to public liability insurance cover which is affordable because its cost is shared by a large membership.
The Motorcycling SA Hall of Fame was established in 2014 to honour the legends and heroes of South Australian motorcycling and highlight their achievements and contributions to motorcycling.
MSA Award Nominations OPEN NOW
Motorcycling SA Hall of Fame Nomination Form. 
Motorcycling SA Life Membership Nomination Form.
Motorcycling SA 2023 Frank Franklin Trophy Nomination Form.
Motorcycling SA Hall of Fame
The Hall of Fame ceremony will be held in late November each year, and will be open to the whole association & public to attend.
Hall of Fame Inductees

JACK YOUNG – 2014; JOHN BOULGER – 2014; MURRAY WILLIAMS – 2014; 
 
ANDY CALDECOTT – 2015; JEREMY BURGESS – 2016; KENNY BLAKE – 2017

BILL HORSMAN – 2018; TREVOR DIENER & PHILIP HOLMES – 2019; GAVIN PORTEOUS – 2021
Motorcycling SA Life Members:
Life membership exists to recognise the valuable contributions of individuals to the current and future existence of MSA.
Life membership is only awarded in exceptional circumstances
Must have provided significant and meritorious service to motorcycle sport and in particular the association.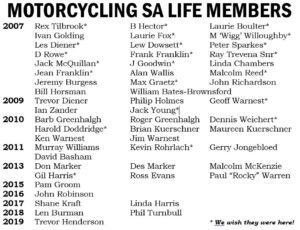 Motorcycling SA Frank Franklin Trophy:
This is South Australian motorcycle sports most prestigious individual award for 'off bike' involvement in our sport, and since its inception has been won by some of SA's hardest working and most unassuming motorcycle identities – and from all disciplines of motorcycle sport as well!  
In memory of Motorcycling SA Life Member, the late Frank Franklin, and donated to Motorcycling SA by the Velocette MCC the trophy is awarded for an "outstanding contribution to motorcycle sport in South Australia."  
To be awarded the 'Frank' truly means that the recipient has made a significant, and lasting, impression on motorcycling in SA. 
Motorcycling SA Rising Star:
The Rising Star award is for junior riders Under 16 yrs. of age
Have demonstrated significant improvement and achievement in their discipline
Demonstrates a trajectory for potential future success (Rising Star of our Sport)
Previous winners of the award ineligible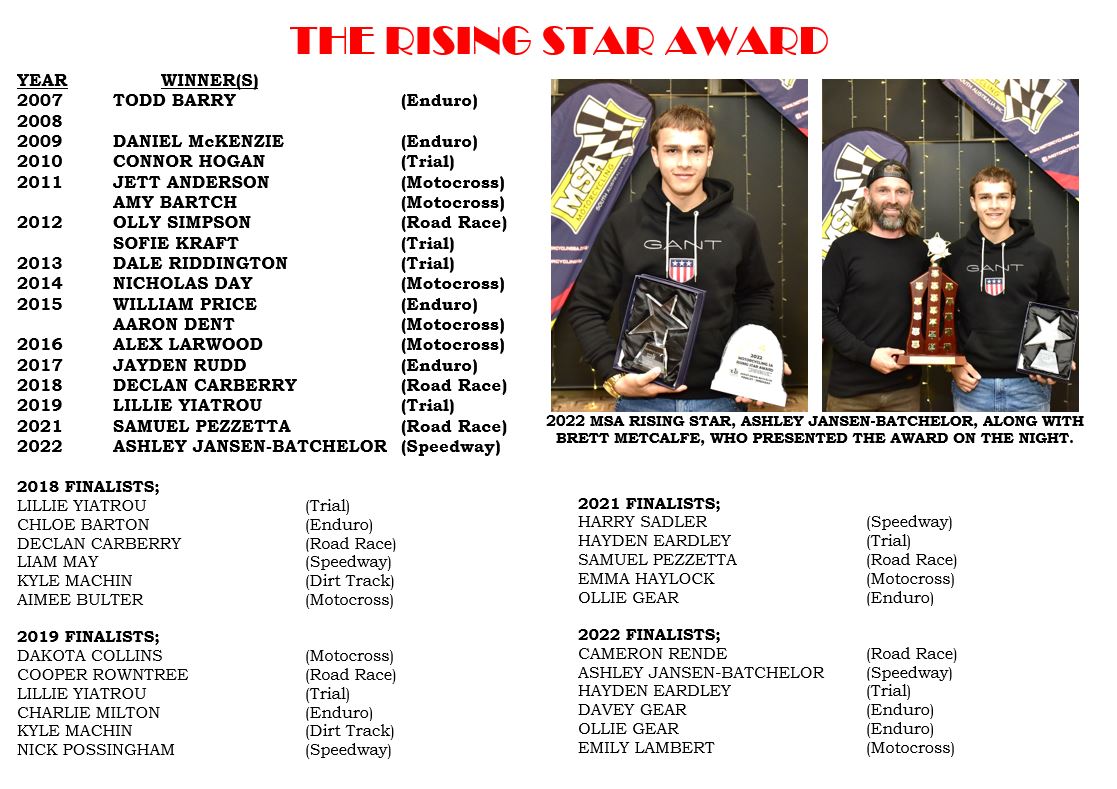 Motorcycling SA Club of the Year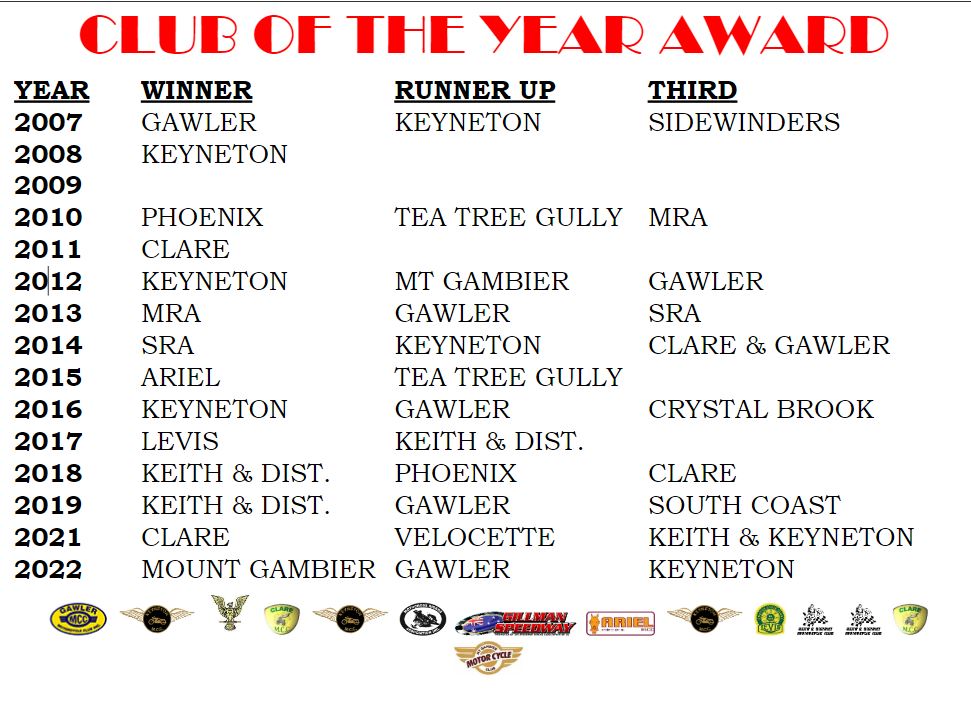 Motorcycling SA Regional Volunteer of the Year
​Motorcycling SA Regional Volunteer Award is an award to recognise the outstanding hard work of our clubs & associations Volunteer from specified areas around SA. Volunteers are the lifeblood of grassroots sport and give up a lot of their own personal time to help run the sport that we all love. Volunteers are dedicated people that not only give up large amounts of personal time, but also can act as positive role models for other club members and riders.