Coaches ensure that our next generation of motorcycling stars are instructed correctly and are more than capable of mixing it with the best Australia has to offer.
With the introduction of the Junior Coaching Program in 2006 a greater emphasis has been placed on coaching and with that it has meant there is a greater need for accredited Motorcycle Sport Coaches.
If you have any questions about coaching please call the office 08 83329000
Local Coaches & Schools:
SM25 Coaching (YAIM) and Off-Road rider safety training

SM25 MX Coaching is operated by retired professional National Motocross and Supercross competitor Shane Metcalfe who has over 30 years of racing, coaching and motorcycle industry experience. Shane is a Motorcycling Australia national accreditated level 2 coach (MX, FMX & SX) based in SA.
Y-AIM cater from beginner to advance riders, one on one OR group tuition available.
Tuition, Tips & Tricks from the best in the business! Take your skills to the next level with SM25 MX Coaching.
Further information, dates and venues for coaching courses can be found online;
---
BANKS Motocross Coaching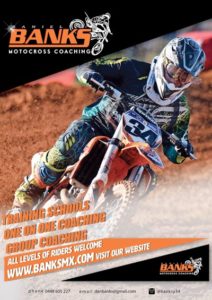 Banks MX Coaching strives to provide a professional and unique Motocross coaching service throughout Australia.
With many years of racing and coaching experience, Daniel Banks uses his extensive race knowledge in developing all levels of riders to be the best they can be. Weather you aspire to be a race champion or just ride your bike at home, Daniel can help riders of all ages and experience to be guided with the correct techniques, the training tools and saftey advice and information to help them achieve their personal best on a Motorcycle.
The focus is on the Key Fundimentals of Motocross that lead to continuing sucess., such as Body Positioning, Race Starts, Jumping, Cornering, Passing Techniques, Race Craft, Bike set up and Maintenance, Kick Start, Licencing and Endorsements.
---
Levi Day Coaching
Coaching aimed at all levels of riders and is tailored individually to each person that books on, to give them as much experience and assistance as possible in the area's they want to work on. From road riders who have never been on track before, to the experienced racer. The things we go through on either type of event is the same, and my goal is always the same, to give you a great day, where you have improved your skill and feel you can be a faster, but also safer motorcycle rider.
Interstate Coaching Schools
OatesMX
OatesMX started in 2012, with only one on one private coaching available at the time, and has since built a proud business running different motocross clinics for all levels of riders all over Australia.
OatesMX aims to coach motocross riders of all ages not only in the safety and skills of the sport, but to train them to become physically and mentally fit, and just as importantly, to enjoy the sport. With the development of Motocross and supercross there is a great need to extend the learning to younger riders and support older riders to change bad habits and create safer, stronger riders.
---