A Come & Try activity is an opportunity for novice riders to come and give motorcycling 'a go' in a low risk, controlled and cost-effective environment at one of our affiliated club's tracks.
Participants must be
4 years old and older
Non-licensed (i.e. not holding or having held previously held any type of annual riding licence through Motorcycling Australia), or
A licenced rider participating only as a mentor or helpers (no racing, no group riding, no practicing).
Participants are eligible to apply for a 90 FREE Introductory Recreational Licence. Each participate receives a pack at the Come and Try day with information on how to apply.
Come & Try Events strictly follow Motorcycling Australia's RPA Guidelines. As such, all riders must be equipped with the below items. If you don't have access to these items, contact the hosting club in advance of the event for assistance.
Clothing –  gloves, long sleeve jersey and long pants. Body armour is recommended for junior riders.
Off-road Boots – constructed of leather or other similarly durable material, and be of a length which must at least overlap the trousers with the rider in a normal seated riding position on the machine.
Helmet – Any of the following approved standards is acceptable : AS1698, Snell, JIS, FIM, ECE.
Goggles/Eye protection
Upcoming MotorcyclingSA Come & Try Days: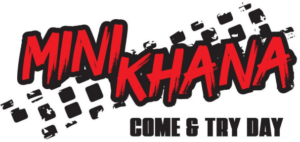 Minikhana Come & Try Days are a Motorcycling Australia national initiative to provide a fun, skills based, low risk, and excellent intro into motorcycling for new junior riders. Unlike in most other motorcycle disciplines, riders are not competing bar to bar, rather competing against the clock and their own personal skills development. These events are a low cost introduction space for kids to practice and improve their skills, and a natural progression pathway into other motorcycle sport disciplines.
While it's expected that most participants should have their own bike and above mentioned safety gear, a limited number of bikes and kits of safety gear are available for use by new riders at each Minikhana Come & Try event, to allow families of young riders who are starting from scratch an opportunity to have a go before they invest in a bike and gear for their child. Booking is essential, and numbers are extremely strictly limited and subject to availability.
For more information, visit the MiniKhana Come & Try Days Facebook page.
2023 MotorcyclingSA Minikhana Come & Try Day Dates
COMING SOON!!!