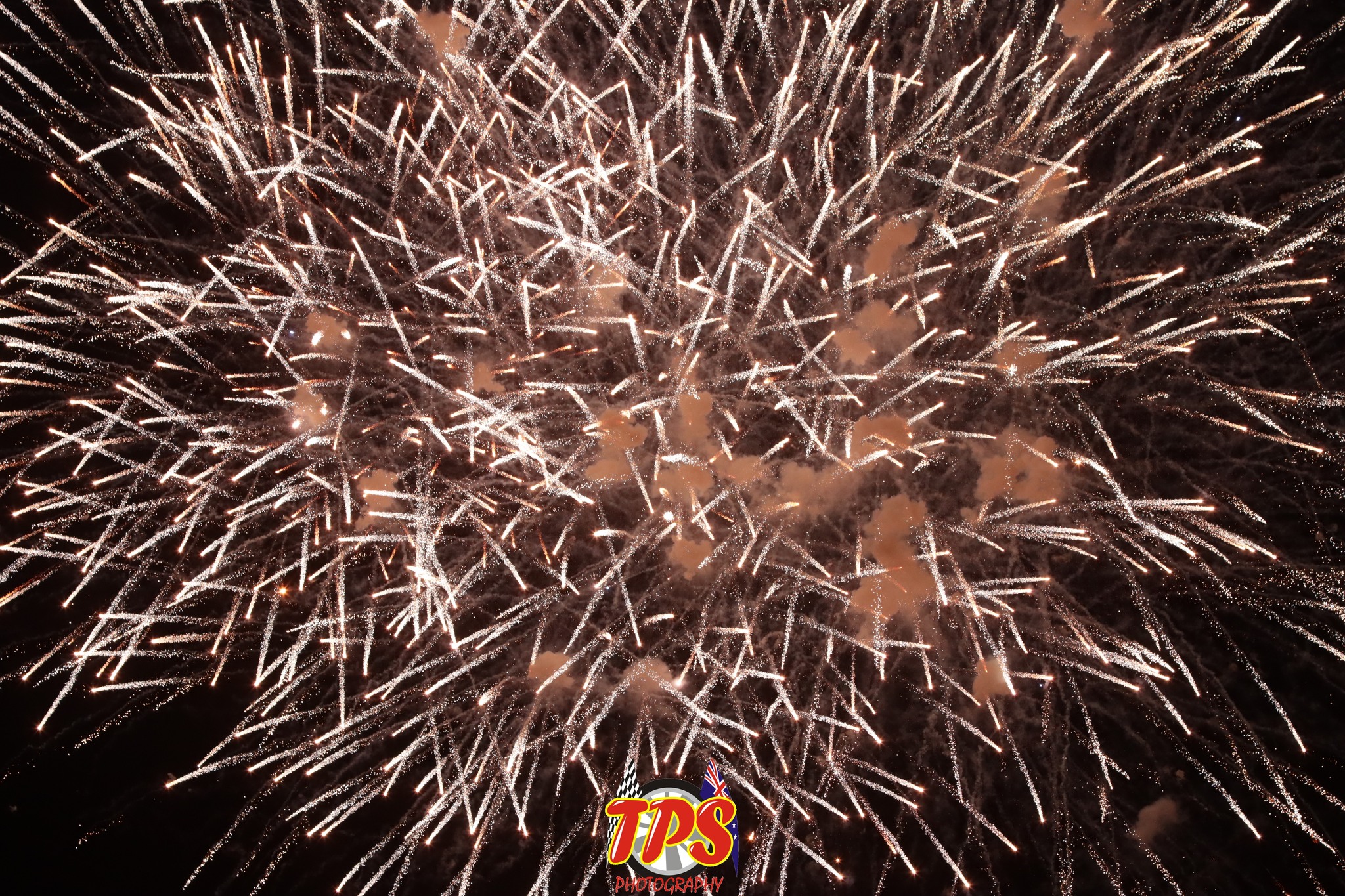 Celebrations and mile stones of this magnitude certainly don't come around every day and the conditions could not have been better last Saturday night to commemorate 100 years of Speedway Racing. This combined with the Sidecar Gold Cup provided a night of memories at Speedway Riders Association of SA.
Crowds flocking to Gillman Speedway to be part of history and celebration, was warmly welcomed by thrills, spills and of course an explosive firework show. All bringing together past, present and welcoming the future of Speedway racing.
The Sidecar Gold Cup was center stage for the night with Tyler Moon / Adam Lovell taking a well deserved, undefeated win. Support categories continued the flow of action with Solos taken out by Brayden McGuinness, Classic Solos won by Steven Graetz, Classic sidecars saw Chris Rae / Jamie Flood finish on top. Dynamic duo Chris Rae / Jamie Flood took out the British Sidecars with Evolution Sidecars Jim Irwin / Jeremy Sherwood finishing the night leading the pack. Young Ryleigh McGregor showed how Junior 125cc Solo's are ridden coming in First and the 250cc sidecars had Lachlan Coppin and Haydon Kuchel bring home the chocolates for the night.
The night was captured perfectly by Terry Scriven Photography and Derick Thomas Photography, with all the photos below:
Terry Scriven Photography Part 1
Terry Scriven Photography Part 2
Full results of the night :-
Speedway 100 year anniversary Sidecar Gold Cup Won Undefeated by Tyler Moon / Adam Lovell:
| | | |
| --- | --- | --- |
| Pos. | Name | Points |
| 1st | Tyler Moon / Adam Lovell | 15 |
| 2nd | Mark Mitchell / Tony Carter | 12 |
| 3rd | Nate Headland / Jaxon Rayner | 14 |
| 4th | Aaron Silvy / Jaron Silvy | 11 |
| 5th | Daniel Puddy / Byron Mordaunt | 7 |
| 6th | Josh Pascoe / Matt Crawford | 9 |
| 7th | Shane Rudloff / Scott Morris | 11 |
| 8th | Kane Golding Isaac Amos | 7 |
| 9th | Adam Pascoe / Axel Brereton | 6 |
| 10th | Willy Walker / Jarred Nash | 6 |
| 11th | Dean Hobbs / Daniel Low | 5 |
| 12th | Tim Bichard / Seth Pascoe | 4 |
| 13th | Nathan Fleet / Cameron Diwell | 0 |
Solos:
| | | |
| --- | --- | --- |
| Pos. | Name | Points |
| 1st | Brayden McGuinness | 17 |
| 2nd | Michael West |  13 |
| 3rd | Tom Dixon |  4 |
| 4th | Teagan Pedler |  2 |
| 5th | Shaun Sampson |  0 |
Classic Solos:
| | | |
| --- | --- | --- |
| Pos. | Name | Points |
| 1st | Steven Graetz | 12 |
| 2nd | Kevin Webb |  8 |
| 3rd | Darryl Christopher |  4 |
British Sidecars:
| | | |
| --- | --- | --- |
| Pos. | Name | Points |
| 1st | Darren Nash / Greg Black | 11 |
| 2nd | Robert Kemp / Nock Johns |  7 |
| 3rd | Dennis Nash / Darren Turne |  4 |
| 4th | Ronny Parker / Mick Sleeth | 2 |
Evolution Sidecars:
| | | |
| --- | --- | --- |
| Pos. | Name | Points |
| 1st | Jim Irwin / Jeremy Sherwood | 12 |
| 2nd | Chris Wakefield / Kate Barnes |  5 |
| 3rd | Wayne Lethbridge / Grantley Simoinds |  4 |
| 4th | Steve Fowler / Tish Matters | 3 |
Classic Sidecars:
| | | |
| --- | --- | --- |
| Pos. | Name | Points |
| 1st | Chris Rae / Jamie Flood | 11 |
| 2nd | Chris Wakefield / Kate Barnes | 10 |
| 3rd | Peter Engels / Angela Macfarland | 7 |
| 4th | Darren Pascoe / Michael Potts | 6 |
| 5th | Wayne Lethbridge / Grantley Simounds | 3 |
| 6th | David Lindsay / Will Perks | 6 |
| 7th | Wayne Lethbridge / Grantley Simounds | 4 |
| 8th | Josh Pascoe / Michael Potts | 3 |
Junior 125cc Solo:
| | | |
| --- | --- | --- |
| Pos. | Name | Points |
| 1st | Ryleigh McGregor | 24 |
| 2nd | Hayden Pascoe | 16 |
| 3rd | William Nichol | 11 |
| 4th | Ruby Chapman | 8 |
| 5th | Jackson McPherson | 1 |
250cc Speedway Sidecars:
| | | |
| --- | --- | --- |
| Pos. | Name | Points |
| 1st | Lachlan Coppin / Haydon Kuchel | 24 |
| 2nd | Seth Puddy / Riley Edson | 12 |
| 3rd | Amelia Silvy / Hannah Silvy | 7 |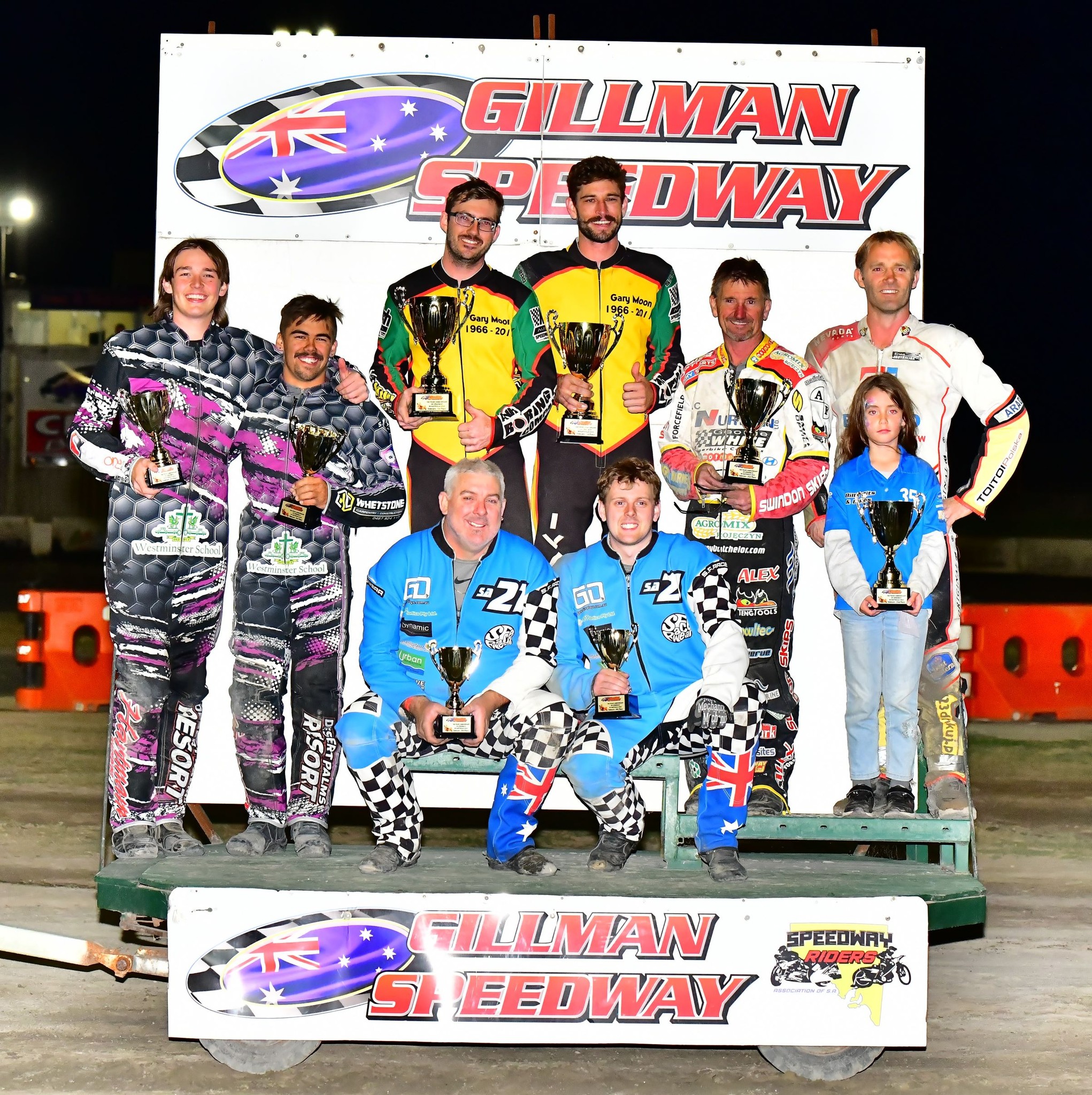 (Above: Sidecar Gold Cup Podium – 📸Derick Thomas Photography)
(Above: Michael West and Teagan Pedler – 📸Derick Thomas Photography)
(Above: Classic Solos – 📸 Terrysproshots Photography)
(Below British Sidecars – 📸 Terrysproshots Photography)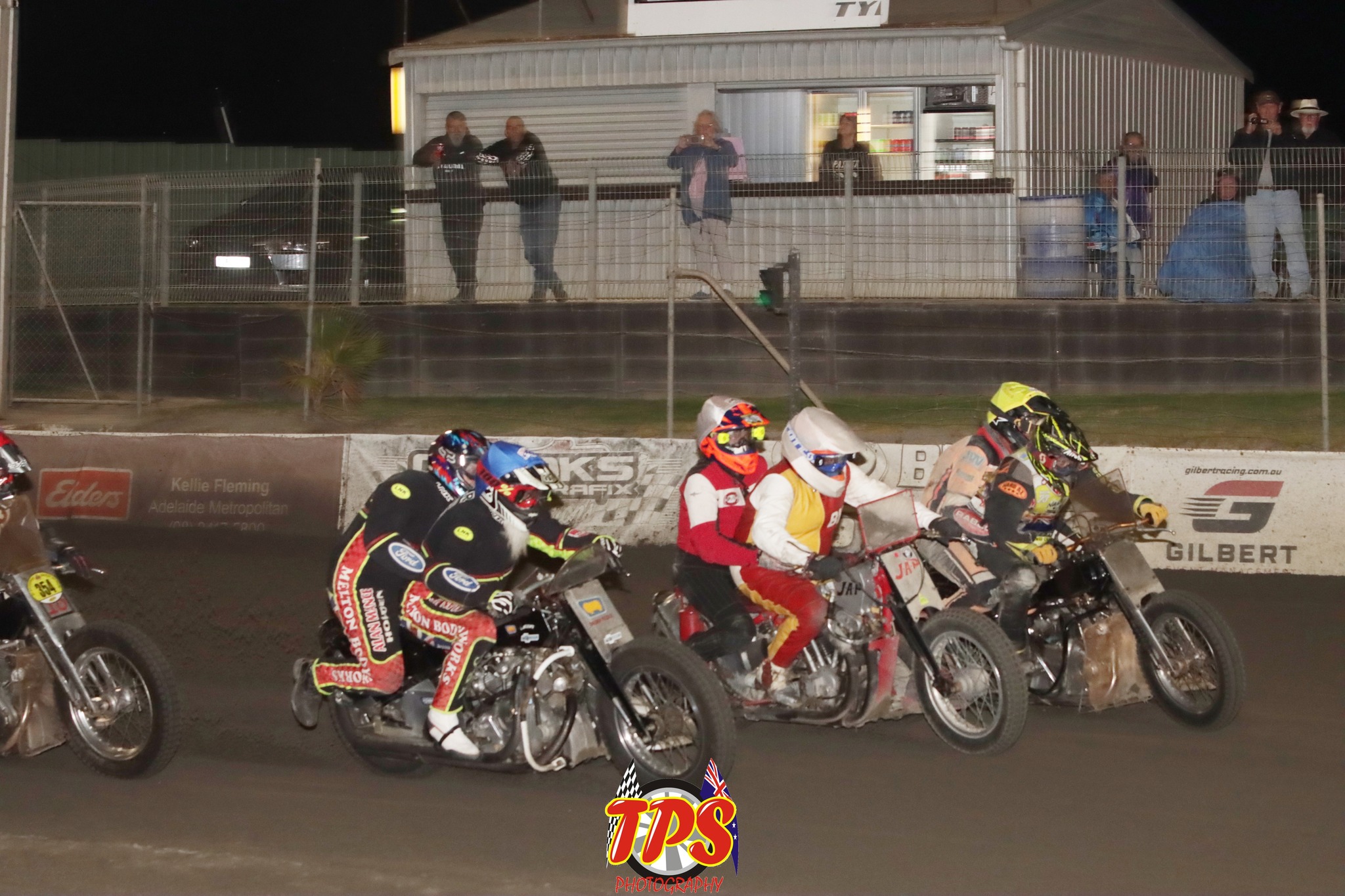 (Below: Evolution Sidecars – 📸 Terrysproshots Photography)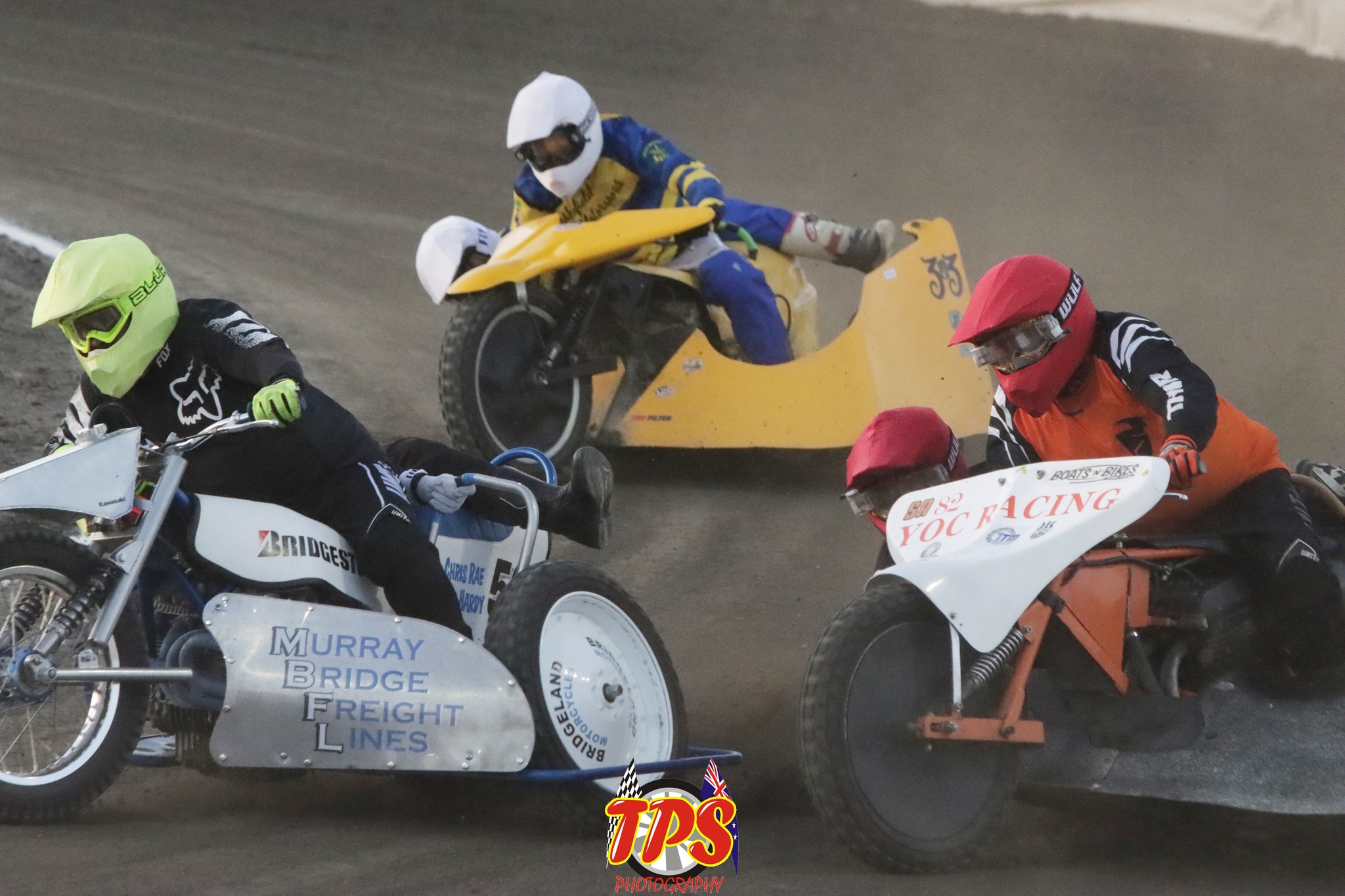 (Above: Classic Sidecars – 📸 Terrysproshots Photography)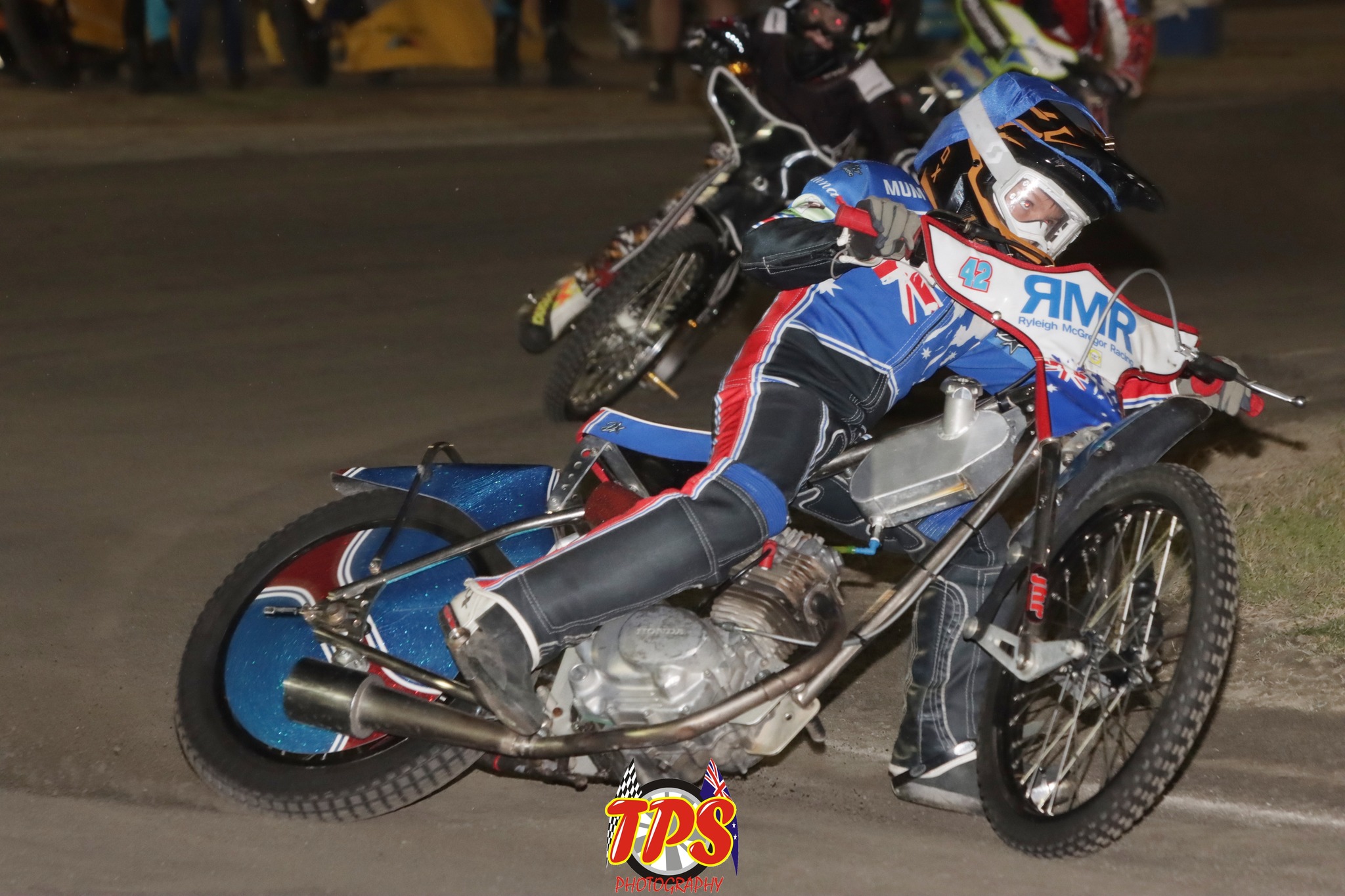 (Above #42 Ryleigh McGregor – 📸Derick Thomas Photography)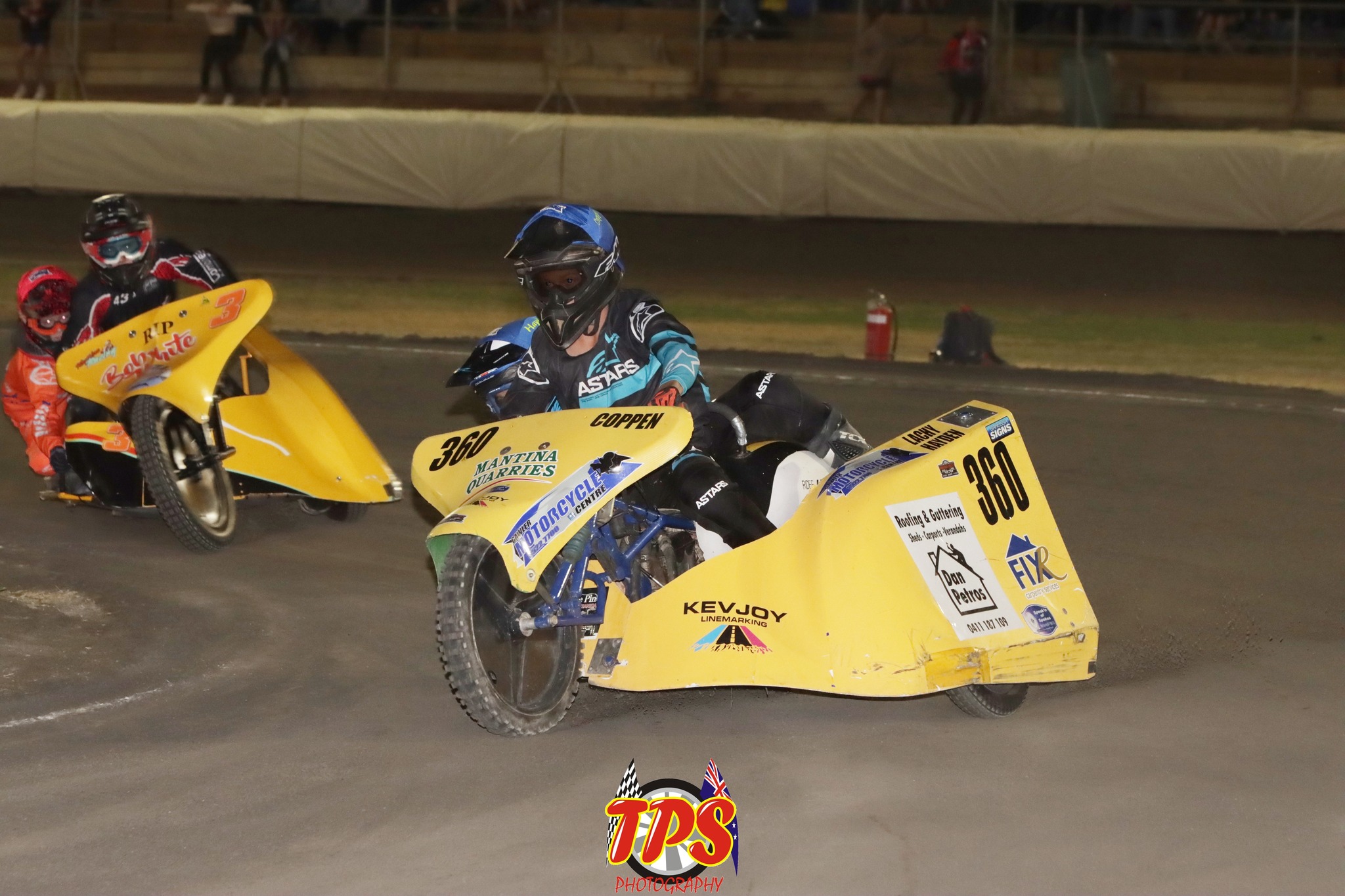 (Above: #360 Lachlan Coppin / Haydon Kuchel being chased by #3 Seth Puddy/Riley Edson – 📸 Terrysproshots Photography)