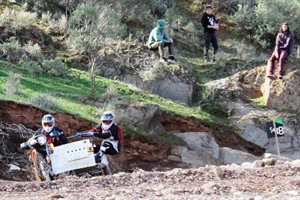 This June Long Weekend, Saturday & Sunday, the 9th & 10thth, sees round 3 of the 2018 South Australian Reliability Trials Championships, the Velocette MCC's Lew Job Reliability Trial – the Robbie 2-Day – being run, and as always, starting from the Robertstown Oval at Robertstown in the state's mid north!  
Just over 90 riders will tackle some of SA Reliability Trials most iconic sections this weekend, with Springhut Creek once again likely to be the highlight for most riders. Leading the field out onto the course will be the sidecars, with the team of Darren Winter & Lachlan Greenhalgh first bike away!
2nd bike away will be the visiting Victorian team of Justin & Melissa Foot, riding only their 2nd reliability trial, after a long career on bitumen, as well as dabbling in trials sidecars as well!
The solo charge will be led by 3 different 'generations' of motorcycling here in SA, with the 'veteran' Rowan Pumpa looking to keep the current top dog, Todd Barry, and the future threat, Alex Heidenreich, at bay over the 2 days – and as they are mre minutes apart on the course, this will be the battle to watch.
Keep an eye out for numbers 32 & 33 as well, the Class P (old bikes) riders Colin 'Slob' Jay and Sean Heidenreich – it would be a fair bet that the sledging between these 2 will be 'hotter' than their 'action' on the bike, but still great to see the old bikes going around so well!
The first bike will start at 1.31pm on Saturday and 9.00am on Sunday, with riders doing 2 laps each day of a course that should take them about 2 hours & 20 minutes!
To catch all the action – head to the Robertstown Oval and grab an egg & bacon sanga, a coffee and a programme, which will tell you all you need to know in regards to who is riding and where the best spots to catch the action are (spectator paddocks) – and then head back to the Oval to welcome home the riders at the end of their journey each day – and grab a lamb roll from the awesome catering the Robertstown community will have on site!