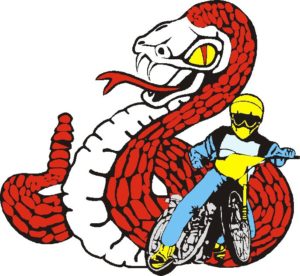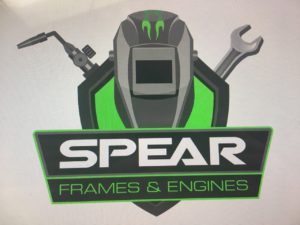 Eight of Australia's best Junior sidecar teams gathered at the Sidewinders Junior Speedway Track on Friday, January 11th for the running of the 2019 Spear Frames and Engines South Australian U16 Sidecar Championship.
The good crowd on hand witnessed some of the closest and exciting sidecar racing as the teams put their all into gaining vital heat points and making their way to the all important A Final. No quarter was asked or given as the riders slid under each other rubbing and pushing to gain that all important edge. After the heats in which each rider had four starts the two riders making it into the A Final were Jack Fewster, with young brother Adam as passenger clean sheeting on 12 points and Jake Treloar, with Isaac Mitchell finishing second on 11 points. Jake was beaten by Jack in Heat 4 when they met. The battle for the three to start in the B Final was tight with three teams tying on 9 points. Jackson Milner gained first pick of the gates by having two race wins but the other two teams had identical race results so the deadlock was decided when a countback found that Connor Curran had beaten Max House in Heat 5 so Connor had second gate choice.
So it came down to the B Final and Jackson Milner made the most of his inside starting position and went on to win and gain a start in the A Final. And what an A Final it would be. Starting in red was the current Australian Champion Jack Fewster, along side of him in blue was Jake Treloar fresh from winning the Andrew Cleave Memorial race in Victoria and starting in white was the current South Australian Champion and track record holder Jackson Milner.
All three bikes left as one as the tapes rose and they were still all level as they entered the first turn. Jackson dropped back a bit from the outside and watched as Jack and Jake swapped positions several times as the laps unwound. Jack Fewster went for an inside pass on Jake Treloar entering turn three but Jake held a tight line and Jack was unable to prevent his bike going infield and immediately his exclusion light was lit and his challenge was done.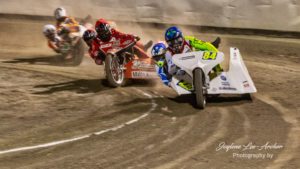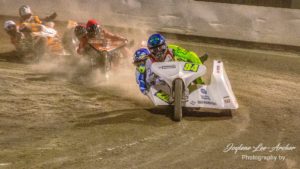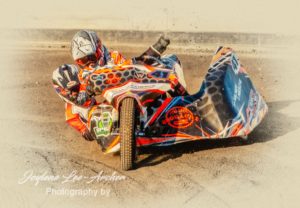 So Jake Treloar and Isaac Mitchell are the 2019 South Australian U16 Sidecar Champions. Jackson Milner and Adam Niesche are 2nd and the Western Australian team of Jack and Adam Fewster pick up 3rd place. Broken Hill team of Max Howse and Riley Commons were 4th on Points.
Of the other teams, they gained some valuable experience for the future. The teams of Jake Cook and Cooper Tickle and Brady Tickle and Jesse Tickle made the long haul down from Tamworth (NSW) and Rockhampton (Qld) and showed plenty of potential for the future. These boys are the grandsons of former Rowley Park and North Arm rider Dennis Tickle and he was on hand, and no doubt proud, to see his grandchildren race. Local team of Nate Headland and Kaiden Silvy had a few mechanical issues and showed also that they need more time together as this was only the second time they had raced as a team.
Huge thank you to Jack Spear from Spear Frames and Engines for sponsoring this meeting. Thanks also to Damien Niesche who had a big hand in bringing this meeting together by contacting the teams that attended.
The support riders from the novice solo's and 50 cc class provided the entertainment between sidecar heats and again showed that the future is rosy for Junior speedway in South Australia.
A special 'well done' to the track team of Paul Keane and Ashley Watson who provided a fantastic track in trying conditions. No dust and no ruts and uniform all night.
Again Sidewinders could not put on these meetings without their volunteer helpers and a huge thank you to all.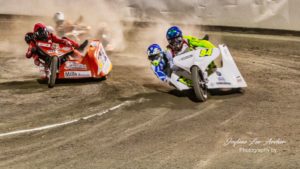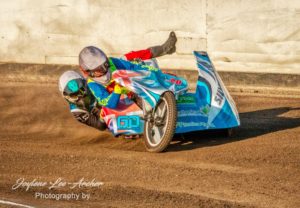 Photos courtesy of Joylene Lee-Archer – with thanks