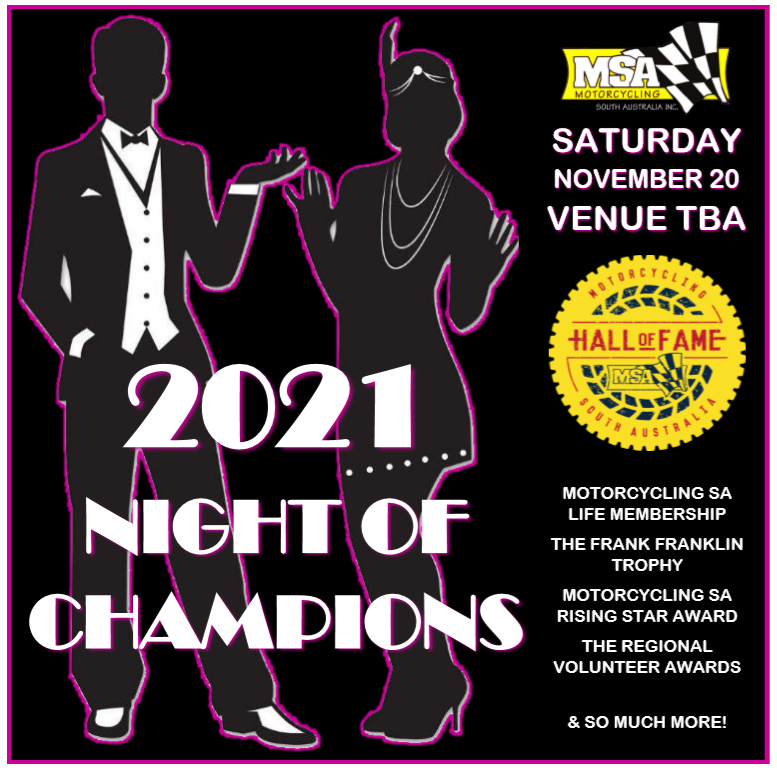 2021 MSA NIGHT OF CHAMPIONS – NOMINATIONS ARE OPEN!
Nominations are now open for the annual awards that will be presented at the Motorcycling SA Night of Champions, to be held at a venue to be announced, on Saturday, November 20th 2021, starting at 6.00pm.
Anyone, individual or club, is/are welcome to put in a nomination, as long as it meets the criteria of each award – please read the relevant forms before nominating.
Closing dates for for nominations for each award are as follows;
HALL OF FAME; Monday, September 20th 2021 @ 5.00pm
LIFE MEMBERSHIP; Friday, September 24th 2021 @ 5.00pm
FRANK FRANKLIN TROPHY, RISING STAR AWARD, REGIONAL VOLUNTEER AWARDS; Friday, October 22nd 2021 @ 5.00pm
2021 MSA Hall of Fame – Nomination form.docx.pdf
Hall of Fame Criteria.pdf
2021 Motorcycling SA Life Membership – Nomination Form.docx.pdf
2021 Frank Franklin Trophy – Nomination Form.docx.pdf
2021 MSA Rising Star Award – Nomination Form.pdf
2021 MSA Regional Volunteer Awards – Nomination Form.docx.pdf
All of the details regarding the Motorcycling SA 'Night of Nights', including venue, menu and ticket prices will be released closer to the event, but with COVID-19 shutting down the 2020 Night of Champions, there are a number of surprises being planned to ensure this will be, the biggest Night of Champions yet held!
STAY TUNED FOR MORE ANNOUNCEMENTS AS THE YEAR PROGRESSES!