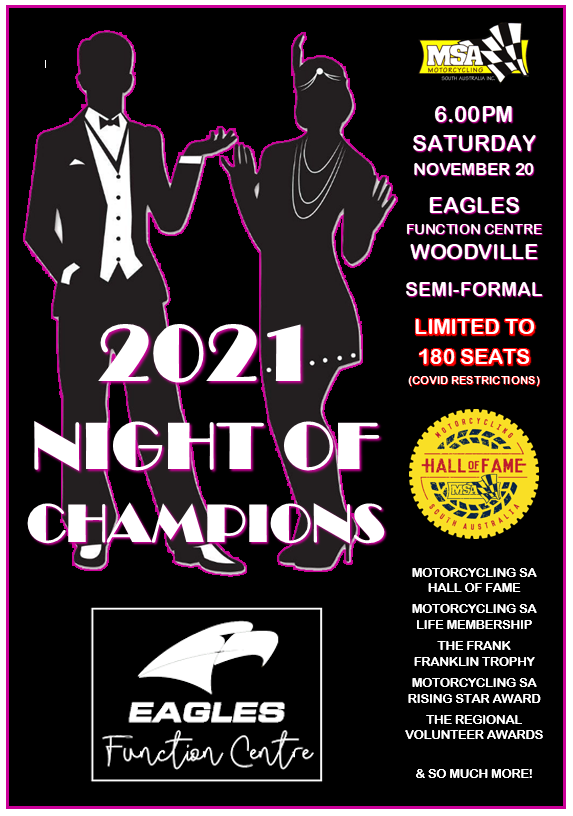 2021 NIGHT OF CHAMPIONS – NOMINATION FORMS FOR ALL AWARDS!
Scroll down to find all of the nomination forms (with the relevant criteria) for the 2021 MSA Night of Champions, to be held on Saturday, November 20th at the Eagles Function Centre, Woodville South, from 6.00pm.
Nominations for all awards are OPEN and CLOSE on the following dates;
MSA Hall of Fame; 5.00pm Monday September 20th 
MSA Life Membership; 5.00pm Friday September 24th
The Frank Franklin Trophy; 5.00pm Friday October 22nd
The MSA Rising Star Award; 5.00pm Friday October 22nd
MSA Regional Volunteer Awards; 5.00pm Friday October 22nd
After missing in 2020 due to COVID-19, 2021 is going to be HUGE! Ticket sales will likely open in September and again, due to COVID-19, tickets will be limited this year to 180 – or 18 tables of 10 – so be early to ensure you get a seat to what will be, another fantastic evening celebrating the present and future of our sport here in SA, while acknowledging our amazing history at the same time!