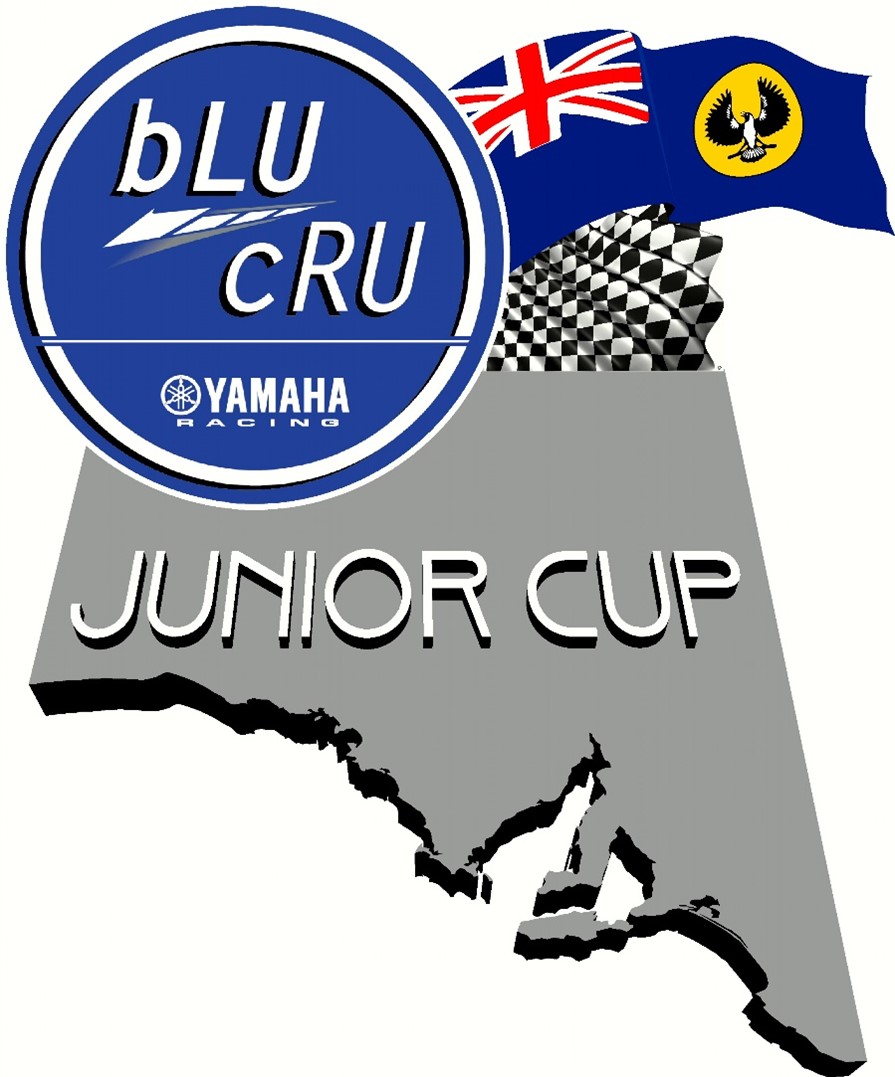 Road Race SA, led by the Sports Manager, Kym Bolto, along with his trusty bLU cRU SA Junior Cup crew, including Andy Hiscox, Allan Bolto, Shaun Bancroft and Chris White, as well as coaches, Will Strugnell, Kylie & Chris Collins, Cooper Rowntree (assisting), put (most of) the 2023 SA Junior Cup riders through their paces over the weekend of March 18 & 19 at the Monarto Go-Kart circuit in readiness for the fast approaching season!
Also a huge thanks to one of the SA Junior Cup dads, Daniel Amoy, for helping with the paperwork, as well as jumping in to assist with coaching duties, not only did the weekend maybe un-earth some future champions, it also unearthed a cracken coach in the making for riders at this level – huge well done Daniel.
Run in conjunction with a Road Race Come N Try Day(s), the 'Class of 2023' spent both days cutting laps and fine tuning their techniques under the watchful gaze of the SA Junior Cup Coaching Crew, with all riders showing vast improvement over the 2 days of on track action.
The riders present for season 2023 were as follows;
Returning from 2022;
Lucas Warren
Cooper Pitt
Archie Schmidt
Xayvion Amoy
Ghage Plowman (wildcard at 2022 final round)
Brand new for 2023;
Payton Kemp
Joshua Schiller
Jai Strugnell
Missing were Jamie Gregory and NSW's Boyd Cole.
Biggest improvers though, were the rookies, Jai Strugnell, Joshua Schiller and Payton Kemp, with Josh and Payton, as raw road race rookies, also being allowed to head out in the Come N Try sessions to get more laps under their belts.
The difference from start to finish was there for all to see, with knees, having been high in the air at the start of the weekend, were skimming the tarmac by the end of it, although Payton was finding it a bit difficult to get his lanky frame behind the screen of the small-ish 150 Yamaha. 'Struggy' is a second generation rider with good pedigree and is showing a bit of natural talent, but it was still good to see him hitting apex after apex, and riding as smooth as his dad as the weekend went on.
Of the returning riders, all showed that they are more than following on from the great finish to the inaugural year in 2022, with Archie Schmidt also showing the benefit from being a part of the Oceania Junior Cup field this year (and good luck in NSW this weekend), while Lucas Warren and Cooper Pitt continue to push each other each time out on the track, with even the odd elbow scrape starting to happen.
With all this in mind, the second season of the SA Junior Cup should see the racing as close as what the end of 2022 did, and especially between the returning 5 riders, although, it wouldn't be too long to see some of the rookies start to mix it with the established riders.
Also present on the day was Dan from AMX Superstores, who presented all the riders present with their AMX Vouchers as part of the AMX Superstores sponsorship of the Series, with Kym thanking Dan, as well as all of the Series sponsors for their continued support of this great Series.
The 2023 Series sponsors are;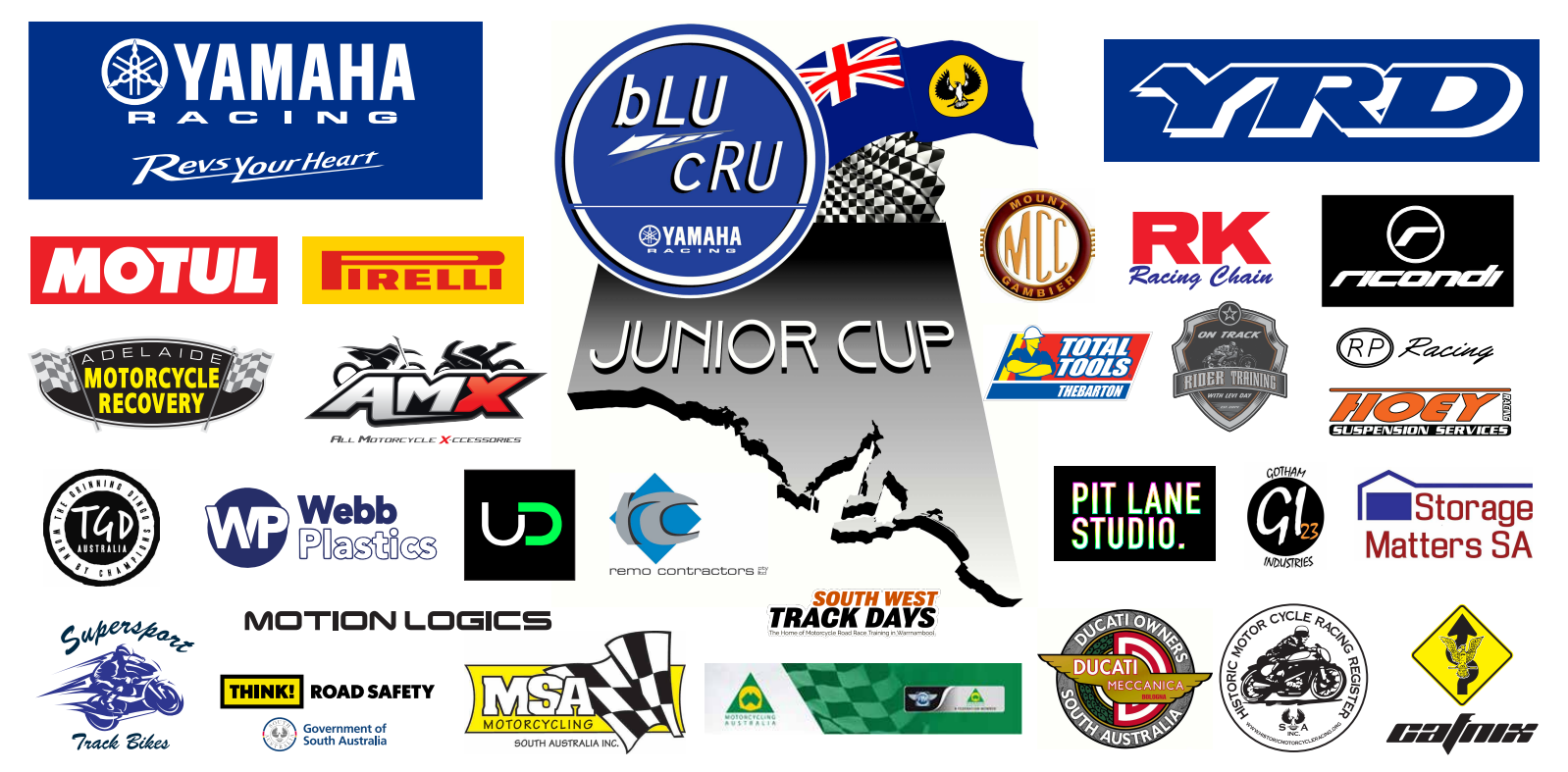 Sponsor banner thanks to Marty Renshaw from Underground Designs – with thanks!
In more exciting news for 2023 sees the bLU cRU SA Junior Cup expand from 4 to 6 rounds, but with riders able to drop their 'worst' round. Riders will also get to ride The Bend International Circuit this year, like the ASBK and Oceania Junior Cup do, with all riders excited to get onto this track in July.
There are also 2 rounds at the iconic MacNamara Park circuit at Mount Gambier, one season ending visit to SA's oldest track, Mallala, in November, as well as 2 rounds at the Go-Kart Club of SA's brilliant facility at Monarto. The SA Junior Cup crew can't thank the team at the GKCSA enough for opening their gates to junior road race in SA.
The full bLU cRU SA Junior Cup calendar is below – print it off, put it on your phone – lock them in now, so you can go and watch the future of road race in SA – and they are 'heaps good'!
THE 2023 bLU cRU SA JUNIOR CUP CALENDAR
Round 1        *April 7-9 (Easter)                         Mac Park (Mount Gambier)
Round 2        June 3-4                                            GKCSA Monarto Kart Circuit
Round 3        *July 7-9                                           The Bend International, Tailem Bend
Round 4        August date to be confirmed     GKCSA Monarto Kart Circuit
Round 5        *September 29-October 1          Mac Park (Mount Gambier)
Round 6        *November 17-19                         Mallala Motorsport Park
* Rounds 1, 3, 5 and 6 are being held in conjunction with the 2023 South Australian Road Race Championships.
** With 2023 now a six (6) round Series, riders will be able to drop their 'worst' round from the points table – so only 5 out of 6 rounds will count towards the Series placings.
Enquiries are always welcome on how to get your child(ren) into the Series, all you need to do is contact the Road Race SA Sports Manager, Kym Bolto, roadrace@motorcyclingsa.org.au and he will email out all of the details on the how, what and how much to you.