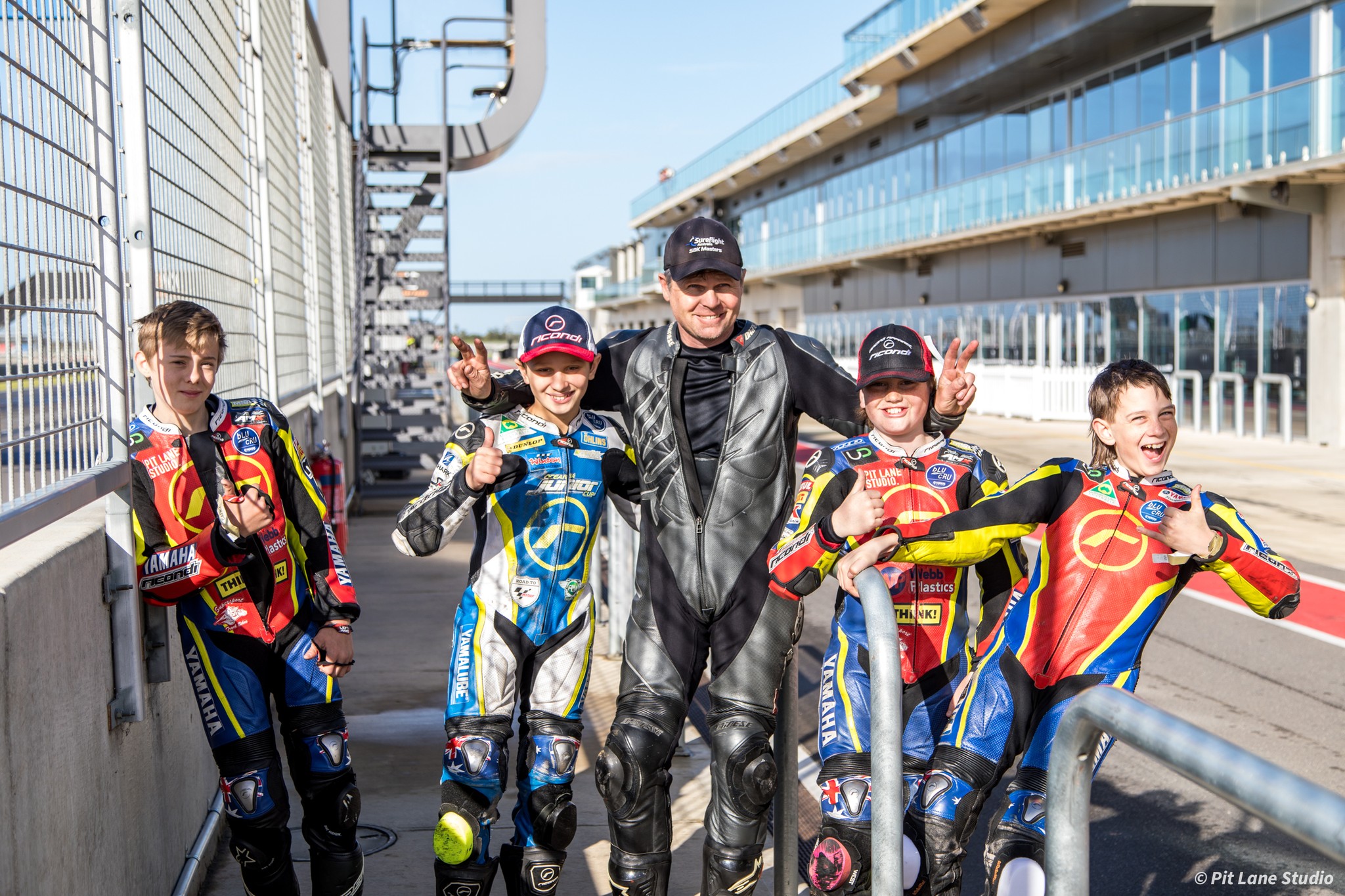 Round 3 of the bLU cRU South Australian Junior Cup held on the 8th/9th of July was an event that was never going to disappoint, with wildcards #11 Judd Plaisted and #34 Elijah Andrew joining the core group of bLU cRU riders and hosted by CAFNIX and Preston MCC at the well renowned The Bend International Circuit.
A Saturday morning dawn coaching session and track tour was the start of the weekend for these young racers, receiving expert advice and tips for each section of the track from Ty Lynch and Samuel Pezzetta ahead of a timed practice for what would be the first time many of these juniors would experience this circuit. Only a single qualifying session after practice meant that rider feedback and bike setup was crucial, and even in wet conditions a blistering pace was set early on by #69 Archie Schmidt, #11 Judd Plaisted and #7 Xayvion Amoy securing front row positions of 1st, 2nd and 3rd.
RACE ONE:: The midday weather continued to prove difficult to predict, and the damp but drying track kept the pit shed busy with last minute tyre changes. Constant battles with countless leader changes between the front runners held the unwavering attention of the crowd and only .3 of a second separated Judd and Archie in first and second places respectively with Xayvion taking the bronze. While in the middle of the pack #99 Jai Strugnell and #46 Ghage Plowman were relentless in their battles with each other on track.
RACE TWO:: Sunday morning's gentle shower before riders briefing was no challenge for the Pirelli wets on the Yamaha R15's and with every confidence in their tyres race 2 was nothing short of nail biting. The four front runners Archie, Xayvion, Elijah and Judd finishing 1st, 2nd, 3rd and 4th respectively, all changing leadership multiple times per lap throughout the four laps and had the crowds of spectators filling the fourth story sky deck balcony striving for the best view and cheering and clapping from start to finish.
Strong finishes from #27 Cooper Pitt, #68 Lucas Warren and #79 Jamie Gregory and constant improvement from #17 Payton Kemp and $42 Josh Schiller meant that every junior competitor was eager to pull their last tricks out of the bag for race three, but unfortunately weather conditions and on track incidents cut the schedule short and finalised proceedings early.
Final outcomes for the weekend were :
Archie Schmidt
Judd Plaisted
Xayvion Amoy
2023 bLU cRU SA Junior Cup Points Table: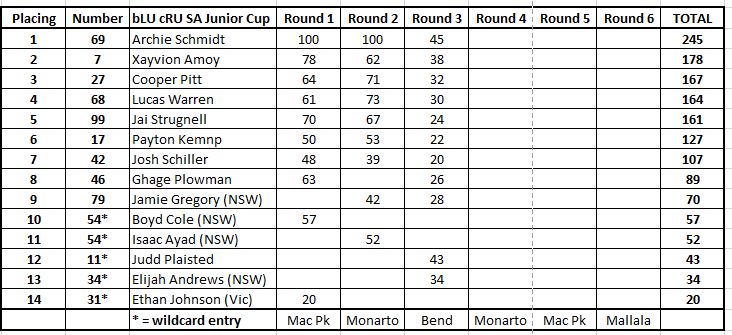 With a return to Monarto for Round 4 at the end of August, we are held in suspense in what has been a thrilling first half of the season from these young future champions who showcase the true camaraderie of Motorcycle Road Racing.
Written by Daniel Amoy
Images by
Pit Lane Studio