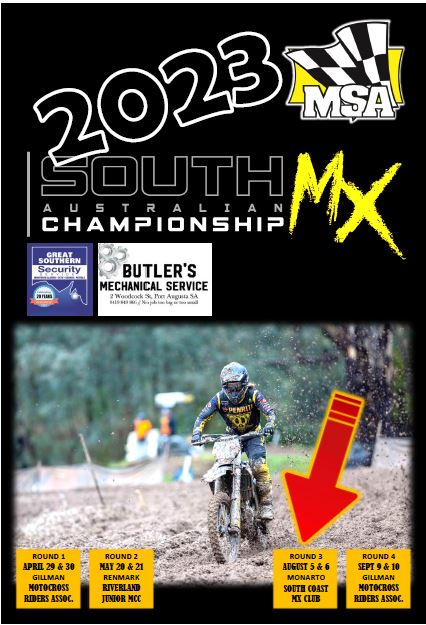 The 2023 SA Motocross Championship points tables are heating up and the finish line is nearly in site for another year. Round 3 of the 2023 SA MX Championships making a return to South Coast MX Club, this coming 5th and 6th of August. After last holding the Championships back in 2020, the club is gearing up for a fantastic weekend ahead and not one to be missed with 2 full days of racing to entertain the whole family.
A special thanks to our series sponsors, Butler's Mechanical Service and Great Southern Security who have come on board again for the 2023 SAMX Championship journey. 
Entry List:
Returning for Pro MX 1 after a flying round 2 first-place overall, Brett Metcalfe lines up against the strong competition including both Siegah Ward and Levi McManus, who are both looking for any opportunity to get past the big #24.
A field of 10 MX2 riders have locked in their names to take on the South Coast Motocross circuit and as we know in racing, it could be anyone's weekend. After a challenging start to the season in round 1 and securing a round 2 win in MX2, Mitchell Norris is gearing up to lock away as many Championship points as possible before the season comes down to the line. 
With the positive continued growth of Females making their mark in the sport of Motocross in SA, 30 of the states best senior and junior talents will take to the track this weekend. For the Butlers Women all Powers class, if round 2 is anything to go by, round 3's racing is going to come down to the line. Last time out Amy Bartsch took the overall top sport and is back this weekend with sights set for a back to back win. She of course, can't relax for a second with a strong field of competition chasing her every move including Emma Haylock and Stephanie Cutler.
After a huge trip up to the NT for the 2023 Australian Motocross Championships, Bodhi Austin is ready to extend his 65cc 2stroke 7-u10yrs championship lead for his SAMX 2023 season, after P1 finishes in both Rounds 1 and 2. With a field of over 20 competitors looking to stop his winning streak, can he make it 3 out of 3 for 2023? 
This weekends Junior Motocross field will be the perfect example of the exceptional talent levels coming out of our SA clubs. Over 140 of our fastest youngsters are set to take to the track across the weekends junior classes, not to mention the youngest of our sport, 29 budding 50cc riders will be out throughout the demo and auto classes.
With Championship battles heating up and points leads disappearing, you're not going to want to miss a second of the action this weekend!!
Where:
Based in the beautiful Murray River, Lakes and Coorong region, the South Coast MX Club is under an hour's drive from the Adelaide CBD up the princess highway at 3761 Old Princes Hwy, Monarto, SA.
 
Spectator Information:
On top of a full canteen keeping riders and spectators well-fed, the club has hired additional facilities to ensure everyone is comfortable for a big weekend of racing. Camping is available from Friday at a cost of $20 to be paid at the canteen Saturday/Sunday morning. 
Time Schedule:
Sign On & Machine Examination
 Before signing on, each person will be required to pay both the flaggy and Transponder fee as a result of the fee not being captured during the entry process. Payment is to be made via EFT only. 
Friday:                              5.00pm – 6.00pm (Saturday or Sunday competitors)
Saturday:                         6.00am – 7.00am (Saturday only)
                                          5.00pm – 6.00pm (Sunday early bird)
Sunday:                           6.00am – 7.00am ONLY (All Sunday classes)
Round by round Presentation – ROUNDS 2, 3 & 4
Saturday                        7:10am-7:40am Junior Presentation
Sunday                          7:10am-7:40am Senior Presentation
Riders Briefing
Saturday:                     7.45am sharp – ALL riders (and parent/guardians) MUST attend
Sunday:                       7.45am sharp – ALL riders (and parent/guardians) MUST attend
Practice (racing will commence immediately following practice)
Saturday:                    8.00am – immediately following Riders Briefing (riders are to be ready)
Sunday:                      8.00am – immediately following Riders Briefing (riders are to be ready)
Timing
Follow all the action as it happens and stay up to date with all the timing and results through the Mylaps Speedhive Page, or you can download the MYLAPS app via the App Store or Google Play.*
Socials*
Stay up to date with all the happenings of the 2023 SAMX Championship by following SA Motocross on Facebook as well as Motorcycling SA on Facebook and Instagram. 
Official Calendar for the 2023 SA Motocross Championship