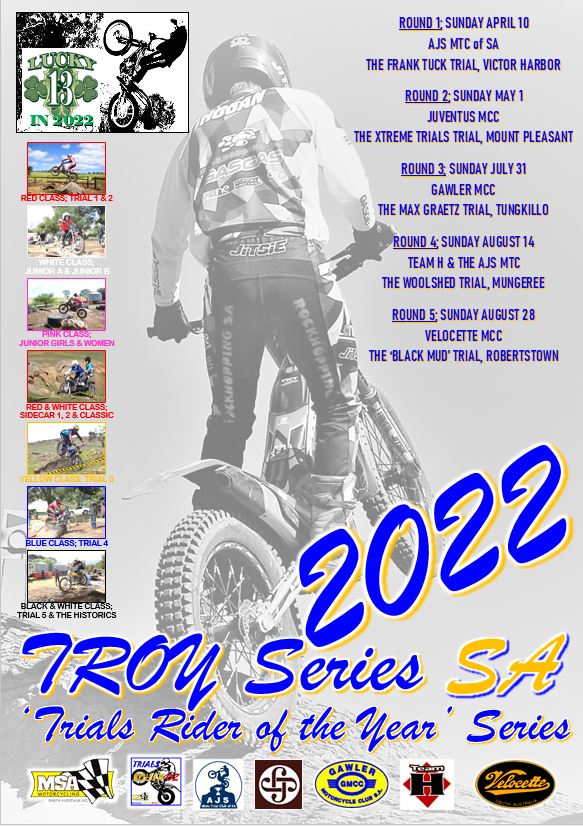 TROY Series SA – round 1 & 2 ENTRIES – ARE NOW OPEN!
Rounds 1 and 2 of TROY Series SA 2022 have now been opened on Ridernet, the AJS MTC's Frank Tuck Trial at Victor Harbor on Sunday, April 10th and the return of the Juventus MCC to TROY, with The Xtreme Trials Trial at a brand new venue at Mount Pleasant on Sunday May, 1st.
And as has happened in previous years, there will be a gap after round 2, so a number of special events can happen – not least the AJS MTC's iconic Peter Sparkes Trophy event and the Keyneton MCC's Mountain Man Trial – being run this year as the SA Women's Cup & Diener/Holmes Sidecar Trophy. Check out the full calendar below!
All events will have Saturday night camping available, contact the event contact on the sup regs (now available on the Motorcycling SA website) for the details, and what else will be offered in relation to each round – camping , catering, Saturday coaching, etc. These will be different at each round, so contact the organisers to be sure!
In regards to riding conditions and classes, there are not many changes to 2022 – but what has been changed should be good for the sport and numbers at events, and also help with our Clubs, and their members who organise the events and the paperwork for them!
TROY Series SA 2022 will once again be a 5 round series that will complement the AMX Superstores 2022 South Australian Trial Championships in September and will feature some of SA's finest Trial's terrain, with the 5 rounds for 2022 being;
| | | | | |
| --- | --- | --- | --- | --- |
| R | Date | Club | Event | Address – of event |
| 1 | Sunday April 10 | AJS Moto Trial Club of SA | The Frank Tuck Trial | 3445 Range Road, Back Valley, via Victor Harbor |
| 2 | Sunday May 1 | Juventus Motorcycle Club | The Xtreme Trials Trial | Pleasant Sense Farm, 736 Angas Rd, Mt Pleasant |
| 3 | Sunday July 31 | Gawler Motorcycle Club | The Max Graetz Trial | Palmer Road, Tungkillo |
| 4 | Sunday August 14 | Team H & AJS MTC of SA | The Woolshed Trial | Mungeree Homestead, 1173 Bridle Track, Bangor |
| 5 | Sunday August 28 | Velocette Motorcycle Club | The Black Mud Trial | Ngapala Road, Willoughby Hills, via Robertstown |
FIRST CHANGE FOR 2022 – TRIAL 6!
It has been decided that from 2022 there will be a new class added to all events – Trial 6 – which will be run over the black line and will be for those entering the sport and want to ride for reward (so not non-comp), and those senior riders (age) who just want to have a fun ride, but still test themselves without the Monday morning aches and pains.
So the full list of classes for 2022 are;
·        

GREEN

TRIAL 1
·    

     RED 

TRIAL 2
SIDECAR 1
·        

YELLOW

TRIAL 3
SIDECAR 2
·     

    BLUE

TRIAL 4
HISTORIC BLUE
·        

WHITE

TRIAL 5
HISTORIC WHITE
JUNIOR A (boys & girls)
·         BLACK
TRIAL 6
SIDECAR CLASSIC
JUNIOR B (boys & girls)
·  

       ORANGE

NON COMP SOLO
NON COMP SIDECAR
MINI TRIAL
The colours listed above are also the line each class rides, with the green line being the most challenging, or for the expert riders, down to the black line for the novice riders, with orange being run of section for the newest of riders – so Trial is definitely the discipline that caters for riders of all ages and abilities.
Sidecar 1 & 2 also ride to separate red/white & black/yellow lines, not the single colour as listed above.
TROY Series SA classes will be as per previous years – and will combine some classes, with the lowest point score on the day getting the TROY points, with the classes being;
·        

RED 

TRIAL 1 & TRIAL 2
·        

PINK

SENIOR WOMEN & JUNIOR GIRLS
·        

YELLOW

TRIAL 3
·        

BLUE

TRIAL 4
·        

WHITE

JUNIOR A & JUNIOR B
·         BLACK & WHITE
TRIAL 5, TRIAL 6 & THE HISTORIC CLASSES
·        

RED & WHITE

SIDECAR 1, SIDECAR 2 & SIDECAR CLASSIC
SELF SCRUTINEERING;
Self-scrutineering will take place at ALL events in 2022 – with the self-scrutineering attached to all sup regs, as well as being separately emailed to all riders upon entry. Riders have to print off the form and bring it to sign on at events – no form, no ride! But, Scrutineers will still check up to 10% of all bikes, as well as ALL helmets.
ENTRIES FOR 2022!
Entries will be open at least 4 weeks before each round and will CLOSE at 11.00 pm on the Tuesday before each round, and only entries received through the Ridernet system will be accepted.
Late entries; MAY be accepted for an extra 24 hours, also through Ridernet, with a late fee of $20.00 per entry, so to 11.00pm Wednesday, as listed below.
| | |
| --- | --- |
| ENTRIES CLOSE | LATE ENTRIES CLOSE |
| ·         Round 1 – Tuesday, April 5th | Wednesday, April 6th |
| ·         Round 2 – Tuesday April 26th | Wednesday, April 27th |
| ·         Round 3 – Tuesday, July 26th | Wednesday, July 27th |
| ·         Round 4 – Tuesday, August 9th | Wednesday, August 10th |
| ·         Round 5 – Tuesday, August 23rd | Wednesday, August 24th |
This is a full 2 days earlier that what has happened in previous years, and has been designed to help clubs get their paperwork organised, as well as score cards and the scoring program, in plentiful time before their event.
And in some exciting early news for the Series, the AJS MTC have confirmed that the Frank Tuck Trial will once again have great support from the brilliant people at Scarpantoni Wines, and we thank Michael and his family for their continued support of trials in SA, and of the Frank Tuck!
The Series will also receive great support from Greg Knight and his Rockhopping SA crew – contact him now for all of your 2022 needs – or catch him at an event with his mobile showroom!