24 HOUR THOUGHTS
Social media being the creation it is, after an event many riders put up their thoughts on the event, as well as how they went and any thanks to sponsors and supporters who helped them on the day. Here is a short run down on the thoughts of a few of the riders (and supporters) who rode the 24 Hour Trial on the weekend, and includes riders, passengers, experts & clubman, as well as a couple of rookies as well!
Scott Richardson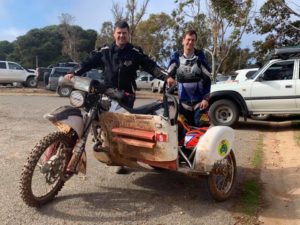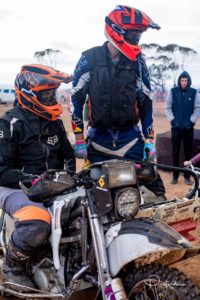 What a weekend. Thank you Matt Lee for a great ride in the 24 Hour Reliability Trial. So good to be back on the bike after such a long break. Thanks for your huge effort preparing the bike Matt you did a great job. 
Big thanks to all the friends and family who supported us for the weekend. 
Thanks also to Barossa Motorcycles, Barossa Pool Services and Haynes Welding & Fabrication for their support.
Caroline Wilksch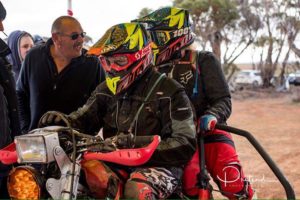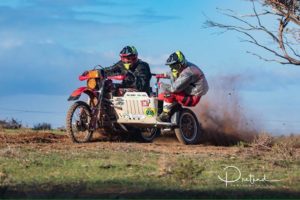 Thank you to Wundy for getting us home. Despite a number of bike issues we managed to finish the 24 Hour! 
Massive thanks to the Organising Committee, generous land holders, officials, all the control keepers and anyone else involved. Incredible to see this event run year after year on the generosity of volunteers!!! 
Congrats to all the finishers, hard luck to those who didn't … always next year.
Thanks Pam for following us around all event, keeping food and fluids up and encouraging us! Photo credit the amazing Jen Shanks xx
Sean Throup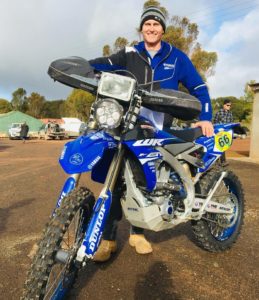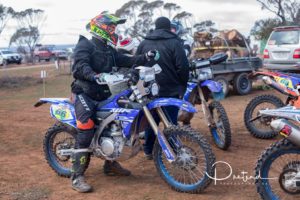 Well that's 14 from 14. I started my first 24hr 15 years ago, I have only missed one year, making that 14starts and 14finishes. Thank you to all my family and friends for supporting me and being out there cheering me on, but mostly my wife for letting me do it. Haha. And still after 14 years it is the best feeling and a great achievement to finish the @24hourtrial. I reckon 11 of these finishes have been on WR450F's so a true testament to the bike @yamahamotoraus. Another big thankyou goes to Greg Slats from GS moto for helping me get there every year.
Hayley Schultz (first ever reliability trial!)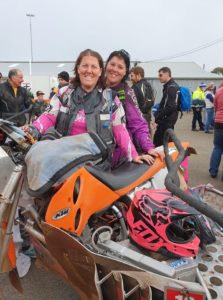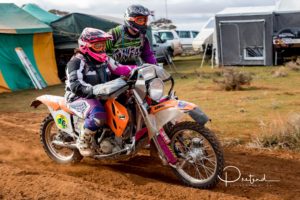 Soooooooo…… WE DID IT…… WE FINISHED THE 24 HOUR…. omg the hardest thing I have ever done in my life. Thank you to Kristy Krunchy Schultz for trusting me on the side and looking after me… Thank you to ALL the supporters, family and friends. At the time… I absolutely hated it and struggled but now… I did actually enjoy it…haha. If anyone has any photos or that feel free to send them thru… can't believe I finished….
Jessica Giles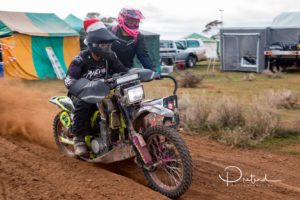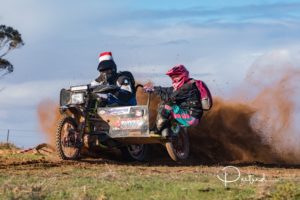 OMG we did it! 
2019 24 Hour Reliability Trial – done! So very excited that Jamie and I got our #2from2, we should retire before we jeopardise our perfect record Jamie!
So proud of my brother for keeping us safe for that long journey, and our sidecar, she's amazing! 
Things can and usually do go wrong in this event, just as happened this year, so to finish this event with bodies and bike (mostly) intact is a huge blessing.
I love the difference in how Jamie and I celebrate, give him all the alcohol and I'll just have a hot chocolate please!
Many people to thank for many things, but right now rest and relief that is done!
From Darlene Jenke about Rhys Jenke, (another 24 Hour rookie)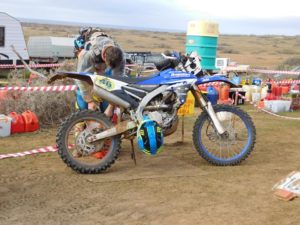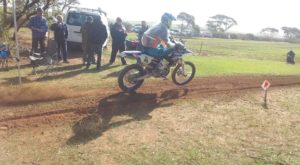 #stamina, #endurance, #physicaltiredness, #mentalfatigue #familysupport, #awesomemates, #24hrreliabiltytrial, #crashes, #finished
Well Rhys Jenke we are so proud of you. Completing your first full 24hr motorbike reliability trial. It was tough, a few hiccups, but you achieved your goal pushing through your tough moments & your physical & mental exhaustion to achieve your goal. We are so happy & relieved!! You made it. Thank you to your awesome mates for their encouragement & support to help you achieve your goal.
Thanks Liam Sander for keeping a corner of your eye on him occasionally whilst trying to race as well. Well done on your finish and hope the knee is ok. Congratulations to cousin Damien Jenke on an awesome ride as well. Thanks family, friends & all the well wishes throughout the race. Rhys you did it and remember the bike is repairable. Congratulations mate!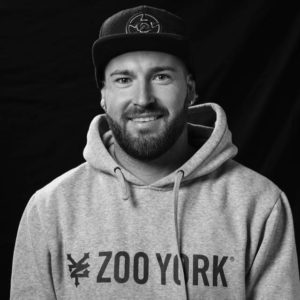 Sliding into Monday feeling a bit sore after completing the 24hr Reliability Trial over the weekend.
The stages were quite challenging with all types of terrain as the well as the dealing with the rain, cold and wind. But feel so good to complete it.
Just want to say a massive thank you to my sponsors as well as friends that came out to support and but a huge thank you to Daniel Annear for staying up all night, following me around and supporting me, really meant a lot knowing I had someone at each section.
Also a big thanks to all the volunteers that made this event happen.
Sam Florance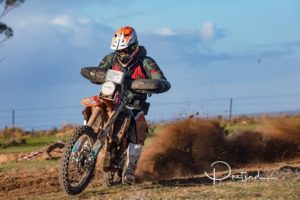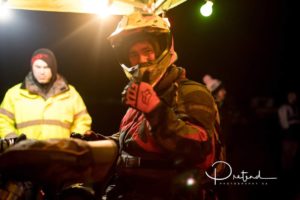 Absolutely stoked to have finished this year's 24 Hour Reliability Trial. After a devastating DNF last year we were on a mission to finish this one. The end of lap one brought me a pierced radiator hose which tried to put me out early. Fortunately with a little bit of bush mechanics I was able to fix it well enough to get my steel horse going again at a cost of around 3 min trail time.
About 6hrs after we also had and encounter with a hidden tree branch in the dark which smashed one of my front lights. Luckily the LED globe was not damaged and I was able to continue.
Also had to play auto electrician in the dark to fix some wiring that threatened to put us out.
The track was rocky and tough, but also had some high speed MX style grass tracks thrown in for a bit of fun which I really enjoyed. 
All in all it was a very eventful event that kept us on our toes and can't wait to tackle it again next year.
Dad put the hard yards in all week prior preparing my bike for war after the Hattah tried to wreck it. Without his support I wouldn't have made the start line. 
Thank you to my sponsors; Ficifolia Lodge Kangaroo Island Sth Australia, Kangaroo Island Outdoor Action, Little Sahara, Kangaroo Island, Turner's Tyre Service Dunlop Super Dealer and Castrol. Your continued support is invaluable. Also thankyou to my awesome wife Melissa Florance and family for allowing me to do what I love.
THANK YOU
Andrew Hank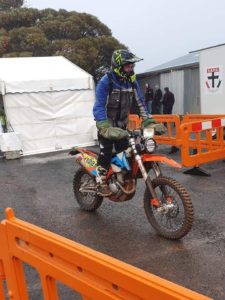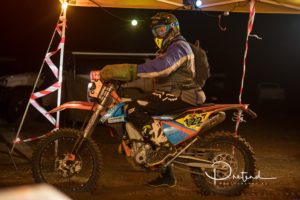 Had a bloody fun '19 24 hour, easy as track apart from a couple of k's of rocks leaving SAPMAC control, and the muddy creek held up well at the Velocette  control. Didn't lay it down or touch the tools /spares apart from the airfilters.
The lil' 3fiddy is a joy to steer ,jump, hop and smash those dam rocks with the Biketune Suspension, and not once did it set a wheel wrong.
Thanx to the others riders around me for a great night of banter and laughs, Caden Rogers, Mackenzie Camp, Michael Kerin, Matthew Aimann.
Was cool to see the young guns having a red hot dip all night, enjoyed playing the fox and the hound with you Caden, thanx for keeping me going.
Thanx for the words of encouragement from all the friendly faces at the fuel stops and controls.
Thanx must go to #coastktm ,#Kessners, #platinumlighting, #Biketune,
#HEBO
Steve Sparkes (Rally Class)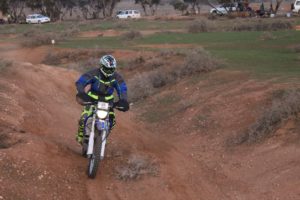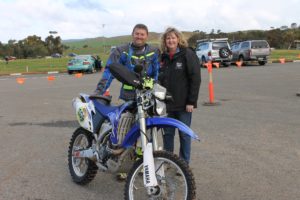 Another great weekend of riding at the 24. Thanks to carol, paul and Lee-anne for coming up yesterday and the rally guys for making it so enjoyable. Really enjoyed today.
Highlight for today was getting a chance to do some training for the X-games. I think I shall call it "the sudden superman with a shitty pants landing", nailed it too I might add.
Huge thanks to these riders, etc for their thoughts & photographs, and Jen Shanks from Pretend Photography for her awesome pics as well!