"Wow … what a fabulous Trial! The 47th Peter Sparkes Trophy Trial definitely rates as a finalist in this year's 'Trial of the Year' Award. No great bells and whistles, just a down to earth "grit it out" Trial.
It had everything stacked against it including 12th hour change of venue, a change of format, and illness limiting section setter numbers – along with shocking weather conditions. With almost every other SA Motorcycling discipline cancelling their events for the weekend, the AJS Club, facing adversity, stood up to all of the challenges. A massive thank you to the Hentschke Family who came to the rescue and offered their shearing shed as a refuge for campers, the riders operations centre, and the venue for hosting the fabulous Caterers who kept everyone going with delicious hot soup and BBQ – plus sweets and treats!
The riders (granted, all very cold), still tackled the challenging but super fun sections. And when they had warmed up, they had loads of stories and experiences to enthusiastically share at presentation time (also inside the shearing shed). A Trial that will be reminisced about for years to come, as … 'the wet one that we rode in Hentschke's creek'."
– Brenton Wundenberg, AJS Moto Trial Club of SA.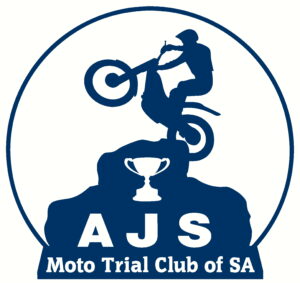 Trial 1
Sunday
Pen
Total
Score
Pentalties
Place
Name
1
2
3
4
5
6
7
8
9
Lap
Total
0
1
2
3
5
1
Hadon BARWICK
3
1
0
2
3
5
1
5
5
25
85
85
9
6
4
7
10
3
2
0
1
1
5
1
0
5
18
3
3
2
3
5
5
0
0
5
26
3
2
0
1
5
0
0
0
5
16
Trial 2
Sunday
Pen
Total
Score
Pentalties
Place
Name
1
2
3
4
5
6
7
8
9
Lap
Total
0
1
2
3
5
1
Aaron LONG
3
0
0
3
5
3
0
2
0
16
52
52
19
2
3
8
4
5
0
0
3
3
0
0
0
0
11
3
0
0
2
1
0
3
0
0
9
3
0
0
1
5
2
5
0
0
16
2
Grant STEPHEN
0
2
1
5
3
3
0
5
1
20
78
78
10
5
2
13
6
3
3
0
3
1
5
0
5
5
25
3
3
0
3
1
3
0
5
0
18
3
3
1
3
3
2
0
0
0
15
Trial 3
Sunday
Pen
Total
Score
Pentalties
Place
Name
1
2
3
4
5
6
7
8
9
Lap
Total
0
1
2
3
5
1
Hayden EARDLEY
2
0
0
2
2
0
0
1
0
7
24
24
20
8
8
0
0
2
0
0
1
1
0
1
1
0
6
1
0
2
0
1
0
0
2
0
6
2
0
2
0
0
0
0
1
0
5
2
Scott IRRGANG
1
0
0
0
5
1
0
1
0
8
28
28
22
9
2
0
3
5
0
1
0
2
0
0
1
0
9
0
1
2
5
1
0
0
0
0
9
0
0
0
1
1
0
0
0
0
2
3
Carl HENTSCHKE
1
0
3
0
3
0
0
1
1
9
33
33
20
6
5
4
1
2
0
0
0
3
1
0
0
0
6
5
0
3
0
0
0
0
0
0
8
1
0
2
2
2
0
0
2
1
10
4
Trent LONG
3
1
1
2
2
3
1
1
5
19
39
39
17
8
4
6
1
2
2
0
0
3
0
0
0
0
7
0
1
0
1
3
0
0
0
0
5
3
0
0
1
3
1
0
0
0
8
Trial 4
Sunday
Pen
Total
Score
Pentalties
Place
Name
1
2
3
4
5
6
7
8
9
Lap
Total
0
1
2
3
5
1
Joel SCHROEDER
1
1
0
0
0
0
3
0
0
5
25
25
25
5
2
2
2
3
0
0
0
0
0
5
0
0
8
2
0
0
1
2
0
0
0
0
5
1
1
0
5
0
0
0
0
0
7
2
Grant SCHROEDER
5
0
0
1
1
0
1
0
5
13
34
34
20
9
2
2
3
3
0
0
0
1
0
0
0
1
5
2
0
0
0
0
0
1
0
2
5
3
1
0
1
1
0
0
5
0
11
3
Harry PETERSEN
3
3
0
1
5
1
3
2
5
23
54
54
15
6
5
6
4
3
3
0
1
0
0
5
1
0
13
2
3
0
0
0
0
1
0
5
11
2
2
0
0
2
0
1
0
0
7
4
Nigel RANSOM
1
3
0
0
2
0
3
5
0
14
57
57
15
6
2
9
4
3
3
0
0
5
0
1
5
2
19
3
3
0
3
1
0
1
3
0
14
3
1
0
1
0
0
5
0
0
10
5
Hayley STEPHEN
3
3
0
3
3
0
3
1
3
19
62
62
12
4
2
18
0
3
3
0
3
2
0
3
0
3
17
3
3
0
3
3
0
1
1
3
17
3
3
0
0
0
0
2
0
1
9
DNS
Andrew TARRANT
DNS
0
0
0
0
0
DNS
Michell THOMPSON
DNS
0
0
0
0
0
Trial 5
Sunday
Pen
Total
Score
Pentalties
Place
Name
1
2
3
4
5
6
7
8
9
Lap
Total
0
1
2
3
5
1
Ryan TARRANT
0
2
0
0
0
0
2
0
1
5
14
14
27
5
3
1
0
0
0
0
1
0
0
1
0
1
3
0
0
0
0
0
0
1
0
0
1
0
2
0
0
0
0
0
3
0
5
2
Martin WHITAKER
0
1
1
0
0
1
0
0
0
3
17
17
26
6
3
0
1
1
1
0
2
0
0
0
0
2
6
0
0
0
0
0
0
5
0
2
7
0
1
0
0
0
0
0
0
0
1
3
Kurt JANDA
0
2
0
0
0
0
0
0
0
2
25
25
25
4
4
1
2
1
0
0
0
1
0
5
0
2
9
0
3
0
0
0
2
0
0
5
10
0
2
0
1
0
0
0
0
1
4
4
Kieran HILL
0
1
0
0
3
1
1
0
0
6
31
31
21
8
2
3
2
0
1
0
0
0
2
0
0
1
4
2
3
0
0
1
0
0
0
5
11
0
3
0
5
0
1
1
0
0
10
5
Andrew EARL
1
2
1
0
5
2
5
1
1
18
68
68
8
10
6
7
5
0
2
0
1
3
3
3
0
5
17
0
3
0
1
3
2
5
1
5
20
1
2
0
1
1
3
2
0
3
13
6
Ella PEACOCK
3
2
0
3
3
3
3
3
3
23
83
83
9
1
2
21
3
2
3
0
0
3
3
3
0
3
17
3
3
0
5
3
3
3
0
5
25
1
3
0
0
3
3
3
0
5
18
DNS
Shane SCHILLER
DNS
0
0
0
0
0
DNS
Christopher SCHULTZ
DNS
0
0
0
0
0
DNS
Simon WOTTON
DNS
0
0
0
0
0
Trial 6
Sunday
Pen
Total
Score
Pentalties
Place
Name
1
2
3
4
5
6
7
8
9
Lap
Total
0
1
2
3
5
1
Hugh CAMERON
2
3
0
0
1
3
2
2
2
15
45
45
17
1
10
8
0
0
3
0
0
0
3
2
2
2
12
0
3
0
0
0
3
2
0
0
21
3
2
0
0
0
3
2
0
0
5
Sidecar 1
Sunday
Pen
Total
Score
Pentalties
Place
Name
1
2
3
4
5
6
7
8
9
Lap
Total
0
1
2
3
5
1
Stephen REES
Melissa PAUNOLA
0
1
1
5
3
0
0
5
0
15
53
53
19
7
0
2
8
5
0
0
5
1
1
0
0
0
2
0
3
0
0
0
3
2
0
0
21
3
2
0
0
0
3
2
0
0
5
Sidecar 2
Sunday
Pen
Total
Score
Pentalties
Place
Name
1
2
3
4
5
6
7
8
9
Lap
Total
0
1
2
3
5
1
Alexander COWAN
Rebecca REES
3
0
0
0
1
2
1
1
0
8
27
27
22
9
1
2
2
1
0
0
0
5
1
1
0
0
8
0
0
0
0
3
1
5
0
0
9
0
0
0
1
1
0
0
0
2
Junior A
Sunday
Pen
Total
Score
Pentalties
Place
Name
1
2
3
4
5
6
7
8
9
Lap
Total
0
1
2
3
5
1
Ashley BARWICK
5
3
0
0
3
0
0
0
5
16
58
58
18
4
0
8
6
0
3
0
0
1
0
0
0
5
9
0
3
0
0
1
5
0
3
3
15
0
3
0
0
1
5
1
5
3
3
DNS
Brett SCHILLER
DNS
0
0
0
0
0
DNS
Isaac SCHULTZ
DNS
0
0
0
0
0
Junior B
Sunday
Pen
Total
Score
Pentalties
Place
Name
1
2
3
4
5
6
7
8
9
Lap
Total
0
1
2
3
5
1
Finn CAMERON
3
2
0
0
0
3
2
3
0
13
59
59
14
4
3
13
2
5
3
0
0
0
3
3
3
0
17
3
1
0
0
0
3
1
5
0
13
3
3
1
0
1
3
0
2
3
16
2
Candace LONG
3
3
0
0
0
1
3
3
2
15
62
62
13
3
1
19
0
3
3
0
0
0
0
3
3
3
15
3
3
0
0
0
0
3
3
3
15
3
3
1
0
0
3
3
3
1
17
3
Chelsea LONG
3
0
3
0
0
3
3
3
3
18
4
74
10
2
0
24
0
3
0
3
1
0
3
3
3
3
19
3
3
0
0
1
3
3
3
3
19
3
3
0
0
0
3
3
3
3
18
4
Clarry KNIGHT
5
5
5
0
0
5
5
0
0
25
87
87
17
1
0
2
16
3
5
5
0
0
5
3
0
1
22
0
5
5
0
0
5
5
0
0
20
0
5
5
0
0
5
5
0
0
20
DNF
Cameron STEPHEN
5
5
0
0
0
5
3
5
5
28
54
DNF
0
0
0
0
0
5
3
0
0
0
5
3
5
5
26
Mini Trial
Sunday
Pen
Total
Score
Pentalties
Place
Name
1
2
3
4
5
6
7
8
9
Lap
Total
0
1
2
3
5
NC
Lucy CAMERON
6
3
2
21
4
NC
Oliver SHULTZ
0
0
0
0
0
Non Comp Solo
Sunday
Pen
Total
Score
Pentalties
Place
Name
1
2
3
4
5
6
7
8
9
Lap
Total
0
1
2
3
5
NC
Matthew PETERSEN
14
6
5
10
1