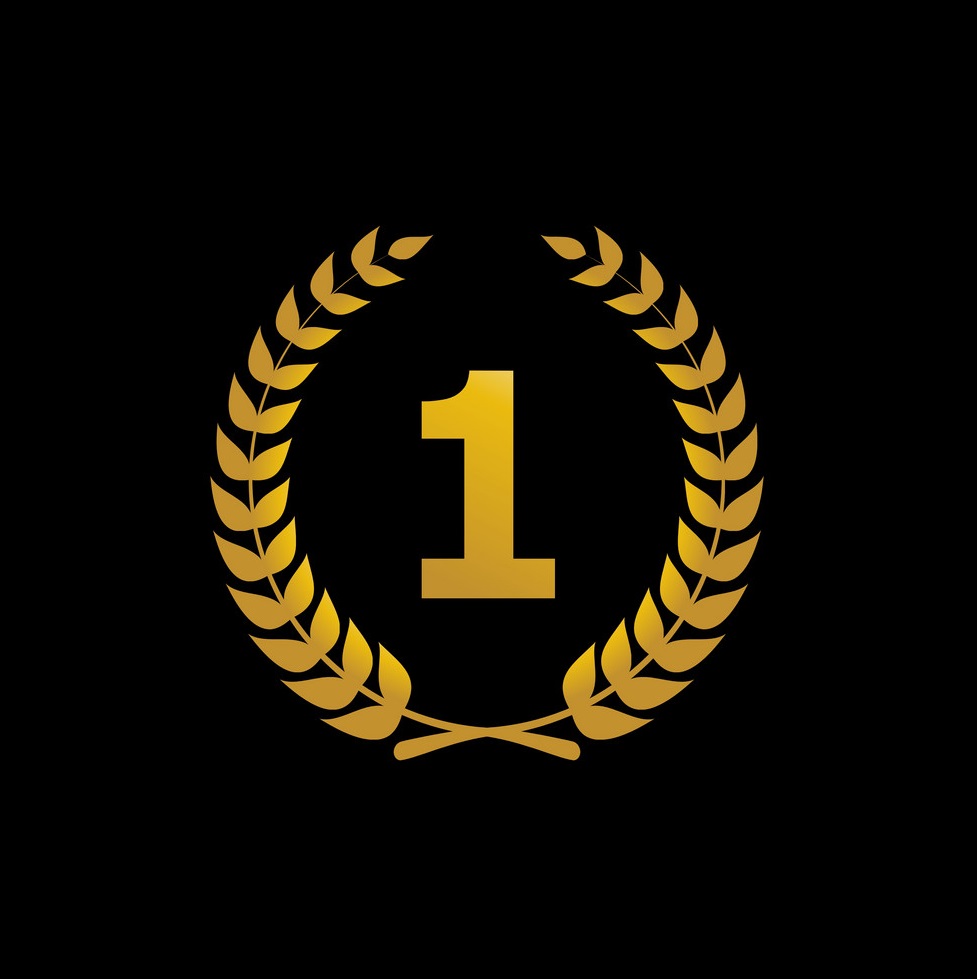 7 EVENTS THIS WEEKEND – YEP, SEVEN, COUNT THEM! – HEADLINED BY THE SA MOTOCROSS CHAMPIONSHIP FINALE AT GILLMAN!
A bit spoiled for choice this weekend, with 9 events on, across 4-5 disciplines this weekend, headlined by the Finale' of the Eagle Trailers, Campers & Caravans 2021 SA Motocross Championships, presented by AMX Superstores at Gillman, but also with events in the Riverland, the metro area, the Murraylands and down the South East, seeing much of the state covered!
But, all eyes (or most anyway) will be on Gillman this weekend as they host the final of the hotly contested (across many classes) of the Eagle Trailers, Campers & Caravans 2021 SA Motocross Championships, presented by AMX Superstores on Saturday & Sunday.
This year's Championship series, has given all of SA's riders, as well as a number from Victoria (until COVID shut the border) a high quality series, one designed, not only to provide great competition, but also to develop their skills with a number of different venues with different terrain tracks – and a huge well done to all of the clubs, MRA, West Coast, Riverland & Keith!
Get yourself along to Gillman this weekend to see SA's number 1 plates for each class presented, as well as the SA#1 presented to the overall Champion of the ProMX1 Class!
Also check out the MRA's awesome canteen – with hot & cold running food and drinks both days as well!
ACTION WILL BE WELL UNDERWAY BY 8.30AM EACH DAY – WITH FREE ENTRY TO SPECTATORS – BUT KEEP IN MIND, ALL OF THE CURRENT SA HEALTH RESTRICTIONS IN REGARDS COVID-19 WILL BE IN PLACE FOR THIS EVENT – AND ALL EVENTS BEING HELD THIS WEEKEND!
TROY Series SA 2021 – ROUND '5', THE BLACK MUD TRIAL AT ROBERTSTOWN.
Sunday sees the, now, penultimate round of TROY Series SA 2021 being run in the ranges near Robertstown buy the Velocette MCC, and at one of their iconic properties, at least for the Lew Job Reliability Trial, Neale's Black mud creek.
This is also to the final hit out for everyone before the running of the AMX Superstores 2021 SA Trial Championships at Tungkillo over the weekend of September 11 & 12 (entries open), and like all trials, entry is free for spectators, with directions to the event signposted from just north of Eudunda of the road to Robertstown – kick off is 9.00am.
RIDE DAYS;
MOUNT GAMBIER MCC                     RIDE DAY                                ROAD RACE
Road Race Ride Day at the brilliant Mac Park this Saturday, 28th of August
Canteen open and contact Marg at Mac Park for all details!
KEYNETON MCC                                 RPA RIDE DAY                        ENDURO / OFF ROAD
Enduro/Off Road Ride Day this Sunday 29th August at Starick Road, Cambrai.
Signing-on from 7:30am, bikes on track from 9:00am.
ACUSA Park                                        RPA RIDE DAY                        MOTOCROSS / OFF ROAD / TRAIL RIDE
ACUSA Park Ride Day this Sunday. With more lovely rain this week, we can now safely say that this weekend's Ride Day will be held in prime conditions at ACUSA Park.
ARIEL MCC                                          TRAIL RIDE                              TRAIL RIDE
The Ariel MCC have their 2021 Mallee Masters on this weekend for Club members, contact the Club for all the details if interested in joining their club!
SPEEDWAY RIDERS                            COACHING DAY                      SPEEDWAY
Junior Coaching for 50cc, 65cc, 70cc Flat Track & 125cc Speedway Bikes.
Two Sessions Saturday 28th August Gate Open 11pm
Session 1 Flat Track Juniors 12pm – 4pm
Session 2 125cc Speedway Bikes 4pm – 8pm
ENTRIES ARE ALSO OPEN FOR;
SEPTEMBER 4 & 5
SAPMAC MCC                                    THE RIVER MURRAY TRIAL                                        RELIABLITY TRIAL
SOUTH COAST MXC               SCMX RIDE DAY                                                         MOTOCROSS
SPEEDWAY RIDERS                PRACTISE DAY                                                                        SPEEDWAY
SEPTEMBER 10 – TICKETS SALES OPEN MONDAY MORNING, 6.00AM
MSA                                        SA MOTOCROSS 2021 PRESENTATION NIGHT        MOTOCROSS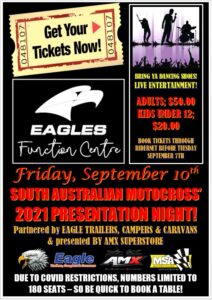 SEPTEMBER 11 & 12
GAWLER MCC                        AMX SUPERSTORES 2021 SA TRIAL CHAMPS          TRIAL
TEE TREE GULLY                     SA VMX SERIES ROUND 4                                         MOTOCROSS
MORGAN MCC                       MORGAN CLUB CHAMPIONSHIP ROUND 6             MOTOCROSS
MUD N TARS MCC                 STOCKOS ENDURO                                                    ENDURO
CLARE MCC                            RPA RIDE DAY                                                            MX & ENDURO
APEX CLUB @ KADINA          APEX OUTBACK POSTIE BIKE RIDE                           TRAIL RIDE
ARIEL MCC                              STATION EXPLORE RIDE 2021                                   TRAIL RIDE\