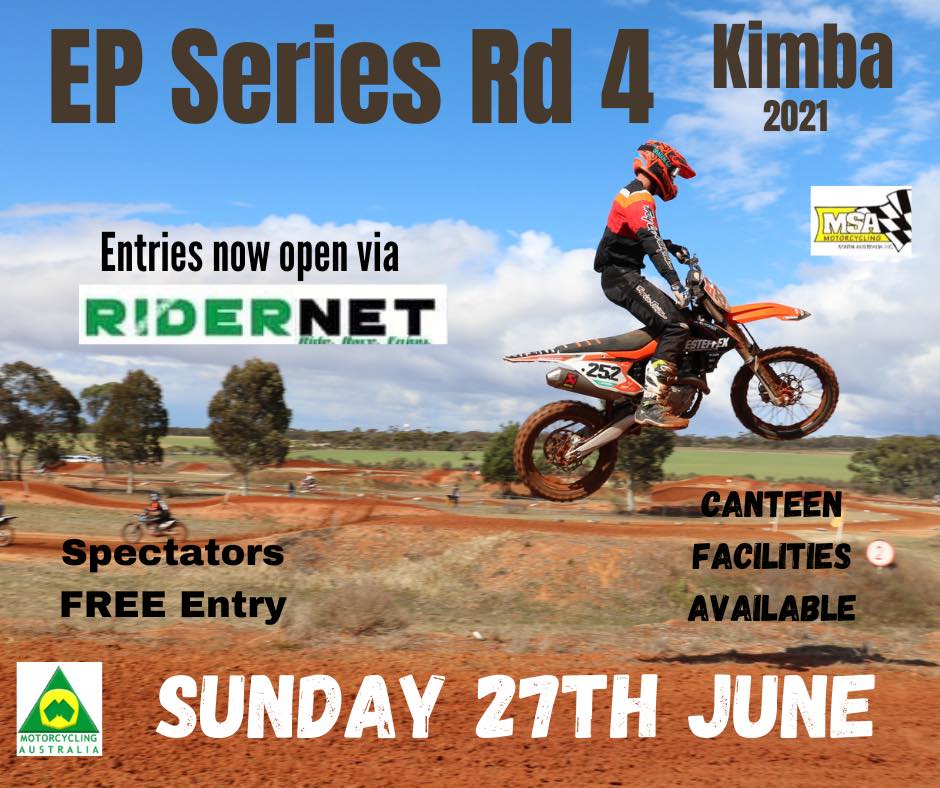 9 EVENTS THIS WEEKEND – YEP, NINE, COUNT THEM! – HEADLINED BY THE EP SERIES FINALE AT KIMBA!
A bit spoiled for choice this weekend, with 9 events on, across 4-5 disciplines this weekend, headlined by the Finale' of the 2021 EP Series at Kimba, but also with events in the Riverland, the metro area, the Murraylands and down the South East, seeing much of the state covered!
But, all eyes (or most anyway) will be on Kimba this weekend as they host the final of the EP Series for MX on Sunday. The EP (Eyre Peninsula) Series, now well over 10 years running, is a great compliment to the SA Championship series, and gives riders from the 'Wild, Wild West', a series to develop their skills without needing to drive 100's of K's each weekend to get quality competition – and a huge well done to all of the clubs, Whyalla, West Coast, Port Lincoln and Kimba!
AND; A GREAT OFFER TO THOSE HEADING TO KIMBA! To everyone who is heading to the final round of the 2021 EP Series at Kimba – THIS WEEKEND – here is a message from Vicki at the Kimba Gateway Hotel regarding meals!
"If you could please let people know that our meal service is between 6.00pm and 8.30pm and that all of the Menu is available to takeaway. Our phone number is 86 272 888 for any table bookings OR takeaway orders."
Now – if you check out their socials and the pics of their food – their food looks awesome and we can't thank them enough for looking after the SA motorcycling family!
https://www.facebook.com/kimbagatewayhotel
DANNY REILLY MEMORIAL FEATURE RACES RETURN THIS WEEKEND
The Tea Tree Gully MX VMX day features a special end of day events in memory of Danny Reilly. (From Nev Mitchell) Danny was a MX racer that myself and my mates all knew from our days living in Windsor Gardens, we all admired him. So having said that I hope we see plenty of entries. Below is a pic of some of the trophies for this weekend's racing at TTG:
Remember the Vintage Class is up to & including Evolution bikes (so that's Pre70, Pre75, Pre78, Evo), so if you bike is air cooled, non-linkage & drum brakes, then you're in!!!
The junior class is for 125cc 2 stroke/250cc 4 stroke 13 – under 16 years of age as per the supp regs.
FYI, the bottle of red is not included but only there as a size reference of the trophies for you all to salivate over.
So who will get their name on the inaugural Danny Reilly Memorial Vintage MX shield (not pictured – it's a surprise!)???
RIGHT – HERE IS THE RUNDOWN ON ALL OF THE EVENTS FOR THIS WEEKEND – AND A COUPLE OF REMINDERS AT THE END ABOUT ENTRIES BEING OPEN FOR A COUPLE OF EVENTS NEXT WEEKEND!
EP SERIES ROUND 4 – THE FINALE!
All roads lead to Kimba this Sunday 27th for the final round of the 2021 EP Series.
Track looks mint, weather should be great.
Just a few reminders from the organisers:
Registrations must be completed on Ridernet by 4.00pm Saturday – TOMORROW!
Caravan and Campers must NOT set up in the pit area, there is a designated area at the back for them
Gates open at 6.00am Sunday
CASH ONLY FOR THE WHOLE DAY
$30.00 FLAG FEE (optional) payable on day
Junior Scrutineering 7.00am
Seniors SELF Scrutineering
Sign-in @ 7.30am until 8.15am
Riders Brief 8.30am
Practice 8.45am
Racing immediately following practice
The Kimba MCC look forward to seeing you there for an awesome day!
SAVMX & DANNY REILLY MEMORIAL @ TEA TREE GULLY!
REMINDER…. Entries close 11.00pm this FRIDAY – TODAY!
Last year was a ripper day with perfect track and strongly supported by the riders.
This year's track is looking to be the goods also! With the track crew out tending to it the last few weeks!
Don't forget there are trophies for two groups on the day, 125/250 JUNIORS and VINTAGE up to Evolution Class.
If you are entering don't forget to download self-scrutineering forms, 1 per bike.
Thanks in advance, from the TTG MXC committee
PS; HOW GOOD DOES THE TRACK LOOK – SEE ABOVE???
MORGAN MCC CLUB CHAMPIONSHIP ROUND
Entries are open and close at completion of sign on SUNDAY morning!
Entries can be made on the day at Sign On or via Ridernet.
TIMETABLE:
Gates open 6.00am
Sign On 7.00am – 8.30am
Scrutineering 7.00am – 8.40am
Riders Briefing 8.45am – 9.00am
Practice Following riders briefing
Racing Begins at the conclusion of practice
Presentation will be approximately 15 minutes after completion of the last race of the day.
Presentations will be made to all the 50cc Demo riders' and the top 3 finishers for each class.
RIDE DAYS;
MOUNT GAMBIER MCC                     RIDE DAY                                ROAD RACE
Road Race Ride Day at the brilliant Mac Park this Saturday, 26th June.
Canteen open and contact Marg at Mac Park for all details!
MOTOCROSS RIDERS ASSOC.                       RIDE DAY                                MOTOCROSS
For those not heading to Kimba, Tea Tree Gully or Morgan for a racey weekend, head to Gillman for a Ride Day – Nationals quality track – kicks off at 7.00am with sign on.
Contact Anthony Slade for all the details.
KEYNETON MCC                                 RPA RIDE DAY                        ENDURO / OFF ROAD
Enduro/Off Road Ride Day this Sunday 27th June at Starick Road, Cambrai.
Signing-on from 7:30am, bikes on track from 9:00am.
LEVIS MCC                                          RPA RIDE DAY                        MOTOCROSS / OFF ROAD / TRAIL RIDE
Levis MCC Club Ride Day this Sunday. With more lovely rain this week, we can now safely say that this weekend's Ride Day will be held in prime conditions at ACUSA Park.
ARIEL MCC                                          TRAIL RIDE                              TRAIL RIDE
The Ariel MCC have their 2021 Riverland Run on this weekend for Club members, contact the Club for all the details if interested in joining their club!
To contact any of the Clubs listed here, head to the Club directory on this website for all contact details for all clubs! 
AND: ENTRIES ARE ALSO OPEN FOR;
AJS MTC                                              THE CLASSIC TRIAL                TRIAL                                      
SUNDAY, JULY 4; The AJS MTC's brilliant Classic Trial, for all of the old twinshock and classic trials irons from years past – enter through your Ridernet profile and get ready to head the prime venue at Tungkillo next weekend, with camping welcome on the Saturday night!
MUD N TARS MCC                             CLUB SERIES                           DIRT TRACK
SUNDAY JULY 4; Round 1 of the Mud N Tars MCC's Dirt Track Series for 2021 and the start of the lead up to the 2021 SA Championships in November – Enter through Ridernet and get keen to go sideways!