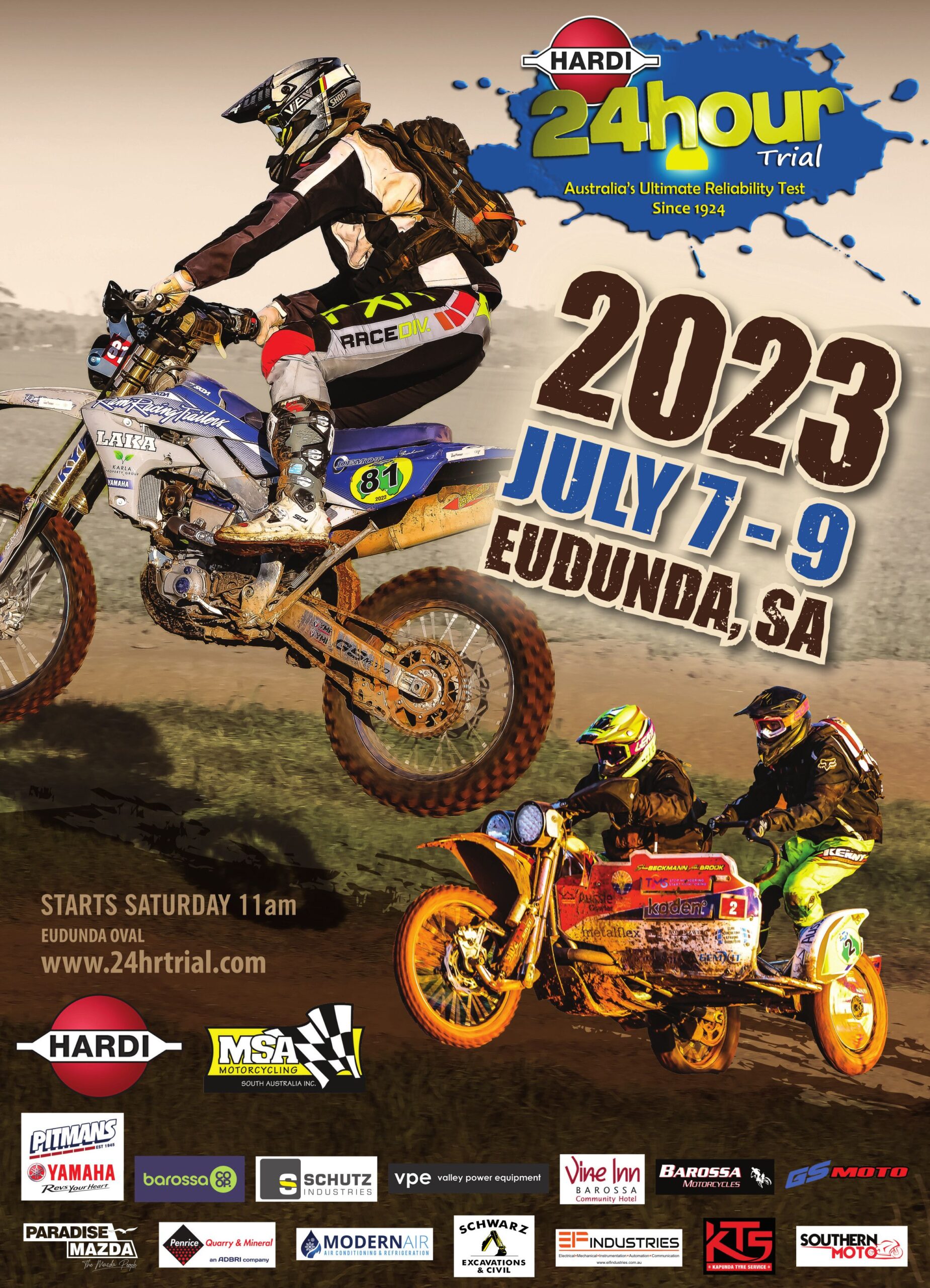 The HARDI 24-Hour Trial, an annual motorcycle reliability trial that was first run in South Australia in 1924, is the must-see event this weekend. This year, the town of Eudunda once again is the host after a 4-year rest due to pandemic and drought. 168 competitors on 137 machines will begin to file off in one-minute intervals this Saturday 8 July from Main Control at 11.01am at the Eudunda Oval.
With longer distances in competitive stages, this year is sure to be a challenge for both rider and machine. Course conditions are looking favorable due to a good amount of rainfall in June; however, it is almost a certainty that the bikes will find some dust between mallee trees somewhere on the course.  At least 300 volunteers will again be assisting in running the event including many motorcycle clubs running control points spread out around the Eudunda and surrounding districts. Spectators are well catered for with three competitive sections around the course will be on offer this year to the public as designated spectator sections, with many hundreds of spectators expected to be in attendance.
For those looking for refreshments, the Eudunda Sporting Club will be catering to the public at the Main Control for the duration of the event. The Eudunda Roadhouse will remain open all night to offer fuel, food and drinks. The Eudunda Show Society will have 24 Hour Trial merchandise available at Main Control with card facilities 3pm – 6pm Friday and from 9am Saturday.
Again, the field is looking ripe for some tight competition. 2023 sees 31 sidecars line up for the largest sidecar field in 24 years. Last year's winning rider Shane Beckmann is back with his regular passenger Adam Brook, after Adam had to sit out last year's Trial due to a Covid diagnosis. Shane will be after a second win to share with Adam.
Shane 'Crash' Schiller is celebrating a win in his class in the Welsh 2 Day Enduro in the UK last weekend with last year's winning passenger Brian Anthony. 'Crash' will be attacking this year's 24 Hour Trial with his regular passenger Steven 'Stiff' Doecke who have previously won together on three occasions. 4-time winners Mark Launer and Tyson Rohrlach are also fresh off the plane from the Welsh 2 Day and will be looking to carry that momentum into the '24'. Max and Sam Hutchesson, also 4-time winners are back after Max took a year off due to injury.
Out of the 106 Solos, the Expert class is looking strong. Two-time winner Riley Graham will again front up against 4-time winner Sean Throup. Both past champions have had limited bike time for 2023, but do they have the upper hand with their past knowledge and experience? These two will also have hot competition from locals Zach Tremaine and Clinton Voigt.
Another two riders that will be chasing the #1 spot are Jacob Smith and Cooper Sheidow. Jacob is returning from Condobolin NSW to make amends for his DNF last year and placed 6th at the Finke Desert Race 4 weeks ago, while Cooper won the recent Robertstown Two Day Trial in his first attempt at night riding and finished 6th outright at the Hattah Desert Race last weekend. On top of this, you can throw in a handful of other riders that are capable of a potential win.
Scrutineering of machines will take place on Friday Night. Live timing will again enable the trial to be followed to the second from anywhere around the course and around the world. This means that provisional results will be available shortly after the event with the Presentation Night being held on Saturday 15th July at the Vine Inn Barossa,
Nuriootpa. Live timing can be followed at www.24hrtrial.com
The 24 Hour Trial Organising Committee would like to thank the Regional Council of Goyder for the use of their road network and all the landowners for the generous use of their land. Spectators are asked to respect private and council land, please take all rubbish with them, and take care on the roads.
The committee have been hard at it again, preparing the oldest continuing motorcycle event in Australia as it builds up to the 24 Hour Trial Centenary next year.
Thank you to our sponsors for their continuing support:
NAMING RIGHTS SPONSOR
HARDI Australia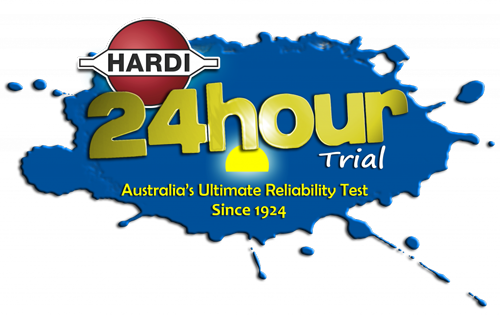 PLATINUM
Pitmans Yamaha
GOLD
The Barossa Co-op
Schutz Industries
Valley Power Equipment
Vine Inn Barossa
SILVER
Barossa Motorcycles
GS Moto
Paradise Mazda
Penrice Quarry & Mineral
Modern Air
Schwarz Excavations & Civil
BRONZE
EIF Industries
Kapunda Tyre Service
Southern Moto
#78 Riley Graham 📸 Don Macaulay                                                         #1 Shane Beckmann & Adam Brook 📸 SandPlow Photography 
#2 Mark Launer & Tyson Rohrlach 📸 SandPlow Photography                            #79 Sean Throup 📸 Don Macaulay                          #6 Crash & Stiff 📸 SandPlow Photography 
#8 Max & Sam Hutchesson 📸 Les Ludgate                                 #80 Clinton Voigt 📸 SandPlow Photography                                               #91 Zack Tremaine 📸 SandPlow Photography