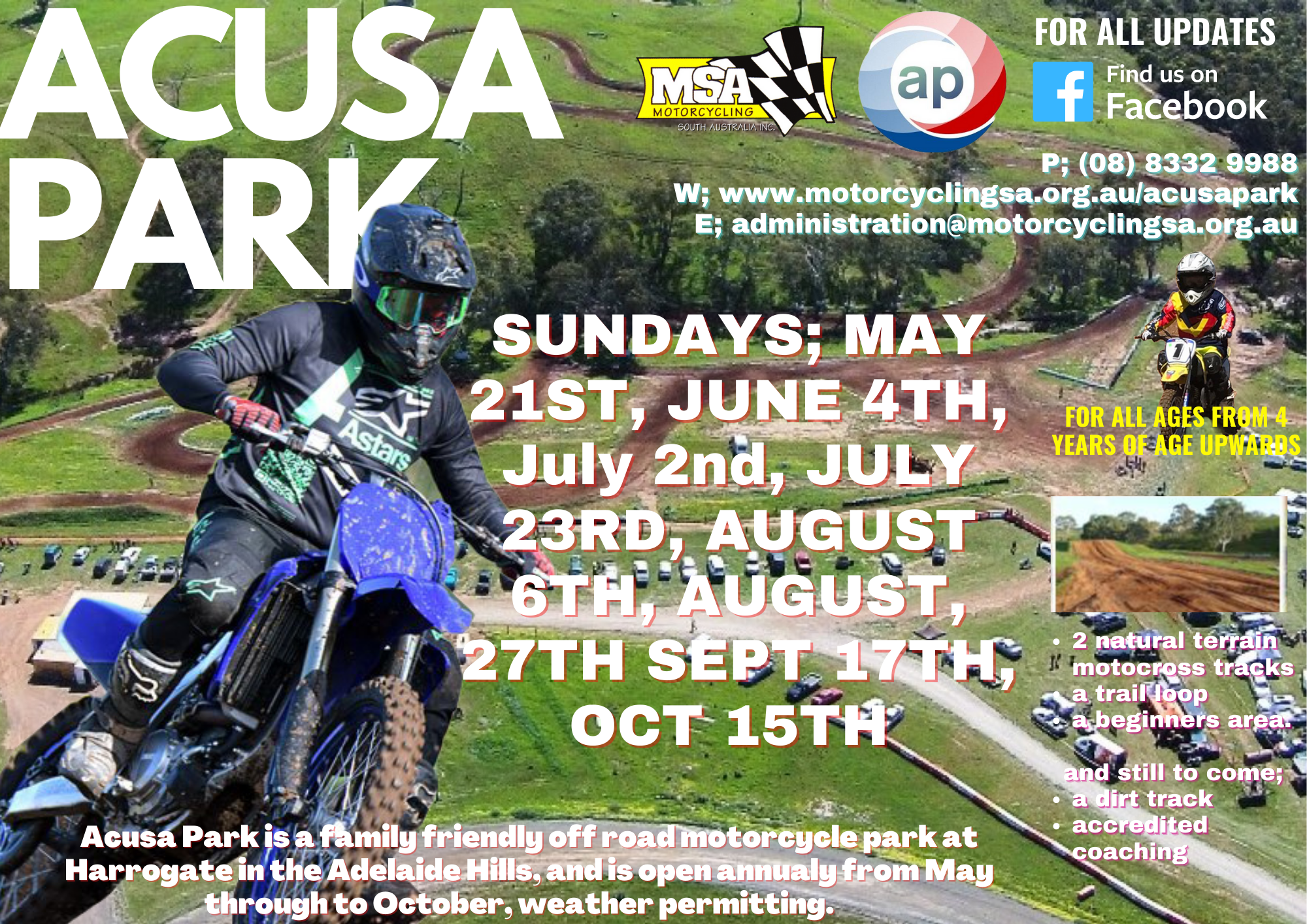 A WEEKEND OF RIDE DAYS – AND A DIRT TRACK SLIDE AT VICTOR!
After the postponement of the PRO MX Nationals this weekend due to the latest COVID-19 lockdown over the border, this weekend has suddenly become a  get back out on the bike and enjoy a Ride Day, or a Come & Try Day, or a Dirt Track blast, or scrape your knee type of weekend!
Below is who and what is open this weekend now – including a chance to ride the MX Nationals prepared track at Gillman on Sunday – contact the clubs through their socials – or through the Club Directory on this website for all the relevant details!
And also not forgetting – MSA's ACUSA Park in the hills will also be open on Sunday – 2 motocross tracks, enduro loop, juniors track, dirt track for the youngest riders, fully catered – a great family friendly atmosphere!
Get those bikes out of the shed and get riding – and after the rains this week, the off road tracks should be getting into some mint conditions!
Here's the rundown!
SATURDAY 29TH MAY
PORT PIRIE MCC                                COME & TRY DAY                                           MOTOCROSS                         
Rob has been out working the track and it is absolutely prime after the rains this week so we are going to run a come and try day this Saturday. Track open from nine until about four. $15 come and try $25 licenses riders. No food at the canteen only drinks sorry. No water will go on the track on the day but we have had about an inch of rain this week so should be wet enough.
MOUNT GAMBIER MCC                     RIDE DAY                                                        ROAD RACING
Another great weekend coming up. Ride Day Saturday 29. Weather looking awesome.
On Sunday, working bee. Please bring a shovel or spade. We plan on doing the edges around the track. Easy work if there are enough of us. We look forward to seeing you all.
SUNDAY 30TH
MUD N TARS                                      ROUND 1, DIRT TRACK SERIES                      DIRT TRACK
Dirt Trackers – Race Day is this Sunday at Day Road. PLEASE pre-enter, even if you want to pay on the day. You can enter via Ridernet. The link is on our website www.mudntars.com
They are also having a working Bee on Saturday at 13 Day Rd, Victor Harbor. The track and surrounds needs a bit of a tidy up. Wade has a list of jobs. Bring along anything you would normally bring to a working bee. The track looks excellent so we only need to concentrate on the surrounds, pit and parking areas and around the buildings. Members, get your working bee card signed and after 3 being marked off, you get a free entry at a Mud N Tars Ride Day!
SOUTH COAST                                                RIDE DAY                                                        MOTOCROSS
With the unfortunate news that the PRO MX has been postponed, we will now be open this Sunday! 8:30am – 2:30pm. Entries on the day, and via Ridernet. Last time to get some practice in before our Round 2 SCMX Club Day – June 6th
Member – $30.00, Non-member – $40, One day licence – $35, EFTPOS and Cash Available
CLARE MCC                                        RPA RIDE DAY                                                MOTOCROSS / OFF ROAD
Registrations now open on Ridernet. To enter sign into Ridernet using the rider's Ridernet login. Members required to run the day. You must be a current member. If you want any more info please call Jo 0419393906
MSA / ACUSA PARK                          RPA RIDE DAY                                                MOTOCROSS / OFF ROAD / TRAIL RIDE
GET KEEN! Ride day this Sunday – 10.00am to 3.00pm, sign on from 9.00am!  With more lovely rain this week, we can now safely say that this Sunday's Ride Day will be held in prime conditions! Looking forward to seeing a full house this Sunday!
MOTOCROSS RIDERS ASSOC.                       RIDE DAY                                                        MOTOCROSS
Track will be open Sunday 8.00am till 2.00pm Great opportunity to ride a track that's prepped and ready for national event.
$30.00 members $40.00 non-members, $35.00 one day licence, EFTPOS only
*Please make sure you stay on the track, please do not ride on the infield.
*Please enter and exit from some spot as we don't want to spend all this time fixing the infield up.
SATURDAY & SUNDAY, 29TH & 30TH
ARIEL MCC                                          RIDE DAY                                                        OFF ROAD / TRAIL RIDE
Ariel MCC of South Australia – Social Dirt Bike Riding Club: The Ariel club is all about having a great time with mates and riding Dirtbikes – contact the Club for all details about this weekend ride.