The Motorcycling SA Hall of Fame was established in 2014 to honour the legends and heroes of South Australian motorcycling and highlight their achievements and contributions to motorcycling.
Hall of Fame Nominations OPEN NOW
Motorcycling SA Hall of Fame Criteria 
Motorcycling SA Hall of Fame Nomination forms
Motorcycling SA Hall of Fame
The Hall of Fame ceremony will be held in late November each year, and will be open to the whole association & public to attend.
Hall of Fame Inductees

JACK YOUNG – 2014; JOHN BOULGER – 2014; MURRAY WILLIAMS – 2014; 
 
ANDY CALDECOTT – 2015; JEREMY BURGESS – 2016; KENNY BLAKE – 2017

BILL HORSMAN – 2018; TREVOR DIENER & PHILIP HOLMES – 2019; GAVIN PORTEOUS – 2021
Motorcycling SA Life Members:
Life membership exists to recognise the valuable contributions of individuals to the current and future existence of MSA.
Life membership is only awarded in exceptional circumstances
Must have provided significant and meritorious service to motorcycle sport and in particular the association.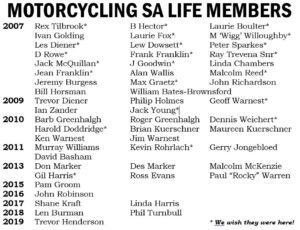 Motorcycling SA Frank Franklin Trophy:
In memory of the late Frank Franklin and Donated to Motorcycling SA by the Velocette MCC and is awarded for "outstanding contribution to motorcycle sport in South Australia." This is South Australian motorcycle sports most prestigious individual award for 'off bike' involvement.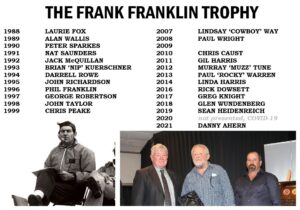 Motorcycling SA Rising Star:
The Rising Star award is for junior riders Under 16 yrs. of age
Have demonstrated significant improvement and achievement in their discipline
Demonstrates a trajectory for potential future success (Rising Star of our Sport)
Previous winners of the award ineligible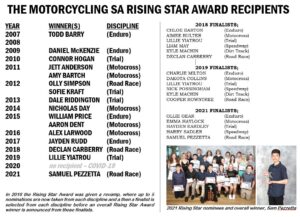 Motorcycling SA Club of the Year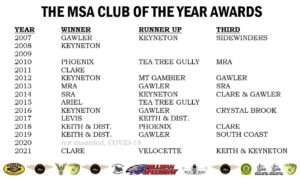 Motorcycling SA Regional Volunteer of the Year
​Motorcycling SA Regional Volunteer Award is an award to recognise the outstanding hard work of our clubs & associations Volunteer from specified areas around SA. Volunteers are the lifeblood of grassroots sport and give up a lot of their own personal time to help run the sport that we all love. Volunteers are dedicated people that not only give up large amounts of personal time, but also can act as positive role models for other club members and riders.