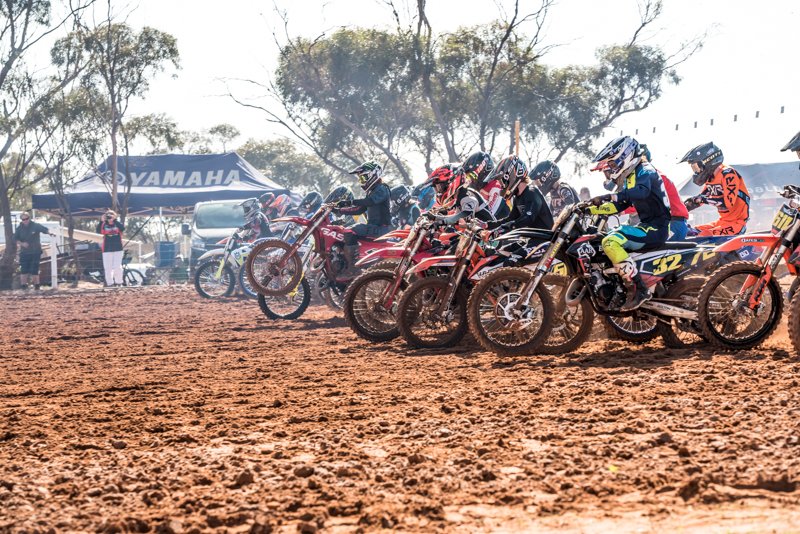 The past weekend saw Round 2 of the Eagle Trailers Campers and Caravans 2022 South Australian Motocross Championships, presented by AMX Superstores – with a fantastic turnout at Riverland Junior Motocross Club. "Wow! What a weekend – and how good are these numbers?!" exclaimed Clint Gow-Smith, Sports Manager for Motorcycling SA's Motocross discipline. "182 juniors and 104 senior entries is a great indicator of the positive energy and the hard work that is going into the sport at club level. It's super pleasing to see for SA Motocross!"
(photos courtesy Eric McConnochie and Aaryn Minerds)
Saturday May 21 – RJMCC Juniors Day
The South Australian MX community continues to go from strength to strength, with round 2 of the Eagle Trailers Campers and Caravans 2022 South Australian Motocross Championships, presented by AMX Superstores eclipsing previous entry records at the Riverland Junior Motorcycle club in Renmark on the weekend!
Watching the 9 Demo "Dirt Devils" taking advantage of their time on the infield hard pack circuit for their three 10 minute sessions was a highlight on Saturday. Such innovation has got the event coordinators and other clubs thinking of how we can make this grassroots entry into competitive MX far more enjoyable. These kids had a ball!
First up was the 50cc 7-9 Competitive class, who again showed the great depth of talent coming through with 19 starters. All these kids are improving with every outing. The trailblazing Mason Emergalis showed he is a real talent, coming through with a dominating performance in front of a few names that we will be hearing a lot more of in the future, with Deegan Cameron taking second place and Bodhi Austin beating young Nate Bowman on a count back for the third and final podium position.
The split group of 65cc classes (7-9 and 10-U12) backed up round 1 entries with 35 across both classes. West Coast MCC young gun Riley Mullen held off the army of interstate rivals to fly the SA flag off the top step and extend his Championship lead, while the Victorian fast chargers had to battle with each other for the remaining podium positions – eventually seeing Emergalis in second and White taking third.
In the older 65cc (10-12) it was Cooper Danaher who continued to impress on the 65cc, taking the win in front of an improving Declan Smart who put down the fastest lap in Moto 1 – showing he can certainly mix it with the interstate riders on any given day. We expect this battle to continue in to rounds 3 and 4! Dylan Gromball had a solid day to wrap up the third in class.
The TITANIUM SECURITY sponsored Girls 85cc2ST/150cc 4 St (11 -U16 Years) Class again saw a consistent amount of entries, and Jess Bennett continued her winning ways in the 85cc class. Both second placed Charlize Waldhuter and third placed Amelia Gwiazda showed consistent lap times across all 3 Motos on the tough track, which indicates they are improving with every outing. All our girls in both classes should be super proud of the efforts on the weekend!
Emily Lambert again showed her raw speed and ability in the 125cc Class, taking a clean sweep with Jess Bennet backing up her 85 results with a second in 125cc in front of Hayley Pudney. 14 entries across both these classes continues to show growth amongst our female riders – a development that will be further showcased at the upcoming Round 4 of The Penrite ProMX Championship, presented by AMX Superstores at Gillman Motocross Track, where the top women in Australian MX will be racing! A scheduled 24 Entries certainly backs up what we are doing at State and Club levels here in SA!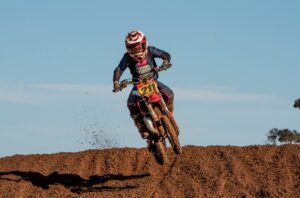 Onto 85cc 9-12 years – The championship in this class really took a turn with Cooper Danaher having to really grind out a tough day for the OA. South Aussie riders Declan Smart and Levi Rossi both had their break out wins in this class in 2022 with Smart taking Moto 1, (Vic) Danaher Moto 2 and (SA) Levi Rossi breaking through also for a top step result!
Both Rossi and Smart gained vital points on Danaher, who came together with Smart early in Moto 3 in which both riders worked hard to peel off positions from last place to salvage points in a Moto that didn't go their way.
Just 6 points separated the top 3 at the end of the day with Smart (97) Danaher (95) and Rossi (91). Heading into round 3 there is only 7 points between Smart and Danaher in the Championship with 2 rounds down and 2 to go!
The 12-U16 85 BW class went to another level this weekend as the SA/Vic battle further intensified! The comradery amongst these kids off the track is first class, but the racing is fierce but fair on it – and it was breathtaking to watch on the weekend! The much-improved Kye Little again showed his rise up the ranks as he led a more experienced class for three quarters of Moto 1 before Austin Boyd made the pass to win by just 3 seconds! The YJR riders (SA) Ryder Woodrow and (VIC) Jobe Dunne again showed their class and grit on a day any one of 5 riders could have taken the honors.
Auston Boyd, who was entered to ride 3 classes over the weekend, achieved a clean sweep on the 85cc which was the perfect start for his round 2 campaign!
Jobe Dunne showed poise and patience after a disastrous Moto 1 where he managed to salvage crucial points with a fifth place after being near the back of the 30 starters after lap 1 – highlighting that Championship points are vital no matter how the moto starts! He finished strong in Moto 2 and 3 to secure second on the day and these results shuffled him up into second position in the Championship. He is 2 points clear of Kye Little who took third on the day and sits well poised for a podium in the Championship at the half-way mark!
Our premier Junior class on Saturday was the 13-U16 125cc class and very much like the 85cc BW, this class is chock full of talent with over 30 starters making this the showcase race on the Saturday! The obvious absence of the current Championship leader SAYJR Rider Wil Carpenter, who suffered an injury between rounds, has left this championship wide open!
It would be the Victorian pair of Strode and Kenney that would draw first blood in Moto 1 going 1-2 with SA's young emerging star Thomas Lambert in third and fellow rider from the southeast Ollie Gear in 4th.
Moto 2 and 3 ebbed and flowed, with the SA pair sending a strong a message to the interstate riders that this Championship is far from done, with an impressive Moto 3 going to the local riders Lambert in first and Gear in second, followed by Strode in third and Kenney in fourth. The results highlight just how close this Class is, with Strode taking the OA (97 Points), Kenney (95pts) and Lambert (93pts) – leaving just four points separating the top three riders!
Ollie Gear again showed his raw ability on two wheels with an impressive fourth OA. Unfortunately Ollie and Brother Davey will miss round 3 of our SAMX series as they pursue the Australian Off Road Championships where both boys are dominating their classes – but we wish them all the very best!
Sunday May 22 – Seniors
MX 1 saw the return of some of South Australian MX favorite sons returning to competitive racing with Danny Leane, Joseph Dalle-Molle, Matt Clarke and Warren Carrol showing that work and family life hasn't stopped these guys riding in the premier class, and providing some awesome racing!
The MX 1 and MX 2 included Factory Gas Gas Rider Blake Fox who also entered round 1 and it was great to see the caliber of such Pro riders supporting our events. Fox showed his class in both events as he gets ready for the upcoming Penrite ProMX at Gillman Motocross Track and from all reports he got the most out of the day, leading KTM Australia's Brett Metcalfe early in Moto 3 before Metcalfe really put the hammer down.
Metty's lead up to the fourth round of the ProMX has been super impressive, and he peeled off lap after lap on a gnarly and naturally deteriorating track, giving himself and our host of local talent the perfect last chance race prep. Incredibly consistent and focused, he recorded fastest laps in Moto 1,2 and 3 within .300 of a second across all three showing just how well poised he is on board the KTM in readiness for the ProMX event.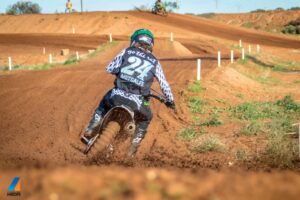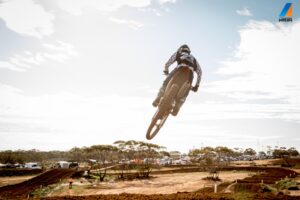 The battles continued between Levi McManus, Siegah Ward and Mitchell Norris throughout the day, with Ward again showing when he gets out the gate he can be one of the fastest guys out there. McManus showed a lot more of what we have come to expect from the past Champion of this series and we expect Levi to continue to improve going forward after his solid second OA in front of Ward.
MX 2 featured Fox and also Queensland rider Braeden Krebs who also impressed with gritty rides in all 3 Motos. 3 time MX Champion Kai Newbold, Fox and co had to get to work hard early in Moto 1 when Taj Gow-Smith surprised them all getting his first hole-shot in senior ranks at this level. It's a huge step up and we would see the lead change early with Fox asserting his own bike skills as he checked out, leaving Newbold, Norris and Krebs to battle on.
Riley Pitman again was impressive in his breakout senior year with a solid result in all 3 Motos. This kid is going from strength to strength in 2022! His busy race schedule is certainly evident with the time in the saddle, whose consistent lap times and results are great reward for the hard work he's put in over summer. But it was Fox that made the demanding track look easy in sections with an impressive clean sweep – with Norris in second and Krebs grabbing the third podium on a count back in front of Newbold (88 Pts).
Without confirmation that the current series leader Fox will continue in Rounds 3 and 4 of our Championship, the MX 2 class may really tighten up with Norris holding a slender 9 point lead over Newbold. We now find ourselves poised at the half way mark with two vastly different tracks forecast for the remainder of the Series!
The Premier (125/250cc) Junior Class that is now a feature on the Sunday program again delivered in spades. With the usual suspects of Lambert, Strode and Kenny from Saturday's 125cc class this was always going to be the race to watch. Then we throw in Billy Cameron (Vic), Davey Gear and Jake Sanderson and wow did we see some incredible racing!
Without YJR Racer Wil Carpenter competing due to injury, it was Strode (Vic) taking  Moto 1 in front of Lambert (SA) by just .400 of a second – getting it done right on the line with Kenney (Vic) bringing in third place.
This was by the far the most entertaining and closely fought race in this State at this level in many moons! The top five riders were split only by 1.5 seconds on their best laps for Moto 1! But Billy Cameron again showed why he is one of the lead riders in this class with an incredibly high pressured moto where there was less than 5 seconds difference as the first 4 riders went past the checkered flag! This is so exciting for our sport! Strode rode aggressively and with poise to win Moto 3 and secure the win and OA, with Kenney in second place and Lambert third.
The OA Points indicate how close this class truly is with Strode (102pts) but then just five points separating the next three riders – J Kenney (92) T Lambert (90) and B Cameron (87).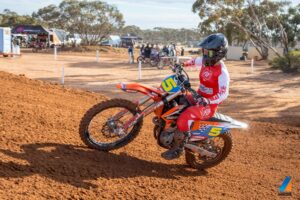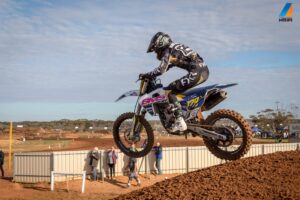 The Woman All Powers Class, sponsored by Butlers Mechanical Services, continues to go from strength to strength. WMX is certainly growing in our state, with eleven entries at this round.
With no interstate entries at round 2 it was the best of SAWMX was on show and the racing was really exciting in tough conditions. Amy Bartsch continued to show why she is one of the State's standout female riders, dominating the day with a clean sweep, whilst the battles behind her were really exciting for the future of the sport. Young gun Emma Haylock showed she can mix it with the older women with an impressive day going 2-3-2 for second OA in front of Amy Butler and Chloe Barton in third.
The comradery of these women and families really does set the standard at all events here in SA, and the sponsorship and guidance of both Ian and Tracey Butler from BMS is unbelievable!
Expert Class all Powers continues to see the development of our juniors coming through the ranks to be the next wave of MX 1 and MX 2 riders and Aaron Dent showed his class in tough conditions and took first place. We can again throw a blanket over the OA points with the next four riders only separated by four points which tells a tale of just how close this class is in 2022 – Zak Crafter took second OA (90pts), followed by Caleb Walker (87pts) in third and Chad Sparrow (86pts) just 1 point behind them.
We have to give special mentions to the "Red Barron" Lachlan Pagon, who can claim the best nickname-on-jersey print so far in our Series! He's showing us all how much he's loving the 450 this year and it's great to see him racing in 2022!
Clubman All Powers was again dominated early by Ollie Pitchford who continues to impress in his break out year in the Clubmans – taking wins in Motos 1 and 2 with a nail biting finish in Moto 3 for second place and first OA for the day. Lachlan Pattulo was also solid with 2-2-1 and his break out win in 2022 in this Class at state level competition. Mackyle Thompson finished with 3-3-4 for third OA.
As we take a rest at the half way mark of the Championship there is just 19 points between second and fifth OA in the Clubmans, and there is plenty of racing still yet to be had at Port Pirie and Keith to conclude our Series!
The 35-44 Years Vets class was boosted by the inclusion of Shane Metcalfe who returned to competitive racing after 5 years and showed he might not be as fit but he's still got all the skills most guys would only dream of on two wheels. The slightly younger and fitter Bradley Ross showed why he could still be racing in the MX1 class with a flawless display in front of Metcalfe and Charlie Hollis in third OA.
In the Masters 45+ Vets, Darren Avery continued his wining ways with another clean sweep and looks poised to go back to back in this class in 2021 and 2022. Ian Haylock rode consistently, taking second place with John Platt having a solid day for third OA.
—
After a month's gap, the Eagle Trailers Campers and Caravans 2022 South Australian Motocross Championships, presented by AMX Superstores will return with Round 3 on July 16/17 – hosted by Port Pirie MCC at their track on Port Broughton Rd, Port Pirie. Entries for this event on June 17 through Ridernet. Check our website for updates as they happen, or follow MotorcyclingSA on Facebook and Instagram.