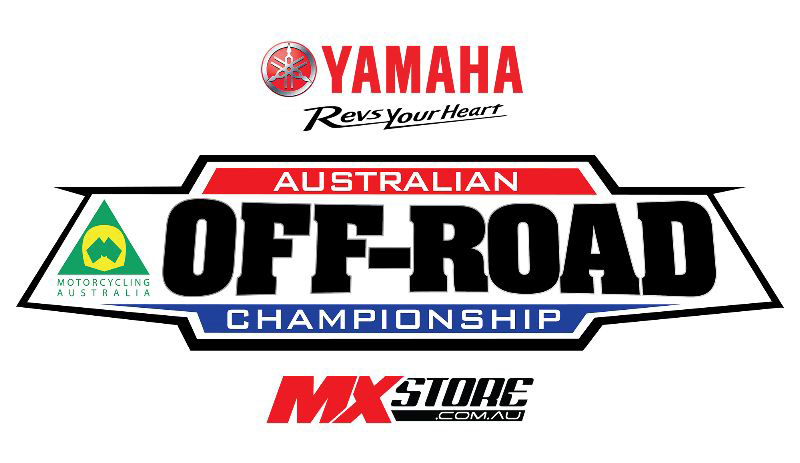 The final 2 rounds of the Yamaha 2022 Australian Off Road Championship, presented by MX Store, happens this weekend at Wynyard in Tasmania, and there are a heap of South Aussies in action – and in with a great chance to stand on the Australian Championship podium for 2022.
Below is the current points for the top 10 in classes where South Aussies feature (they are highlighted), as as you can see, it is going to be on, with a potential 5 podium placings on offer – which could make the Enduro discipline SA's most successful (in regards National results) for 2022!
Good luck to all of our riders – ride hard, ride safe and smash those berms!
Photos credits; Eric McConnochie 
| | | | | | | | | | | | |
| --- | --- | --- | --- | --- | --- | --- | --- | --- | --- | --- | --- |
| Pos | Name | Total | Diff | RD1 | RD2 | RD3 | RD4 | RD5 | RD6 | RD9 | RD10 |
| E1 | | | | | | | | | | | |
| 1 | Kyron BACON | 200 | 0 | 25 | 25 | 25 | 25 | 25 | 25 | 25 | 25 |
| 2 | Korey MCMAHON | 166 | 34 | 22 | 22 | 16 | 22 | 20 | 22 | 20 | 22 |
| 3 | Blake HOLLIS | 148 | 52 | 18 | 18 | 22 | 18 | 16 | 20 | 18 | 18 |
| 4 | Cooper SHEIDOW | 144 | 56 | 14 | 16 | 18 | 20 | 18 | 16 | 22 | 20 |
| 5 | Brock NICHOLS | 112 | 88 | 15 | 13 | 13 | 15 | 15 | 14 | 14 | 13 |
| 6 | Samuel PRETSCHERER | 108 | 92 | 13 | 15 | 15 | 16 | 22 | 18 | 9 | x |
| 7 | Jacob DEAGAN | 105 | 95 | 12 | 12 | 14 | 14 | 13 | 12 | 13 | 15 |
| 8 | Jeremy CARPENTIER | 104 | 96 | 20 | 20 | 20 | 13 | x | x | 15 | 16 |
| 9 | Nathan DALBOSCO | 66 | 134 | 10 | 10 | 11 | 11 | x | x | 12 | 12 |
| 10 | Russell SCOBLE | 66 | 134 | 9 | 9 | 10 | 10 | 8 | x | 10 | 10 |
| 11 | William PRICE | 60 | 140 | 16 | 14 | x | x | x | x | 16 | 14 |
| | | | | | | | | | | | |
| E3 | | | | | | | | | | | |
| 1 | Andrew WILKSCH | 197 | 0 | 25 | 25 | 25 | 22 | 25 | 25 | 25 | 25 |
| 2 | Jonte REYNDERS | 177 | 20 | 22 | 22 | 20 | 25 | 22 | 22 | 22 | 22 |
| 3 | Luke BUNNIK | 120 | 77 | 12 | 12 | 14 | 16 | | 20 | 15 | 15 |
| 4 | Stefan GRANQUIST | 116 | 81 | 20 | 20 | 22 | 20 | 20 | 14 | x | x |
| 5 | Patrick MCGILLIVRAY | 113 | 84 | 13 | 13 | 15 | 14 | 15 | 16 | 13 | 14 |
| 6 | Hayden KEELEY | 101 | 96 | 16 | 15 | x | x | 18 | 18 | 18 | 16 |
| 7 | Thomas MCCORMACK | 61 | 136 | 14 | 16 | 16 | 15 | x | x | x | x |
| 8 | Jye DICKSON | 40 | 157 | x | x | x | x | x | x | 20 | 20 |
| 9 | Thomas HENRY | 39 | 158 | 4 | 9 | 13 | 13 | x | x | x | x |
| 10 | Broc GRABHAM | 36 | 161 | 18 | 18 | x | x | x | x | x | x |
| | | | | | | | | | | | |
| J4 | | | | | | | | | | | |
| 1 | Davey GEAR | 179 | 0 | 22 | 22 | 25 | 22 | 22 | 22 | 22 | 22 |
| 2 | Jett YARNOLD | 160 | 19 | 25 | 25 | 14 | 25 | 11 | 10 | 25 | 25 |
| 3 | Tate YOUNG | 149 | 30 | 18 | 20 | 22 | 20 | 18 | 15 | 18 | 18 |
| 4 | Eli TRIPCONY | 137 | 42 | 9 | 18 | 20 | 16 | 16 | 18 | 20 | 20 |
| 5 | Joshua COATES | 124 | 55 | 20 | 16 | 15 | 18 | 12 | 11 | 16 | 16 |
| 6 | Jet BRIEN | 118 | 61 | 16 | 15 | 16 | 15 | 14 | 13 | 14 | 15 |
| 7 | Jay HARRIS-WALCH | 94 | 85 | 10 | 13 | 13 | 12 | 9 | 12 | 13 | 12 |
| 8 | Lachlan LOSTE-BROWN | 51 | 128 | 12 | 14 | 11 | 14 | x | x | x | x |
| 9 | Seth BURCHELL | 50 | 129 | x | x | x | x | 25 | 25 | x | x |
| 10 | Max LOCOCK | 40 | 139 | x | x | x | x | 20 | 20 | x | x |
| | | | | | | | | | | | |
| J3 | | | | | | | | | | | |
| 1 | Ollie GEAR | 180 | 0 | 18 | 25 | 20 | 20 | 22 | 25 | 25 | 25 |
| 2 | Levi STEPHENS | 173 | 7 | 25 | 22 | 25 | 18 | 25 | 22 | 22 | 14 |
| 3 | Lachlan METCALF | 146 | 34 | 16 | 16 | 16 | 22 | 20 | 20 | 18 | 18 |
| 4 | Dylan MCDONALD | 136 | 44 | 14 | 15 | 22 | 16 | 18 | 18 | 13 | 20 |
| 5 | Chad WILLIAMS | 94 | 86 | 2 | 14 | 12 | 10 | 15 | 14 | 14 | 13 |
| 6 | Charlie CONNOLLY | 85 | 95 | 22 | 20 | 18 | 25 | x | x | x | x |
| 7 | Jye LAWRIE | 85 | 95 | 13 | 13 | 13 | 13 | 8 | 9 | 7 | 9 |
| 8 | Beau TRIPCONY | 81 | 99 | 1 | 12 | 14 | 15 | 6 | 6 | 12 | 15 |
| 9 | Zane BURCHELL | 46 | 134 | x | x | x | x | 12 | 11 | 11 | 12 |
| 10 | Will MCINNES | 42 | 4 | x | x | x | x | x | x | 20 | 22 |
| | | | | | | | | | | | |
| EM | | | | | | | | | | | |
| 1 | John BAKER | 176 | 0 | 25 | 25 | 25 | 22 | 18 | 18 | 18 | 25 |
| 2 | Peter RUDD | 169 | 7 | 18 | 18 | 22 | 25 | 22 | 20 | 22 | 22 |
| 3 | Ian JENNER | 117 | 59 | 16 | 20 | 20 | 20 | 15 | 16 | 10 | x |
| 4 | Craig TREASURE | 84 | 92 | 15 | 13 | 12 | 18 | 12 | 14 | x | x |
| 5 | Joe ONDRUS | 79 | 97 | 9 | 6 | 2 | 10 | 11 | 12 | 13 | 16 |
| 6 | Matthew EVANS | 56 | 120 | 13 | 14 | 14 | 15 | x | x | x | x |
| 7 | Neil PAROZ | 56 | 120 | 12 | 15 | 15 | 14 | x | x | x | x |
| 8 | Simon BETTS | 55 | 121 | 4 | 8 | 10 | 4 | x | x | 15 | 14 |
| 9 | Kenneth HICKS | 52 | 124 | 20 | 16 | 16 | 0 | x | x | x | x |
| 10 | Damian SMITH | 50 | 2 | x | x | x | x | 25 | 25 | x | x |
| | | | | | | | | | | | |
| E2 | | | | | | | | | | | |
| 1 | Joshua GREEN | 194 | 0 | 25 | 25 | 25 | 25 | 22 | 22 | 25 | 25 |
| 2 | Fraser HIGLETT | 145 | 49 | 18 | 16 | 18 | 18 | 15 | 16 | 22 | 22 |
| 3 | Todd WATERS | 134 | 60 | 20 | 22 | 22 | 20 | 25 | 25 | x | x |
| 4 | Travis SILK | 114 | 80 | 14 | 13 | 11 | 12 | 14 | 18 | 16 | 16 |
| 5 | Michael DRISCOLL | 84 | 110 | 22 | 20 | 20 | 22 | x | x | x | x |
| 6 | Harrison TEED | 58 | 136 | 15 | 15 | 14 | 14 | x | x | x | x |
| 7 | Callum NORTON | 57 | 137 | 16 | 18 | 0 | x | 18 | 5 | x | x |
| 8 | Matt MURRY | 56 | 138 | 12 | 14 | 15 | 15 | x | x | x | x |
| 9 | Jye DICKSON | 40 | 154 | x | x | x | x | 20 | 20 | x | x |
| 10 | Riley GRAHAM | 40 | 154 | x | x | x | x | x | x | 20 | 20 |
| | | | | | | | | | | | |
| EV | | | | | | | | | | | |
| 1 | Lee STEPHENS | 184 | 0 | 25 | 20 | 20 | 22 | 25 | 25 | 22 | 25 |
| 2 | Christopher THOMAS | 179 | 5 | 20 | 25 | 25 | 25 | 22 | 20 | 20 | 22 |
| 3 | Jason DWYER | 86 | 98 | 22 | 22 | 22 | 20 | x | x | x | x |
| 4 | Sean MORRIS | 79 | 105 | 16 | 13 | x | x | 11 | 11 | 14 | 14 |
| 5 | Ian O'BRIEN | 72 | 112 | 18 | 18 | 18 | 18 | x | x | x | x |
| 6 | Josh MURPHY | 57 | 127 | 13 | 15 | 14 | 15 | x | x | x | x |
| 7 | Rowan PUMPA | 45 | 139 | x | x | x | x | x | x | 25 | 20 |
| 8 | Jason HACKETT | 42 | 142 | x | x | x | x | 20 | 22 | x | x |
| 9 | Mark PERRY | 39 | 145 | 12 | 12 | 9 | 6 | x | x | x | x |
| 10 | Neale SHERIDAN | 38 | 146 | 8 | 10 | 7 | 13 | x | x | x | x |