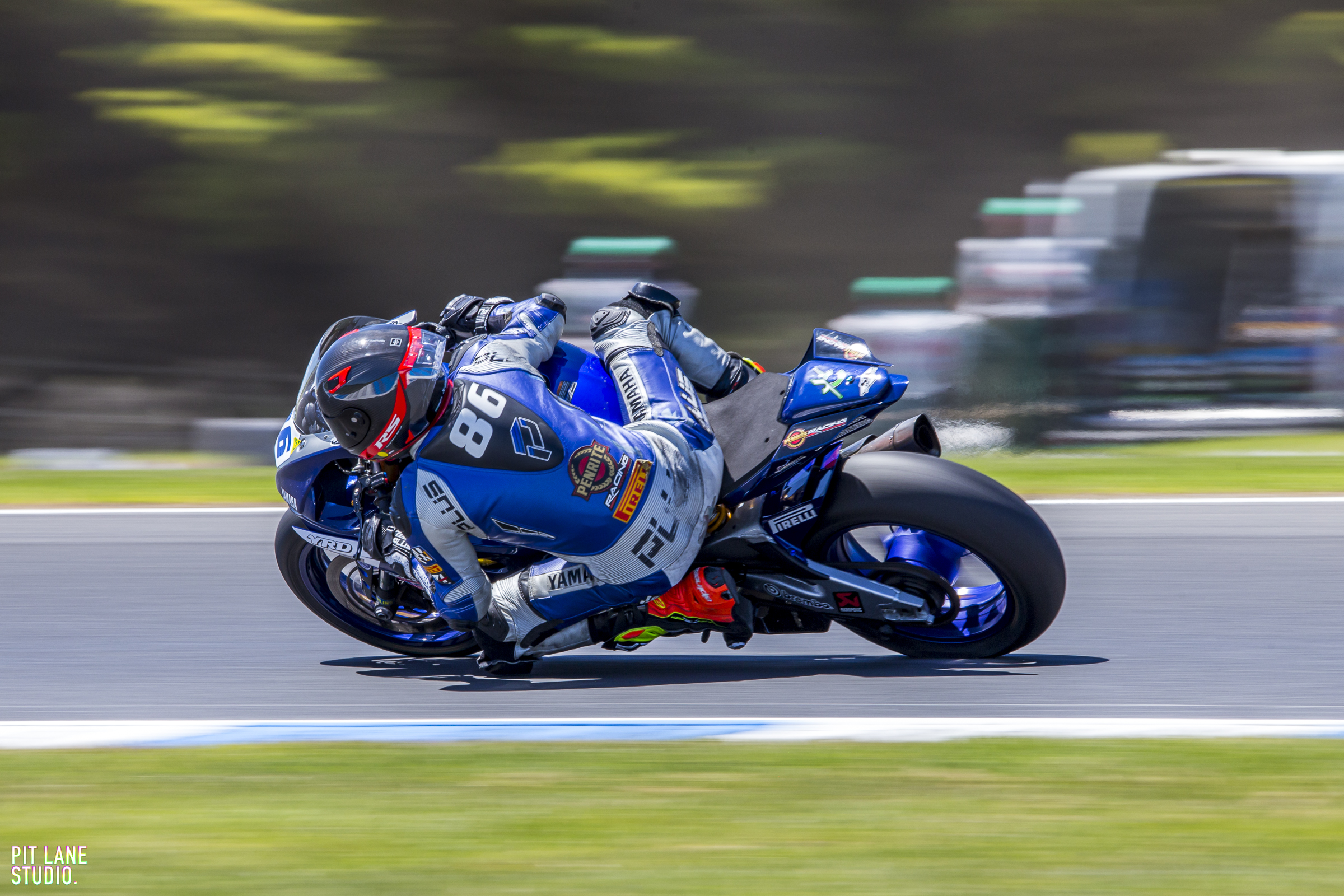 Round 6 of the Australian Superbike Championships was held last weekend in conjunction with the WSBK grand finale at the picturesque home of superbike racing "Phillip Island". A strong contingent of 11 South Australian competitors traveled the journey to share the paddock with the likes of international Champions  Alvaro Bautista and Toprak Razgatlıoğlu. 
One of the South Australians trackside for the weekend was Pit Lane Studios own Rebecca Bowdidge whom brought us all the action home with spectacular shots and the below weekend race recap of our South Australians.
Superbikes: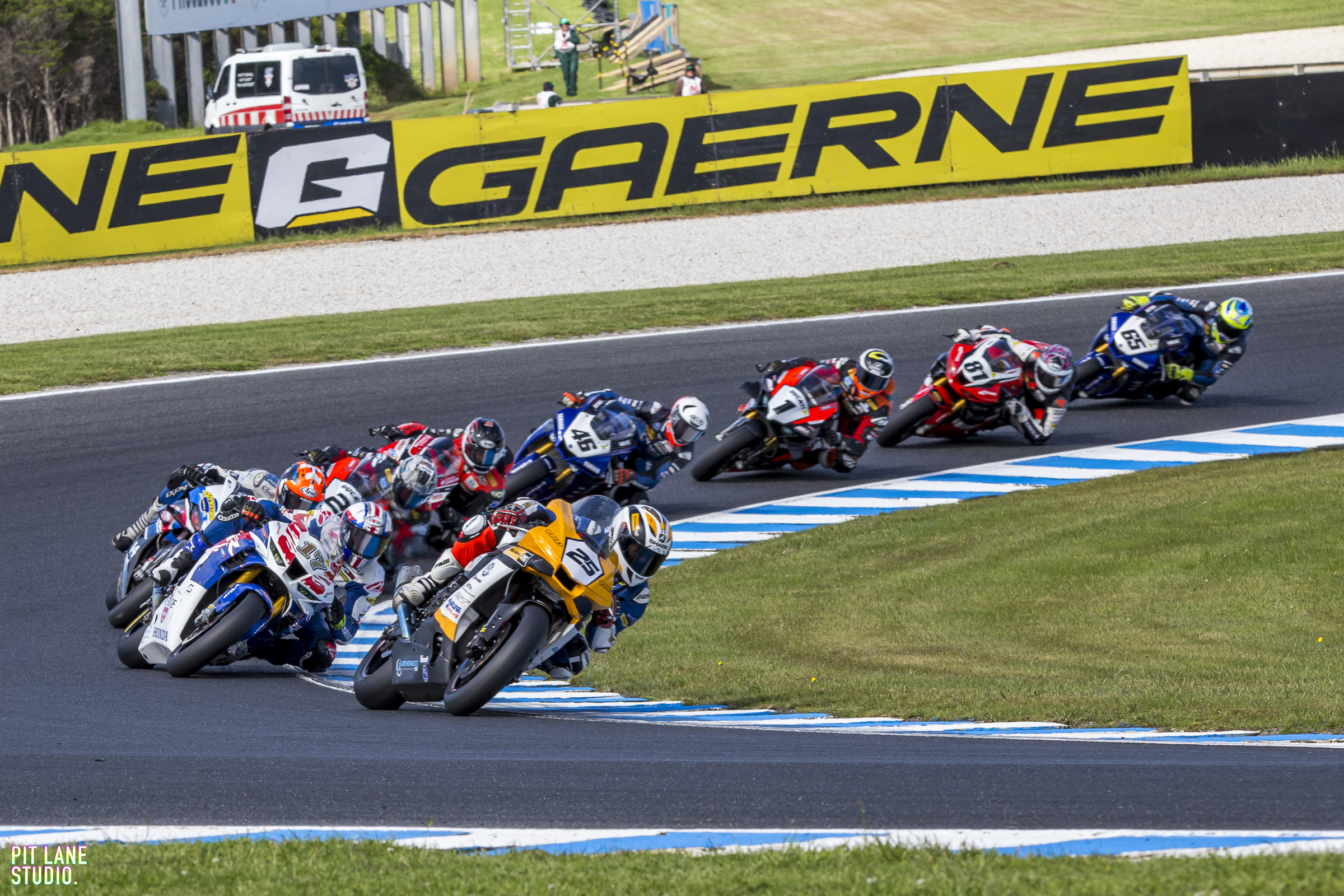 #25 Daniel Falzon
#25 Daniel Falzon qualified in 2nd place for the weekend with an impressive 1:31.596, but couldn't maintain his position through his races, slipping down the field and then maintaining steady pace in races 1 & 2 to finish 9th & 10th respectively. Daniel got off to a good start in race 3, achieving one of the fastest laps of the race before crashing out at newly named Miller corner, along with riders Cru Halliday and Senna Agius. Daniel sits 9th in the championship, and we look forward to his comeback at The Bend this weekend after a major crash in the final race this time last year.
#61 Arthur Sissis gave a strong consistent performance over the weekend giving him a 6th place for the round and putting him in championships 7th. 
After qualifying in 10th, Arthur made a steady climb to 4th position in a wet race 1. Known for his competitive edge in wet conditions, Arthur laid down one of the fastest laps of the race with a 1:44.490.
In Dry races 2 & 3, Arthur finished with a 9th and 7th. 
#61 Arthur Sissis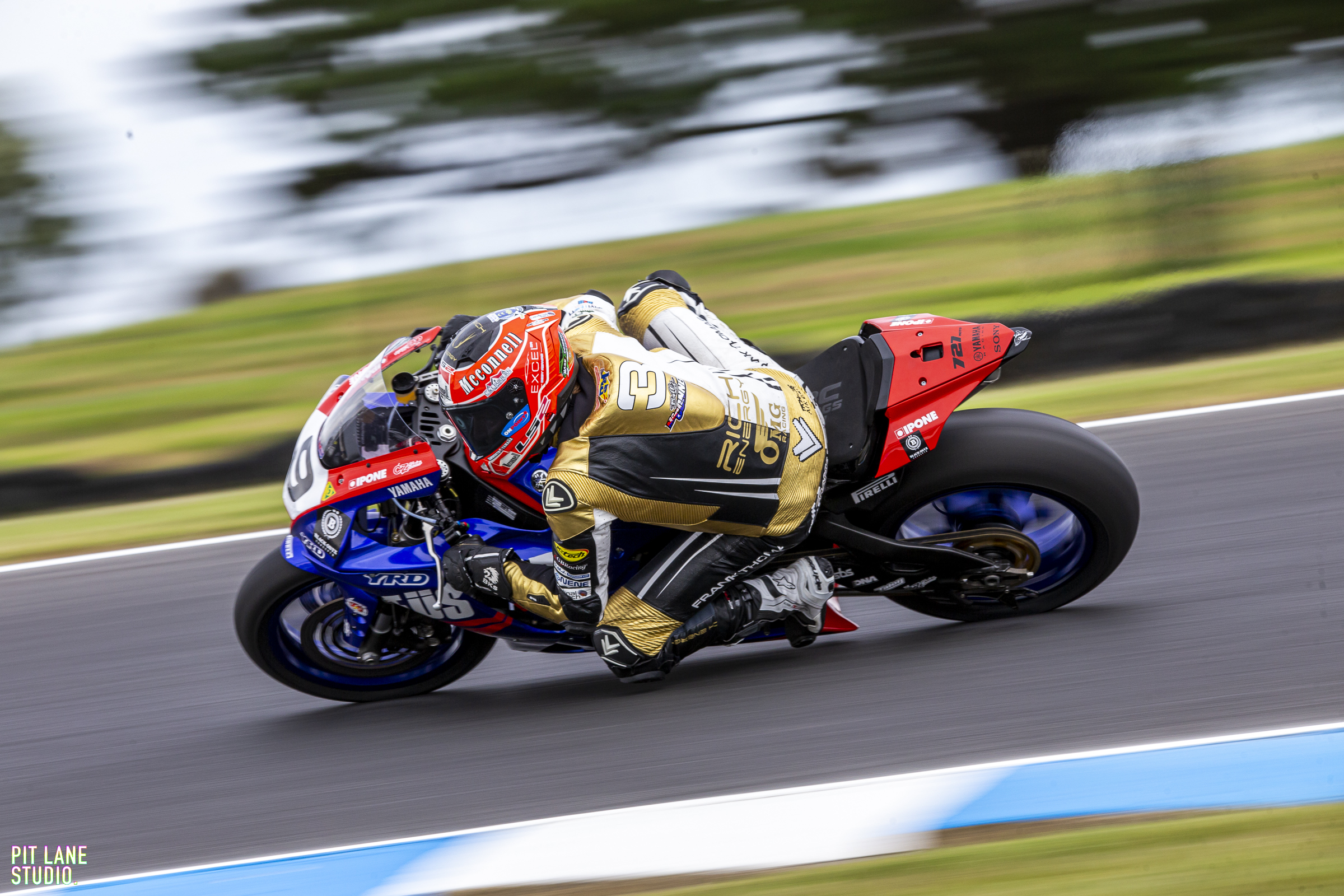 #9 Billy McConnell, who joins the ASBK field for the final two rounds off the back of his British Superstock 1000 championship 2nd place, unfortunately had a weekend marred with mechanical issues. 
Qualifying in 15th, Billy broke down during the warm-up lap of race 1. Billy finished 14th in race 2 before exiting the field again several laps into race 3. 
We look forward to a better weekend for Billy at The Bend, with friends and fans no doubt excited to see what he can do on home territory. 
                                                                                                                              #9 Billy McConnell
Supersport:
#85 Ty Lynch
All eyes were on young gun #85 Ty Lynch this weekend, chasing a championship in the 600 class and bouncing back from a recent injury in the Victorian titles. 
Ty got his first podium for the weekend with a 3rd place after race 1 was declared due to time constraints. Race 2 is where it all came unstuck for Ty, with a misjudged move by fellow SA competitor Dallas Skeer into MG corner taking both riders out of the race on the 2nd lap. Ty and the team put in an incredible effort to keep him in the running for Sunday's race, where he picked up a 4th place after rider Archie McDonald was disqualified.
He holds onto his championship 2nd by a mere point ahead of round winner Tom Bramich.
#86 Dallas Skeer whose year has not been favourable thus far with several mechanical DNFs across the rounds as well as Saturday's costly incident, was able to claw back and pick up some points with a 5th place in Sunday's race 3.
We're looking forward to a strong performance from Dallas at the Bend on home soil to finish off what has been no doubt a difficult season. 
#86 Dallas Skeer                                                                                                                                                 #220 Declan Carberry 
#220 Declan Carberry made slow, steady improvements across the weekend on the GSXR. Qualifying in 15th, Declan was able to resume after losing grip into turn 11 as the rain came down during Saturday's race 1. Declan finished races 2 & 3 with a 13th & 11th respectively, picking up 21 round points in total for his second ASBK outing.
In what should have been Declan's first official ASBK at The Bend last year, a high speed off at turn 5 during practice took Declan out of the running. Declan in no doubt will  be excited to show the field what he can do in front of a home crowd this weekend.
#51 Samuel Pezzetta consistently impressed with his efforts scoring him a 3rd place for the round and a championship 6th with one round to go. 
Races 1 & 2 showed spectacular games of cat and mouse, with Samuel missing out on a podium finish by mere tenths of a second both times and even holding the lead at times right down to the final turns.
He finished races 1 & 2 in 4th position, also gaining the fastest lap of the race in race 2 with a 1:49.396.
Sam powered on and victory finally came in race 3 with a 3rd place finish, giving him a massive 52 points in total for the round, his best performance this year and certainly making him the one to watch heading into this weekend's finale.
#51 Samuel Pezzetta enjoying the glory
Fellow Unitech Racing teammate #80 Cameron Rende, a high achiever in this year's Oceania Junior Cup had his second outing on a 300 as an ASBK competitor. Cameron made excellent improvements across the weekend. Riding hard and after qualifying in 18th, Cam consistently gained positions in each race with a 9th place in race 3 being his best performance all weekend. Cam earned a total 27 round points, an improvement from his first round back at Morgan Park.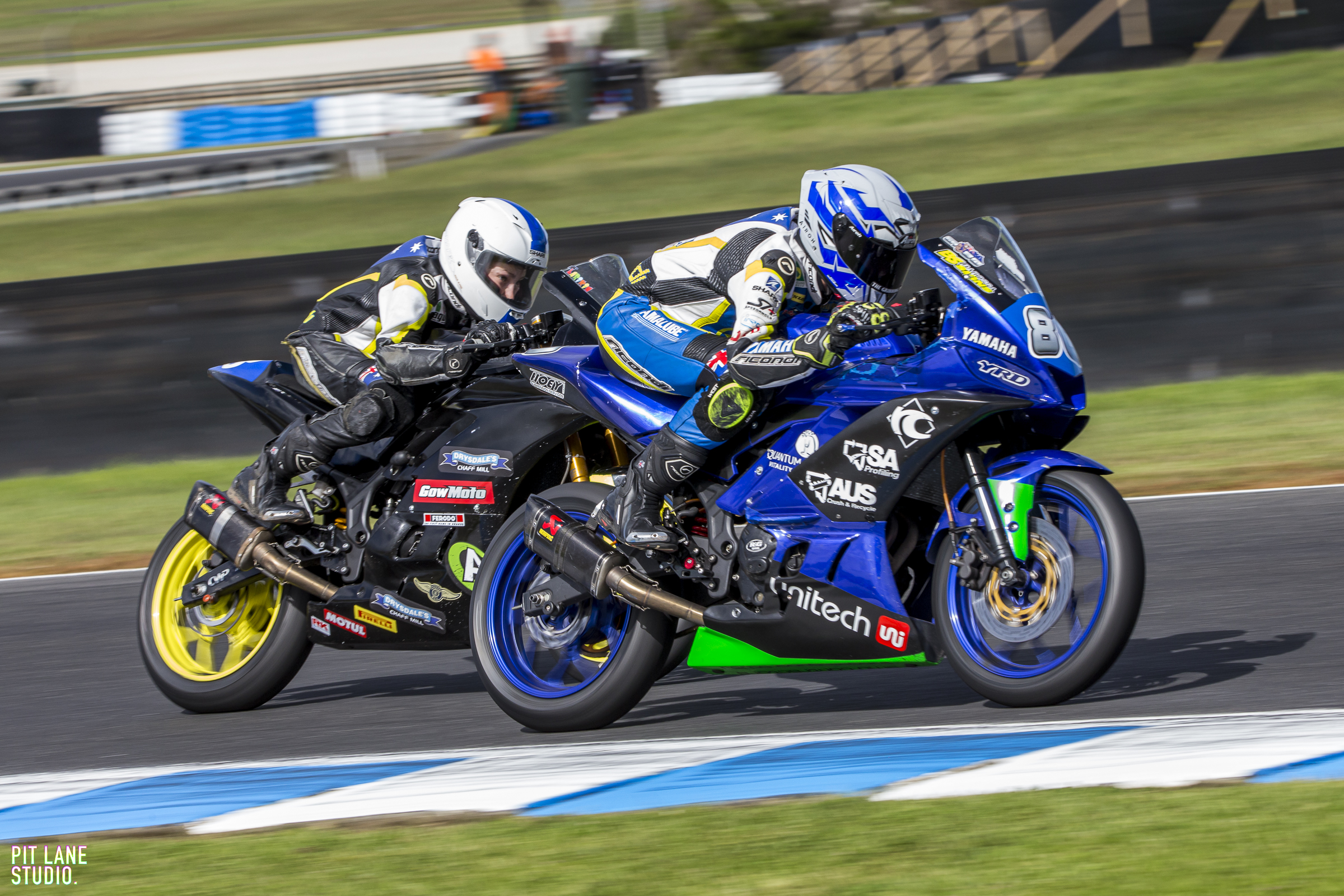 #80 Cameron Rende Battling it out
#57 Cooper Rowntree unfortunately didn't get the results he was hoping for over the round but again was a steady, consistent performer. Gaining positions in each of his races and earning a total 21 points, which is his second-best round performance in the 300 class this year.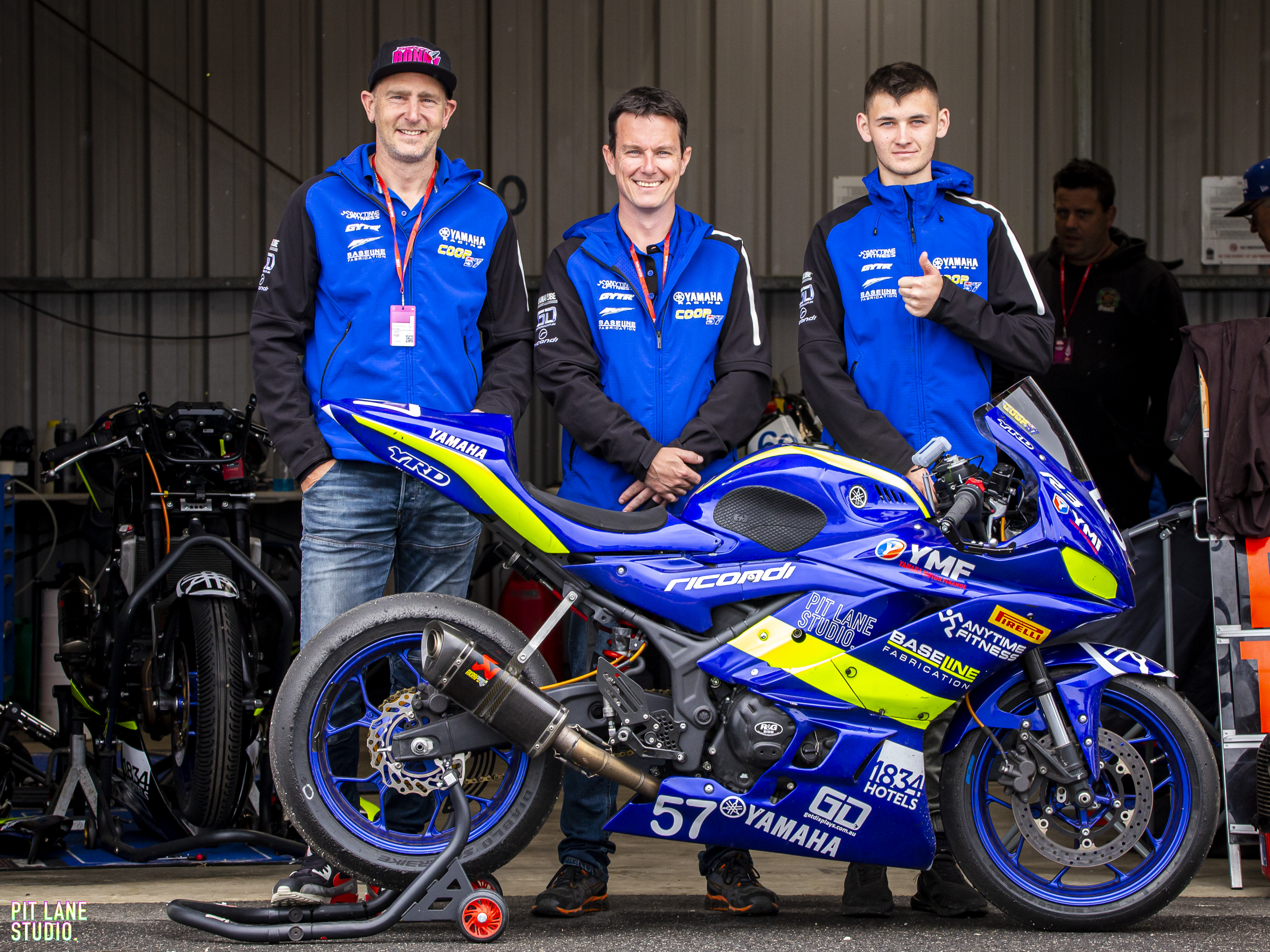 #57 Cooper Rowntree 
Coop qualified in 19th, finished 15th & 14th in races 1 & 2 less than a tenth of second behind his competition, and scored a 13th in race 3 after some brilliant tussling, clawing back 3 places on the last lap. We think that's a job well done, Coop.
The round saw two ASBK newcomers in #95 Tara Morrison and #87 Brock Quinlan arrive looking to make an impression at Phillip Island.
   #95 Tara Morrison                                                                                                             #87 Brock Quinlan
Tara impressed – starting from the back of the field after qualifying, Tara gained 2 places in her first race to finish 20th. Tara was able to repeat her efforts in Saturday morning's race 2, before stunning us with some brilliant racing on Sunday morning landing her a 12th place in race 3. 
Brock's weekend was all about consistency, after also qualifying near the back of the field, Brock tussled with RaceDNA teammate Daley Mills to maintain position in his first races, with race 3 being the one where Brock started to find his rhythm and bring out his competitive edge with a 17th place finish. A huge well done to both Tara and Brock for making it through their first national meeting and putting some points on the board.
The ASBK finale has come home to be held at The Bend Motorsport Park this weekend, November 25th – 27th. Tickets and weekend passes are available from asbk.com.au
By Rebecca Bowdidge
Photos Credit Pit Lane Studios "Rebecca Bowdidge"