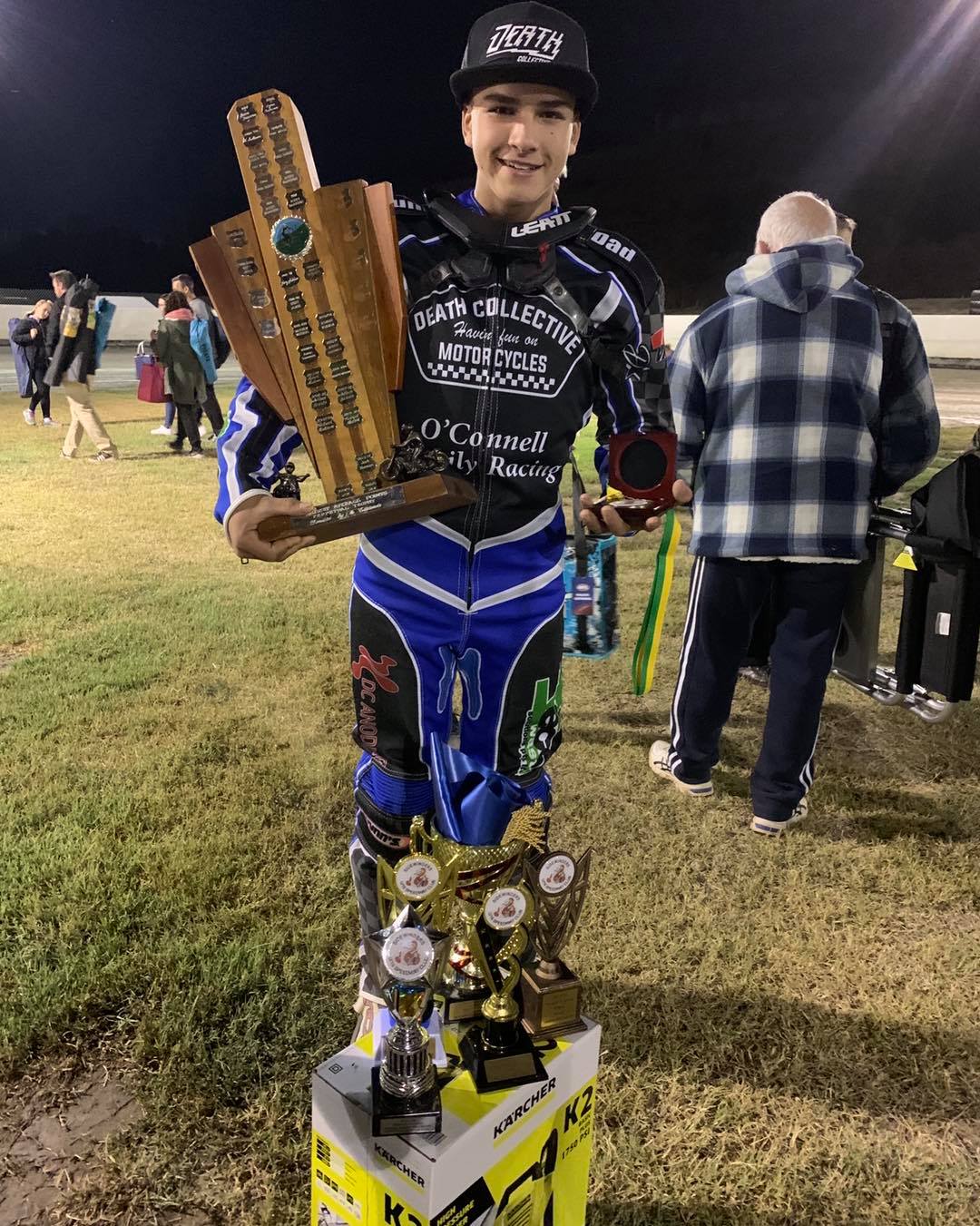 2019 MSA Rising Star Nominee, Ashley Jansen-Batchelor gives us his rundown on a hugely successful season, with lots of miles travelled and lots of silverware to add to the cabinet – huge effort by him and his team! 
2020/21 Summer Season Wrap Up
The 2020/21 Summer Season was my most successful Season and I am incredibly proud of what I achieved. It had its challenges through injury where I missed my home South Australian Championship and COVID-19 has delayed the Australian Championships until September this year.
However I am very proud of what I achieved when I came back from that injury. This season we travelled more than we have done in any other season, raced at more tracks and gained valuable experience. I also started racing in the 250cc category which was a whole new learning experience and a really good challenge.
NSW State Championship
The first major race of the season for me after spending 6 weeks on the sidelines with injury was the NSW State Championships, for both 125cc and 250cc categories, held at Woodstock Park Speedway near Cowra NSW. It was a really successful trip having finished on equal highest points scorer for 125cc and coming out of gate 2 in the final, I was able to come away with second place in what was a tough field. This was a really important race for me, especially coming back from injury. I was really happy with the result.
The Graham Baker Memorial Shield
Next up was The Graham Baker Memorial Shield held at my home track Sidewinders. This was one of the races I set as a goal to win this season after having made the podium in the previous season. I am very grateful that the Baker family business CBS Bins, as well as Ecowaste Solutions are key supporters and partners of mine and I'm proud to be associated with them, so to win this and to get my name on the Shield was special for me.
Craig Boyce Invitational
We then made the long trip over to Kurri Kurri in NSW to compete in the Craig Boyce Invitational in both 125cc and 250cc categories. It was great to go over to compete at a track I had not raced on before against some riders I had not competed against before. This was my most successful event in the 250 category finishing with the highest points scorer for the day.
Roy Bitmead Memorial Cup
The Roy Bitmead Memorial Cup was the next race back at my home track Sidewinders, another race I wanted to win this season after finishing on the podium last year. The memorial meetings are always special to win as these events are to honour the people that started our Club. This event was a tough one. I started the final in gate 3 and I am really proud to come away with the win after a tough round of heats.
ANZAC Medal Presidents Cup
The final race of the season was the ANZAC Medal Presidents Cup. This one I wanted to finish the season on a high and get the win. I managed to do just that with a maximum not dropping a point all night and winning the final. It was one of my best races for the season and it was great to finish the season off on a winning note.
Thank you to our Partners & Supporters
During this season we had two new partners join our team of supporters in Darren Disbury and Repco Victor Harbor. I would like to say a massive thank you and welcome on board to them. I would also like to thank all of our partners and supporters for your ongoing support. It really makes all of what we achieved this season possible and I could not have done this without you. I look forward to coming and seeing you all over the off season to thank you personally.
The O'Connell Family Racing Team
Darren Disbury