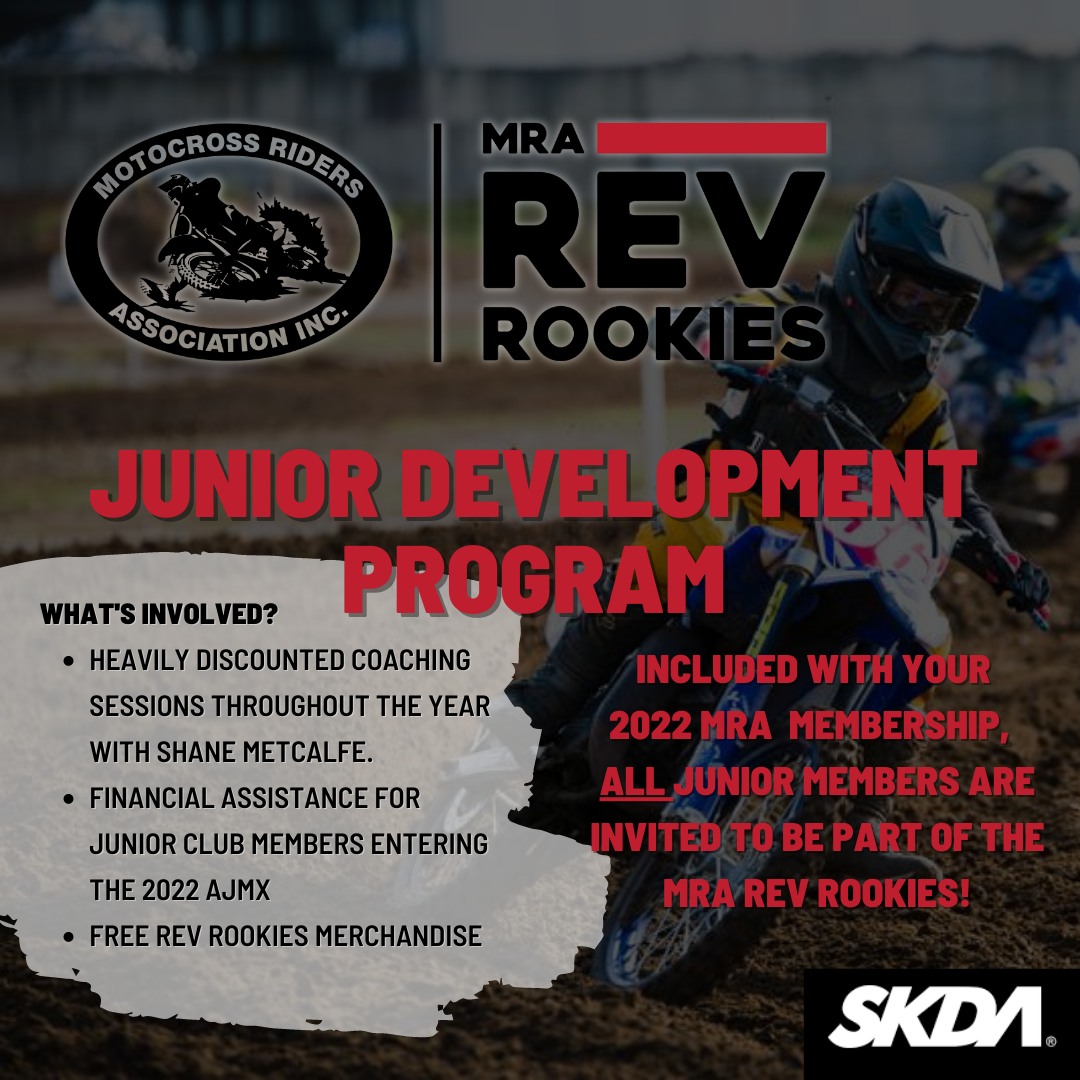 ATTENTION ALL JUNIOR RIDERS INDEED – MRA STARTS 2022 OFF WITH A BANG!
The Motocross Riders Association are looking forward to a bigger and better year and for those who missed our announcement at their AGM, they have now launched their exciting new MRA Junior Development Program…
As part of their 2022 Club Membership, junior members have been invited to participate in our Junior Development program "MRA Rev Rookies".
• Subsidised Coaching Sessions – All MRA junior club members have been invited to attend their multiple junior coaching days with Shane Metcalfe, with the costs for these days subsidised by the Club at a heavily discounted rate!! 
• AND  included is Free Merchandise for each participant
• And last but certainly not least, MRA are committed to supporting our riders entering the 2022 AJMX Australian Championships to be held in September/October – date TBA. This includes financial support and training opportunities leading up to the event!
Well, day 1 was run on January 16th to rave reviews, from the MRA Club, the coaching crew and riders and parents alike!
Said Shane Metcalfe about the day, "As the main coach for the day and the club we put together a new kind of program which is very exciting, what the club is doing at the moment for its members and the sport is next to none, leading the way. To offer cheaper coaching days, putting merchandise together for participants, as well as putting aside days for this type of thing is unreal. For me we are trying something different also, each session will have a topic for the day, Sunday we went back to basics, the basics is very often overlooked by many but it is the most important part to making riders safer and better riders which is what we are aiming for here, help produce better riders, maybe not faster, but safer and more controlled."
The 2nd date coming up is January 30th – for junior members aged over 12 years – and stay tuned for more dates to be announced throughout season 2022 – and a huge well done to all at MRA for making this happen in 2022.
Pics courtesy of Eric McConnochie
Here is a link to the whole album of great pics taken on the day by Eric; https://www.facebook.com/media/set/?set=a.2293422397464108&type=3