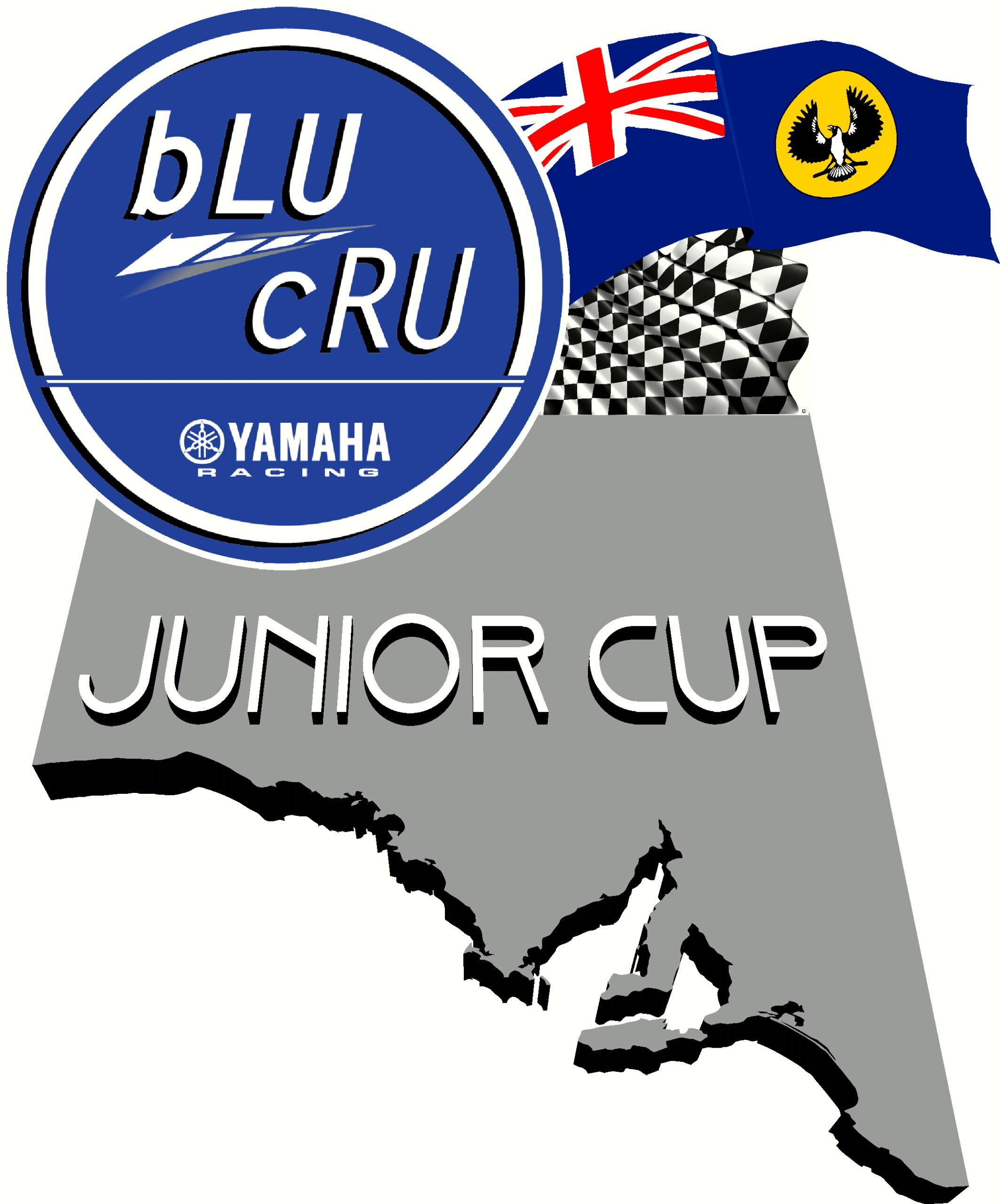 bLU cRU SA JUNIOR CUP – AN AWESOME 3 DAY CAMP FOR THE CLASS OF 2022!
With a huge thanks to Levi Day's On Track Rider Training crew, the inaugural bLU cRU South Australian Junior Cup took another huge step forward over the past 3 days at MacNamara Park (Mac Park) Raceway in Mount Gambier where, for the first time, the whole squad got together and hit hit the track on their awesome looking Yamaha R15 bikes.
With Levi still in England, it was left up to coaches Will Strugnell, Tyra Lynch and Kym Bolto, who were ably assisted by Allan Bolto and Wade Sweet, to put the squad of 12, along with guest rider Ryder Sweet, through their paces over the 3 day camp. All facets of racing were covered, starts, cornering, race lines,  even getting tucked in behind the fairing to minimise wind resistance, flow and maintaining corner speed – which is so different for some of the dirt bike kids making the transition to bitumen!
All were also put through a number of off bike requirements, including bike maintenance and preparation, race preparation for the rider and his race gear, as well as extra things, like dealing with the media, as all riders were interviewed by Rebecca Bowdidge from Pit Lane Studios – can't wait to see those videos come out!
This SA Junior Cup is the vision of Road Race Sports Manager, Kym Bolto, so, what did he think about the camp; "To witness and be a part of the team from day 1 to day 3 of the On Bike Rider Training with Levi Day for our SA juniors was nothing short of brilliant. The mateship and rapport shown now within the group of not only riders but parents alike is sensational. The skills learned and the transformation of the riders on track proves that this concept works and I can't wait for this season to get underway. Thank you to Ty, Will, Andy, Allan and Chris for your time and efforts over the 3 days. Plus, a special thank you to Bec from Pit lane Studios for her efforts in recording all the happenings over the past 3 days!"
And from Natasha Warren, one of the riders mum's, "Thank you so much and to all the other team involved for the coaching opportunity over the last 3 days for Lucas.  He did not stop talking about it when he arrived home last night. He is so in love with this sport and so very excited about this year.  I am just loving seeing him be so passionate about this and wanted to learn everything he can. Thank you again."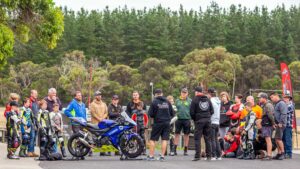 So – who makes up the inaugural bLU cRU South Australian Junior Cup squad – well, here they are;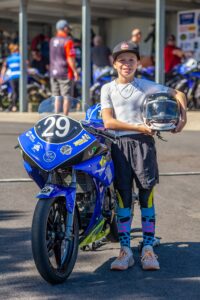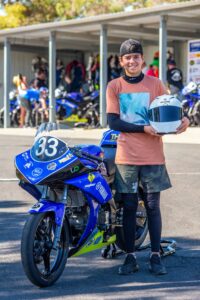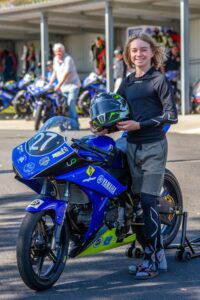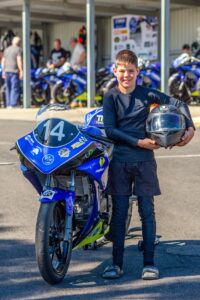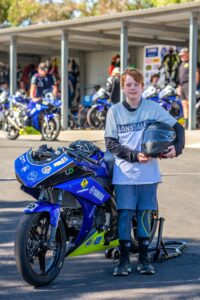 ARCHIE SCHMIDT – CAMERON RENDE – COOPER PITT – ETHAN DELLOW – FRED BARRY – JAMES HOWIE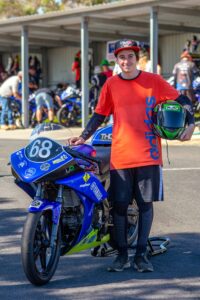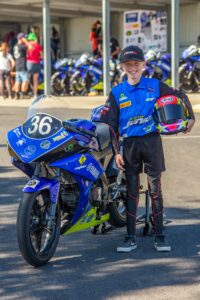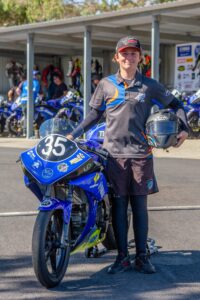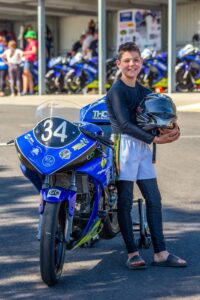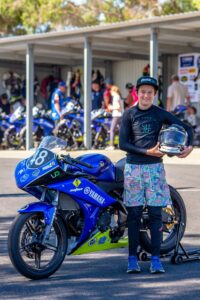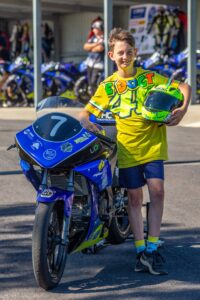 LUCAS WARREN – RIKKI HENRY – RYDER GILBERT – SETH DELLOW – TOMI DOBLE – XAVION AMOY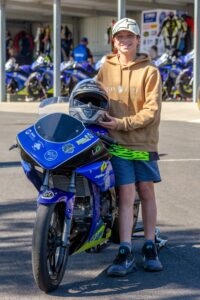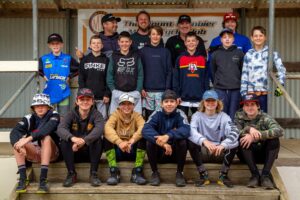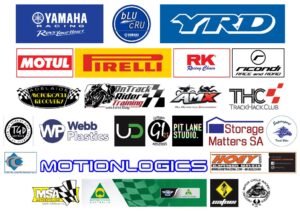 Ryder Sweet was invited as a guest rider for the camp and also joined in the group pic (above left & centre) and as the days and weeks count down to the start of this inaugural series here in SA – APRIL 15-16-17 as part of round 2 of the 2022 SA Road Race Championships, again at Mac Park in Mt Gambier – the support and interest in the Series continues to grow, so look for junior road racing in South Australia to boom over the coming years – and especially with the great support shown to the Series already (above right pic)
AND: For anyone, potential future champion or business, who would like more information on how to get involved in, or support this great new Series, which will form a part of a funnel through to the Oceania Junior Cup to Asian Junior Cup to Red Bull Rookies and onto Moto GP, and to help SA (and Australia) uncover our next great Champion in the making – contact Kym Bolto – roadrace@motorcyclingsa.org.au – for all the details!
All photos courtesy of Official Series Photographer, Rebecca Bowdidge from Pit lane Studios, with thanks!