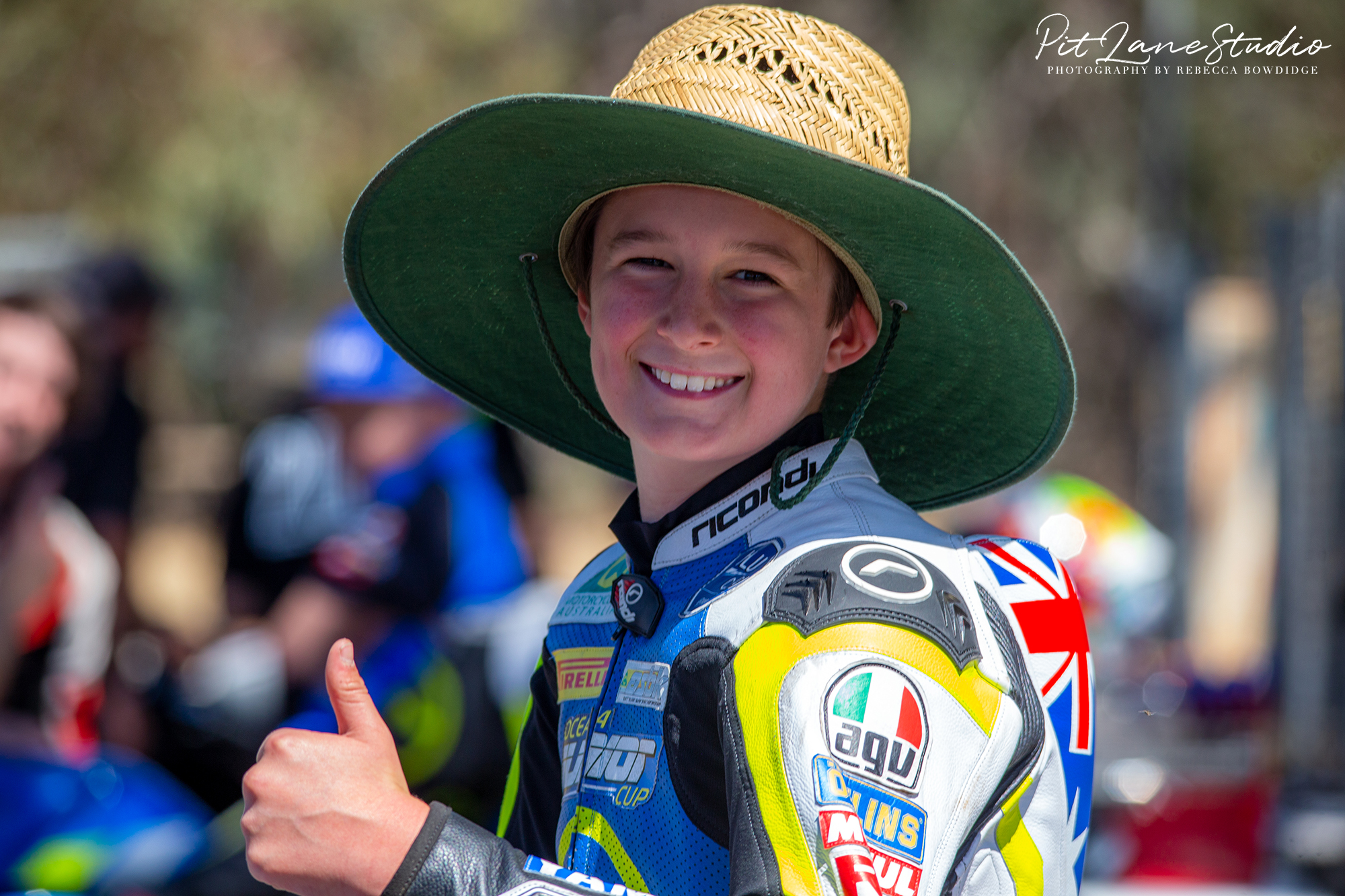 AREA 99'S FIRST COACHING DAY AT NURIOOTPA, WITH SOME OF THE bLU cRU SA JUNIOR CUP RIDERS TAKING UP THE INVITE!
A pretty special day on Saturday, December 18th in Nuriootpa, at Robinson Park Go-Kart Circuit, with the very first coaching day for junior road race being run by Will Strugnell's AREA 99, and taking up the invite, and in preparation of the bLU cRU 2022 SA Junior Cup, were a number of riders brand new to road race!
Huge congrats to Will Strugnell as the head coach, who was supported by Kym & Allan Bolto, for the drive in getting all of this off the ground at this new venue – with thanks also to the go-kart crew for opening their gate!!
Robinson Park, it turns out, is an ideal venue for junior road race coaching, a good selection of corners, breaking points and it's ideal for the 150cc bikes and smaller! So good to have a venue like this now available for junior road race development – well done to Struggie & Area 99 who has made it possible!
The new riders who attended the day were; Tomi Doble, Cooper Pitt, Seth and Ethan Dellow, Lucas Warren, Declan Smart and Fred Barry, as well as current riders Rikki Henry & Cooper Rowntree who were there as well lending a hand.
It was fun to see the riders who were new to bitumen finding their feet – and keeping them on the pegs – as the day went on, with a couple of motocross lads in Declan Smart and Tomi Doble, taking to it like ducks to water, with all present improving as the day went on!
Current Supersport 300 competitor, 2018 MSA Rising Star Award finalist for road race, Cooper Rowntree lent a hand with the coaching, and said Kym, "And a special thanks
Cooper Rowntree
for the corner demo's for the Juniors, great job."
And said Cooper, "What a great day riding the r15 in Nuriootpa at Barossa go-kart track. A day of skill based training with a bunch of amazing people
Kym Bolto
and
Willy Strugnell
for inviting us. Looking forward to returning
#yamaha
#practicing
#R15
#asbk
#bLUcRU
"
It was also cool to see Rikki and his Dad there as well. Fresh from his wildcard ride at The Bend in the Oceania Junior Cup, it was great to see the 2021 MSA Rising Star nominee helping by showing the new riders the fast way around the track!
So much excitement around junior road race heading into 2022!
Also a huge thanks to Pit Lane Studio's Rebecca Bowdidge, the official photographer for being there on the day to catch the smiles & action!