SAPMAC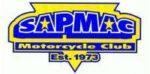 Short Business Description:
Club established in 1973
An openly friendly and family orientated club with an emphasis on Reliability Trial and Enduro style ride days.
We have numerous camp away's at various properties throughout Autumn, Winter and Spring. Annual rides include properties in Mannum, Nildottie area's where we have built relationships with landowners to gain access to some amazing trails.

Long Business Description:
CONTACT : Di Nicholas
President : Paul Nicholas
Secretary : Di Nicholas
Treasurer : John Schneider
Home Track :
Send Message to listing owner