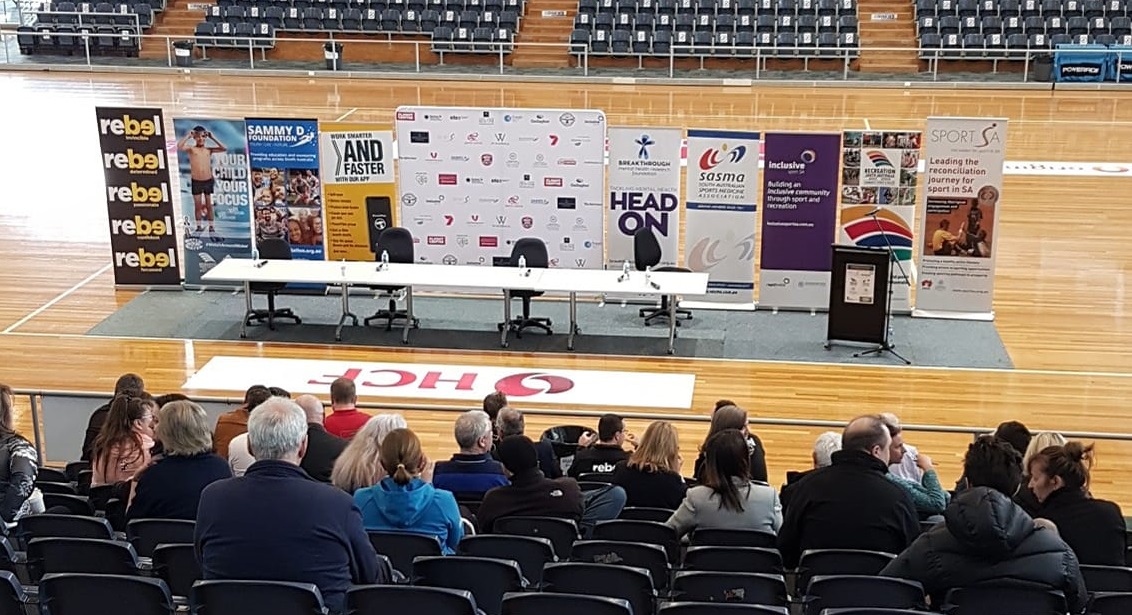 COMMUNITY SPORT & COVID COMPLIANCE EVENT WITH PROFESSOR SPURRIER.
On Thursday, September 3rd, Motorcycling SA attended a Community Sport & COVID Compliance event at Priceline Stadium, along with 130 other interest people representing some 70 sports and their organisations.
Guest speakers were Professor Nicola Spurrier, Dr Chris Lease, Dr Janet Young, John Mannion and Katrina Ranford, with it being a huge emphasis on sport in the COVID era- and how we can keep playing, and why it is important to do so!
The seminar was opened with Katrina Ranford speaking about inclusion in sport and why it is important that everyone have the chance to take part in all sports, with everyone directed to the Inclusive Sport SA website for more details, www.inclusivesportsa.com.au.
Professor Nicola Spurrier, who has led the fight against COVID-19 in SA was introduced next and was very positive in what she had to say in how we, as a state, have combated the pandemic, but she also warned against complacency as the risk is still relevant, especially through overseas repatriates, as well as when the borders will slowly re-open as well.
Professor Spurrier also made the following points in regards the virus;
There will likely be no vaccine by October, with level 1 trials taking place at the moment in Australia, with level 2 and 3 trials progressing in Europe and the USA.

The virus shows no seasonality – so summer will be the same as winter in regards what we should be doing and looking out for.

So managing the risks will also be the same through summer as what they are at present.

If you are sick – STAY HOME – it is the one single thing that will make a difference!

The 1.5 metre distancing rule – the relevance of this is that it is the distance any droplets from the body will fall, whether this be sneezing, coughing or during exercise – so it is an important tool in combating the virus!
But Professor Spurrier was also very quick to point out that it is important that we keep our spirits up, as we are doing really well as a state, and that we need to keep doing what we have been doing – and that PHYSICAL DISTANCING is what is now required, not so much SOCIAL DISTANCING, and that this is very important to everyone's mental health on the up!
The other speakers also had some very relevant points, including;
WHY SA HAS DONE SO WELL – the community response across the state, along with the media and the government have all played a part in combating the virus, and to keep it up.

INJURIES IN SPORT (Including with blood)

Priority should always be given to the injured athlete – as it always has been

Gloves should always be worn and available to all first aid staff

Only the people needed should be with the injured athlete – politely ask everyone else to move away.

Hygiene before and after treating the athlete – washing hands, etc

MENTAL HEALTH

Never underestimate the power of sport and its healing powers

There is no rule book to this pandemic – so think across all possible scenarios

Don't be afraid to put your hand up and ask for help

Also, don't be afraid to put your hand up and OFFER help – we are all in this together

2021 MAJOR EVENTS

Take the current mindset into planning any major events for 2021

For events with 1000+ attendees, identify the key points of the event and plan and manage accordingly

If it doesn't affect the running of the event – limit the number of attendees (remembering that this may not be possible due to many reasons, junior sport with parent/guardians, financial, etc)

INDOOR EVENTS – HAVE THEY BEEN TREATED HARSHER THAN OUTDOOR?

Firstly – there is NO evidence that the virus is more of an indoor virus than outdoor but;

Indoors, with less space, it has been proven to be harder to control

This may be due to less ventilation in many indoor venues

It is less likely to contract the virus outdoor

There is a solid world-wide evidence base around these points

PRACTICAL CHANGES TO SPORT – managing risks and staying COVID compliant across all sports

Analyse your sport, and practises and make changes as needed, like;

Only have people at practises that need to be there – so limit numbers

Stagger the starts of your sport (more specific to indoor)

Ensure all players and officials have their own drink bottles, etc.

Don't share equipment – as much as is practical or necessary for your sport

Ensure people don't attend sick – and if they do, perhaps ask them to go home!
Following this, there was a Q& A (question & answer) session from people in the crowd;
COACHING, what can coaches do to stay safe?

Physical distancing – as much as practical, depending on the sport and limit any contact to what is actually needed

Positioning of body (coach and athlete) and particularly the face – don't talk directly, turn your face 45 degrees to each other

MASKS: The Government and Medical Professionals are not messaging that it is a requirement at this stage in SA, but this is not to say it may not become so in the future. It was also pointed out that under no circumstances should anyone be vilified should they choose to wear one (as that is their decision and it should be respected)

SWEATING; At this stage there is no medical evidence to prove that sweating helps in the spreading of the virus, as it has been proven that there is no difference in the virus from summer to winter. This also comes back to the 1.5 metre physical distancing rule in regards body droplet spread.

RESPONSIBILITIES; This question was raised in regards to the running of events in a public space, where people not connected with the event can come into contact with those attending the event.

The organisers of the event are only responsible to the people directly connected to your event – participants, officials, followers and spectators

The way to safeguard everyone in this instance, connected or not – is to have the COVID app, as it will alert if needed

INTERSTATE COMPETITORS/ATHLETES;

There are exemptions available for certain events where competitors can apply for exemptions, specifically where it comes to the success of that event

But at this stage it is still a wait and see with the borders and it is too early to make any concrete decisions

MENTAL HEALTH (a number of people from the Sammy D Foundation asked questions)

It is important to remember that it is not exclusive to today's youth, and everyone should be checked on, regardless of age

Use technology, Zoom, etc, to stay connected with friends and family

Call or text your friends – just because!

Relax more – go for a walk, along the beach, in the country, etc

Think differently – outside of the box and what you've always done – as COVID has made this something that will now always be relevant

If you are struggling – reach out, ask for help

Also – if you see someone you think is struggling – reach out and offer help, volunteer, be there for them
All in all, this was a great seminar to be a part of as sport looks to move forward in a COVID world – and the importance of ensuring that sport can continue – and should continue, and we, as sporting bodies should be doing we do all we can to make our chosen sport happen – and not look for excuses to cancel events, but look for reasons and ways to ensure they run.
If you wish to listen to the podcast of the event, follow this link; Here