COMPETITION – IT'S SLOWLY GETTING BACK UP TO SPEED!
In the past couple of weeks, competition has slowly started to get back into gear – and over the next couple of weekends it starts to heat up even more!
It all kicked off with a round of the Tri-Series Enduro on July 5th near Brownlow, with 93 total entries braving the extremely dry conditions (it is winter, right?) at the Keyneton MCC event, with the general chat being, we don't care if it's dry, we are just glad to be back racing!
Young gun, Nathan Howe, showed the senior field how to ride in the dust, with a 6 minute win over the returning Nick Throup after 2 ½ hours of chewing dust!
A week later, the Keyneton MCC went back to back when they kicked off the 2020 Trials SA season with their Keyneton 2 Day Trial, run as the 47th Mountain Man Trial on Saturday and the Rockhopping SA 2020 SA Women's Cup & Diener/Holmes Sidecar Trophy on the Sunday, with 41 total entries received – a bit down, but the Women's Cup did miss its annual influx of riders from the east due to border restrictions!
Big winners there were Lillie Yiatrou in the SA Women's Cup and Chris Schultz & Stuart Gerhardy in the Diener/Holmes.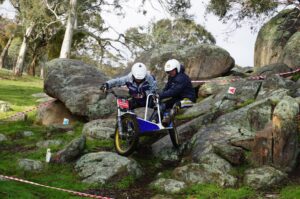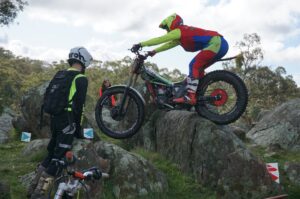 This weekend it heats up even more – with rounds 1 & 2 of the 2020 South Australian Off Road Championship to take place around the township of Clare, with the senior Championship being supported by WSB Distributors and the junior Championship supported by Husqvarna and KTM.
To be held on property owned by the Mitchell family (with thanks) at Farrell Flat, the Clare MCC will run Saturday as a Cross Country, while Sunday will run as a Sprint for the 175 strong field
In the 175 entries, 67 are junior riders, spread over 5 classes for riders aged 8 years to 16 years, with some of South Australia's brightest future stars to be in action – seriously worth the trip to Clare just to watch them.
In the seniors, defending SA#1, Riley Graham will have a gaggle of Youth (under 21) riders chasing him and his #1 plate, including the likes of Nathan Howe, Jayden Rudd, Charlie Milton, Jordan Simpson, Jaxon Raynor, Jay Simister and Max Price, along with the 'old stagers' like Sean & Nick Throup and Olly Simpson – so it's a safe bet that the action on the track will be hot to trot!
Kick off both days from 8.00am, with catering also available each day, and free entry for spectators!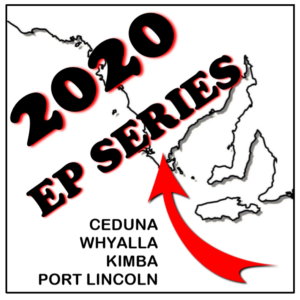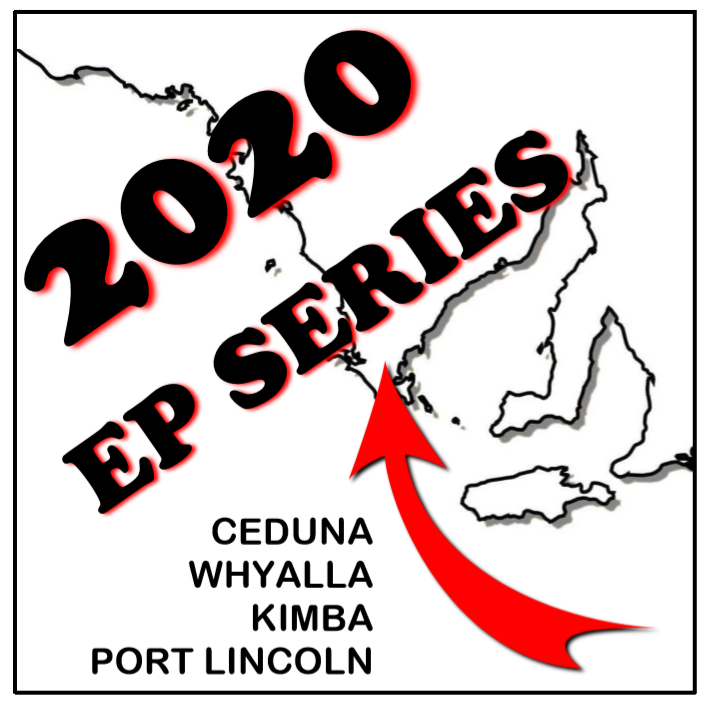 Over in the Wild Wild West this weekend (Sunday) will also be a round of the EP Series for Motocross, this time at the Kimba Motocross Track. Canteen available and camping allowed at the track.
It has been a while since there has been racing at Kimba and they are looking forward to having a good roll up of the motocross crew at Kimba – entries are still open through Ridernet!
While talking motocross, the Morgan MCC kick back into gear this weekend (Sunday) with their first Club round for the year – juniors, seniors, canteen and free entry for spectators!
AND – IT ONLY GETS HOTTER THE WEEK AFTER TO END JULY!
The final weekend of July 2020 is shaping up to be just as busy as this weekend will be, with the action to be just as hot!
Kicking off on Saturday 25th will be one of only three reliability trials for 2020 – the Keyneton MCC's 60th Annual Road Trial, starting from the Keyneton Park (oval) at 9.00am. First run in 1961, the event is now known as the Mike Connors Reliability Trial, with an entry list for 2020 already nudging 150 starters!
Free entry for spectators and fully catered ALL DAY at Keyneton Oval by the Keyneton Progress Association, this will, arguably, be one of the events of the year – and the KMCC's 3rd event in 4 weeks!
Also on the weekend of July 25 & 26 will be the opening round of the three round 2020 South Australian Motocross Championships, to be run by the Riverland JMC at their Renmark track.
Juniors on Saturday and Seniors on Sunday, with entries still open until Tuesday July 21st for the Championship opener for MX – enter through your Ridernet profile – and with only three rounds, as a rider, you won't want to miss a round.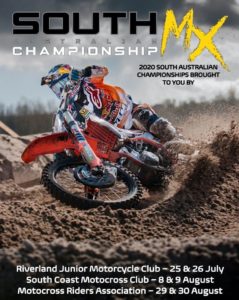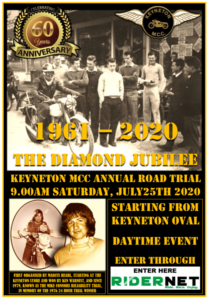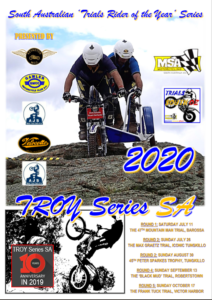 TROY Series SA 2020 round 2 (for Trial) will also run, on Sunday 26th, at Tungkillo with the Gawler MCC's Max Graetz Trial, kicking off from 9.00am – with entries open until Thursday 23rd of July – through your Ridernet profile.
Riders aged 4 to +74 will be in action, including Australian representatives, Connor Hogan and Lillie Yiatrou, with free entry for spectators.
Also on next weekend will be a couple of ride days on Sunday for those not looking to race, but still want to throw a leg over.
Mac Park at Mount Gambier will host a track day for road racing, hosted by the Mt Gambier MCC, while ACUSA Park in the Adelaide Hills will have their 2nd Ride Day for 2020 from 10.00am.
Info for all of these events, and more, are available on the MSA website – check out the calendar and supp regs pages, as well as the ACUSA Park page as well!
All who attend these events are reminded that SOCIAL DISTANCING still applies – now 1 metre apart and 2 square metres around – so no grouping together – and remember to especially keep that bike length apart when is ques for food and drinks at events!