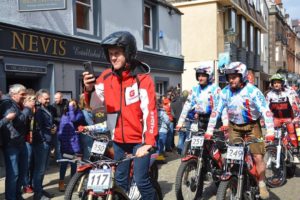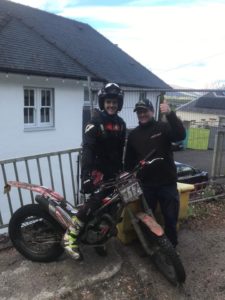 CONNOR HOGAN MASTERS HIS FIRST SCOTTISH 6 DAY!
South Aussie Trials rider, Connor Hogan, from Bangor in the Southern Flinders Ranges has just finished a very respectable 64th outright (out of 264 finishers), and 5th in the Newcomers Award at one of the world's oldest and most famous motorcycle events, the Scottish 6 Day Trial.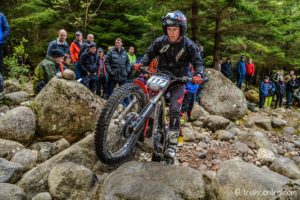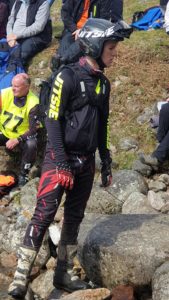 Hoping to emulate his father, Brenton (Hoges), who rode and finished in 102nd position in 1987 (pictured below), this event was always on Connor's 'bucket list', with trying to fit it in between studies and the World Championship over the past 3 years, 2019 finally saw it become a reality and Connor, one of 280 starters, grabbed the opportunity with both hands and didn't let go.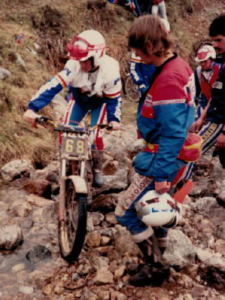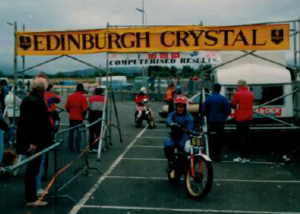 Held in unusually 'dry' conditions – in other words, the creeks were generally dry & slippery, not running with foot deep water, and the moors on the transport stages didn't want to suck your bike in like quicksand – there was still low temperatures, rain showers and some snow high up in the Highlands to contend with.
Below is the daily 'blog' from Hoges, who was there as Connor's 'pit crew' and spent the week driving around the Highlands of Scotland keeping his charge well fed & hydrated – read on ….
Day 1 in Scotland is done and Connor has come through in fine condition. Finished well ahead of time with no drama. Like most of Australia, Scotland is surprisingly dry. Sunshine and mild conditions and as yet Connor has not encountered any deep bogs. Of course there are still 5 days to go so anything can happen yet.
Day 2 over here at the Scottish Six Day Trial. Connor finished ok today with 8 minutes to spare. The longest day today. 107 miles (not km) and 8.5 hours. Big loop taking in the Craig Lundie group, but still very nice weather for Scotland though there were a few showers and even some hail. At one point Connor said it was snowing right up in the Highlands. Tomorrow (Wednesday) is Connor's early day (over the 6 days the starting order is rotated). First up is a trip on the Corran Ferry.
Day 3 in Scotland has concluded so Connor has got to halfway. He finished in good time on his early start day and was able to put on a new tyre. Today was the tour around Moidart peninsula starting with a trip on the Corran Ferry.  A little shorter today, only 77 miles! Still good weather and a number of waterfall sections. Both bike and rider going strong at this point. With the rotating start system Connor moves to the back of the field as his group is last away tomorrow.
Day 4 done. Big loop way down to the SE of Glencoe then back up north to Fersit. 101 miles in 8 hours including the standard daily ration of 30 sections. Again very good weather, only the odd light shower. Not such a good spectator day today but managed to catch up with both Connor & Luke at the "chairlift" group of sections, both going well. Tomorrow we return to the Moidart Peninsula, this time in the reverse direction for 95 miles
Day 5 done and dusted. A few showers around early but then it cleared off again. Riding in the back half of the entry allows for the sections to be more "run in" and Connor went well today. Sections were run around the Moidart Peninsula and it was a little easier to keep up with the riders along coastal roads and tracks. 8 hours, 95 miles. I was able to watch Connor in 4 section groups including a double clean on the final group of the day, "Rubha Ruadh". So tomorrow we go into final day with sections near Ben Nevis, as well as famous sections like Pipeline (used since 1967) and "Town Hall Brae" in the centre of Fort William, the last section of the trial.
Day 6 and Connor has completed the Scottish. Clear blue skies greeted riders for the final days play for 2019. They initially headed south toward Kinlochleven take in groups at Callart, Lower Mamore and the famous Pipeline where Connor cleaned the lower 3 subs before parting with 2 points on the top sub. The competitors then work their way around behind Ben Nevis before two tough groups on the lower slopes of the mountain, Ben Nevis & Glen Nevis. Finally it is back to the centre of Fort William for section 180; "Town Hall Brae". On this hazard Connor went clean but over a dozen "5's", a many "3's" were lost on this narrow, greasy section. At this point the results are not finalised but Connor will certainly receive a First Class award plus the knowledge he has successfully completed the hardest multi day trial event in the world.
Team Australia! So in the aftermath of the SSDT Hoges also wanted to put a shout out to Luke Anderson (below with Connor), from the ACT and the only other Aussie riding the SSDT in 2019, who put in a stellar performance. Luke was riding number 126, so was only 9 numbers behind Connor and they ended up doing a fair bit of riding together. Luke finished in 124th position and also received a First Class Award. Luke did mention he would love to come back to the Highlands, not necessarily to ride a motorcycle but to do some hiking in this incredibly scenic area.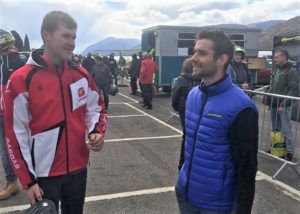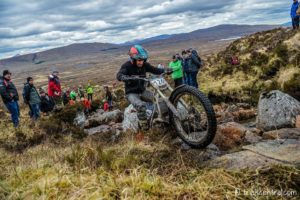 And from Connor; Scottish Six Day Trial all done. Happy to have finished in 64th for my first attempt and receive a First Class Award. Had some ups and down throughout the week. Some days I rode well and others were very frustrating but learnt so much from the whole experience. Looking forward to the first round of the World Championship in Italy in 2 weeks. Thanks to Dad for chasing me around all week in the van bringing food and water, as well as my sponsors for their continued support; Rockhopping SA, GRO, Global Racing Oil, Jitsie and The Hell Team.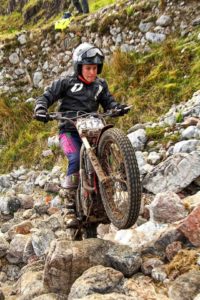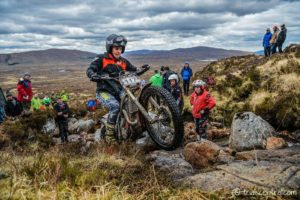 Now Connor will be gearing up for his attack on the 2019 Trial2 World Championship, starting in Italy in 2 weeks time, and we all wish him the best, as well as congratulating him on his Scottish success.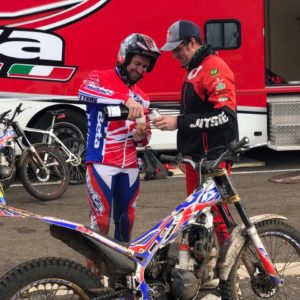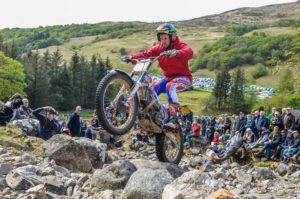 And for the record – James Dabill (above left) won the SSDT for the 3rd time in 2019 – leading from day 1 and losing 5 points through the 6 days and 180 sections, to win by 2 points from the legend that is Dougie Lampkin (12 time SSDT winner & 12 time World Champion): and who was waiting for 'Dibs' at the finish, Dougie with a bottle of Champers to celebrate and toast the winner – sportsmanship at a high level and so typical of them both!
Photo credits; Trials Central, Donald Young, James Dabill, Brenton Hogan – with thanks