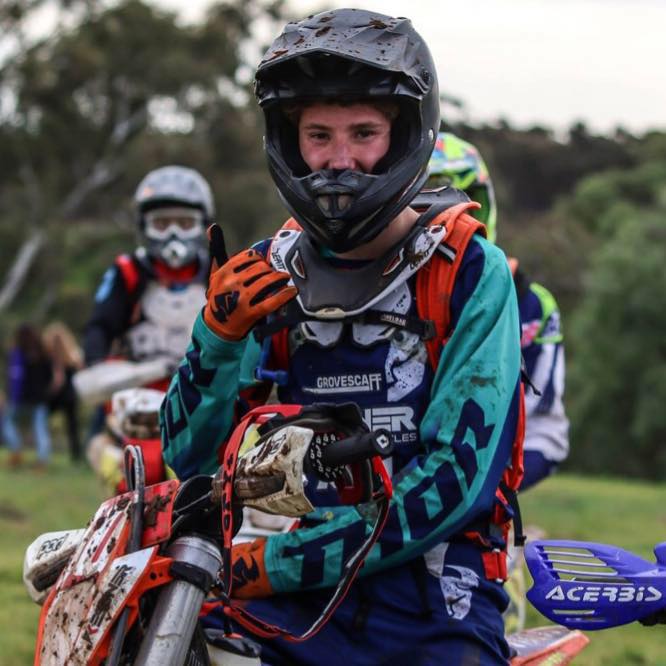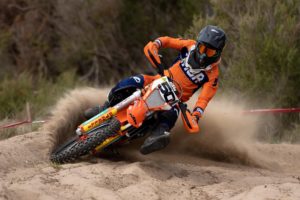 FROM WILL HIMSELF;
The Great Finale of the 2019 South Australian Off-Road Championship hit the unbeatable sandy terrain of Coonalpyn to close a successful 2019 series. Rounds 6&7 took place on 30th August and 1st September as the event was run in conjunction with rounds 8&9 of the AORC. A staggering field of over 200 competitors tackled the 2 day sprint format amongst the flowing sandy tracks. Following on from his successful 2019 SAORC season campaign so far, Kessner KTM Off-Road Team member Will Price sat a comfortable 3rd in the championship hunt coming into the final rounds. His consistency so far this season with a handful of 4th place finished has showcased his skill and ability as a result of his hard work and dedication to the sport. 
Round 6 saw the senior Pro and Expert riders battle it out on a short 5km loop consisting of flowing, winding sand tracks amongst the shrubbery of the Coonalpyn property. The track was FAST, making racing exhilarating for both riders and spectators as they put it all on the line throughout their 10 sprint tests. Competition was fierce with reigning champ Andrew Wilksch and his main rival Riley Graham battling it out for top South Australian honours whilst young guns Will Price, Cooper Sheidow and Nathan Howe all gave it their best crack just shy of the heavy weights.
"Saturday I felt a little uncomfortable, the track was wide open and almost like a motocross circuit. It definitely didn't suit my riding style as I prefer the more technical tracks however I gave it my best shot and still maintained consistent times throughout the day. It was pretty wild, and the track didn't take long to become flogged out, but it made for good, enjoyable racing. I made a few small mistakes but the goal was just to finish in one piece and gather some healthy points heading into the final round."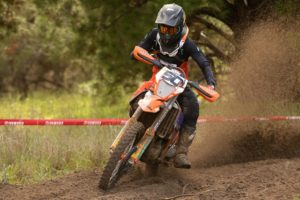 Day 2, the Pro and Expert classes swapped to the junior track for the final round for 2019. After 6ml of rain overnight the competitors couldn't have asked for better conditions as they tackled the motocross and malley shrub test. The track started in the pine forest winding its way through the sand as it reached spectator heaven on the epic motocross track before going full speed across the paddock into the malley trees. The test was much more diverse than the opening day, throwing everything at the riders from deep sand jumps to tight rocky sections and logs. Young Price took a steady start to the day however found his groove and placed some quick times against the high class national field.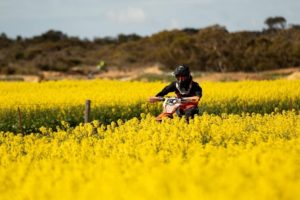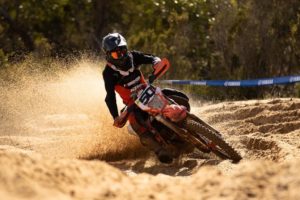 "Today I was much happier with the track and my riding. I did make a small mistake on the first lap but put it behind me and just focused on the job, which was to finish the day in order to secure 3rd in the SAORC championship. There was definitely some wild moments today but it was great seeing so many spectators out on the track and I loved how the Gawler club used a great mix of terrain. It was a good track a definitely showed everyone's strengths and weaknesses. Overall I was happy with the day and narrowly missed out on the podium by 4 seconds. But that's how racing goes."
Will, once again secured consistent results placing 4th Saturday and Sunday respectively to credit him 3rd Outright and in the Pro Class for the 2019 state championship. Throughout the season he has used his true grit and determination to battle through the highs and lows of the motorcycling sport and his commitment and passion shone through. It was a great end to the 2019 season as young Price retained his number 3 position for the second consecutive year.
"I was stoked Sunday afternoon to land on the podium again this season. It has been a long year and I couldn't be more grateful to my family, friends and team who supports me and allows me to follow my passion. The series this year has been predominantly sand, making it challenging. It would be nice to see some diversity in terrain for 2020 and I am already looking forward to next season. I would like to give a special mention to my family for the countless hours of preparation and time that goes into my racing and also Scott Billing and Roger Kessner for their support, wisdom and guidance, giving me the best possible opportunity to succeed."
Will would like to give a massive thank you to his friends, family, sponsors and everyone else who makes his racing possible.