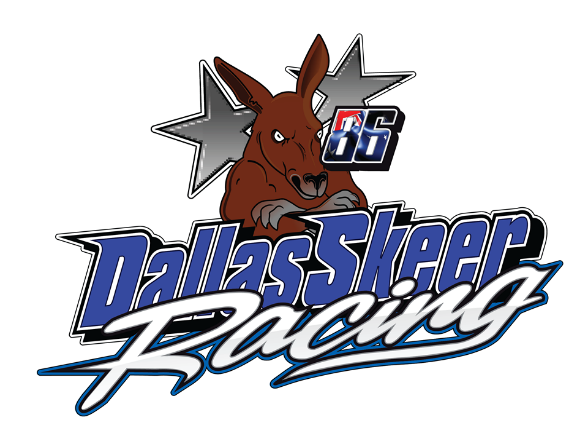 DALLAS SKEER @ ROUND 2 OF THE 2021 AUSTRALIAN SUPERSPORT CHAMPIONSHIP
The Kenny Blake Foundation scholarship recipient gives a rundown on his exploits at round 2 of the 2021 Australian Supersport Championship, read on ….
The pace continued over last weekend at Wakefield Park for the Australian Superbike Championship in Goulbourn NSW for round 2. Cold morning temps didn't stop me from reaching new PB's and coming away with some good results and showing what our small team is capable of.
Coming into winter means the mornings are quite chilly and Wakefield Park isn't known for having the best surface. After testing there 2 weeks prior to the round we knew where we stood and what needed to be done and Friday practise went a little slower then I wanted. Being off the pace a little bit we were still able to put in some decent times to finish 5th fastest for the day after making some small changes to the bike.
Saturday saw two 25 min qualifying's where we had to run the same set of tyres over both sessions due to tyre restrictions. The first session didn't go to plan as while on lap 2 running off track and into the gravel trap not quite making it out and dropping it. Luckily there was no damage and I was able to pick the bike up and get back to the pits. A quick check over with the team and back out to try and set a lap with fresh tyres still on. Even though the track was cold that morning the Pirelli tyres hooked up well but the slight get off at the start hindered me all session and I was able to put in a 59sec.771, 5th fastest after 12 laps 1.2secs behind 1st place. The second session wasn't any better as I did the same lap time but also on the same tyres. Even though the track temperature was warmer later in the day this track requires new rubber to get the full amount of grip to put in solid lap. It was good to throw down multiple 59sec lap times and show some good consistency on worn tyres, similar to what they would be like in the final laps of racing. . So starting from the middle of the second row in 5th gave me a good choice to if I go on the inside or outside into turn 1 off the start.
We arrived Sunday to a very foggy and wet track and did not do the 5 minute warm up a it wouldn't have been worth anything as the track had only just dried up. So we looked to make up a position in the 16 lap races.
Race 1 was an eventful race after holding 5th off the line but getting dropped back to 6th into turn 2. After taking back 5th place I started to close down to 4th who had a few seconds gap. The there was a crash and the race got stopped and was to be reduced to 6 laps. I struggled to get into a comfortable rhythm and was in a group of 4 riders battling for fourth place for the 6 laps. Made a small mistake coming onto the straight on lap 3 and dropped to 6th place and didn't have time to make a move back until getting ran wide on the last corner getting pushed back to 7th. I was able to catch up slightly with 2 laps to go but didn't have time to line up a pass. Then the rider in front of me made a pass to take 5th place and making the other guy run wide and crash out, giving me 6th. Even though I would have liked to finish a little higher up I was happy to get back to my PB pace and move up one place to 6th in the championship after that race.
Race 2 went a little better for myself after getting slowed up by the riders in front at turn 1 and losing my run up the back straight of the track instantly dropping a second behind. Siting in 5th I had a few riders behind me that I was able to pull away from comfortably while doing consistent PB lap times of 59sec.443. By lap 13 out of 16 I was able to reel in the 3 second gap to 4th place but just didn't quite have enough laps to line up a pass. A last ditch attempt at turn 1 on the final lap saw me coming in to fast running wide losing half a second and had to settle for a close 5th. This race was good for myself even though I was by myself for most of it as my lap times only varied by half a second over the 16 laps which is what got me closer to getting 4th.
The weekend was a good weekend even though I would have liked to come away 4th overall as the battle for 4th is nearly if not more competitive as the race win at the moment in my class. I was able to move from 7th to 5th in the championship after this round only one point off 4th. Every track we go to I'm able to beat my old PB and be on the old lap record pace. The front runners are doing ridiculously fast lap times that are way faster than the previous lap record. We aren't quite there yet but getting closer, and with a 4 month break we hope to have the speed to fight for the podium!
Can't thank Dad, Jase, Glen Richards enough for putting in the work at the track and home and all the great sponsors below that got me to where I am today.
Penrite Oils
Barry Francis Motorcycles
Trident tyre centre
Nolan Helmets Australia
Suzuki Motorcycles Australia
Nitron Suspension Systems
Suspensions R Us
Plus Racing Gear
Baker Group
JC Performance
Fly's Moving Colour
Neville Lush Racing
TMA Racing
Pirelli
SpeedAngle
MSA
SA Plasterboard
Superbike Accessories
Mick Harrison Signs
Stef's Transport
MB Automotive
Gino's Pizza and Pasta bar
Australian Technical Rubber
The Ken Blake Festival of Motorcycling
Dekker Motor Body Builder
K&S Fuels
The Grinning Dingo
South East Welding Services
Sew Unique
Tim English
Bannister & Son
Southern Air Ag
South East Property Sales and Management
Unitech
Alexandria Council