2017 MSA Rising Star finalist, Dallas Skeer has sent through his latest report on season 2019 – here's the lowdown! 
Round 5 of ASBK at Winton Raceway in Victoria was a mixed weekend with some good results but also a gamble which didn't pay off. With only three rounds of the ASBK championship left we needed to pull in some good points at Winton as I know the track and had confidence in my pace, the changing weather conditions did not help.
With no dry track time on Friday we were forced to go straight into qualifying. We did get two laps in when the track was wet just to get a feel for it. I usually enjoy the wet but not at Winton, because of the cars and that they just had a drift event the weekend before it was like riding on ice. I ran off coming into turn 1 because there was not enough grip for my slipper clutch to engage.
With only two 20 minute qualifying sessions on Saturday and the threat of rain we had to make the most of the first one in case it did rain later on in the day. The first few laps were just getting in the groove with the first dry track time we had all weekend. I then started pushing and was able to produce a lap time of 1min.26.279 which had me provisional 9th. My class was so close if I dropped 0.1 of a second I would move up 2 positions.
The second qualifying was dry just in time for my session and I knew I could improve on my time. Going out on the same tyres as the first session did make it a little harder as the tyres already had 15 laps on them. I was able to do take another 0.5 of a second off my time with a new PB of 1min.25.749.  I still remained 9th position on the grid as nearly everyone else went faster in the second session.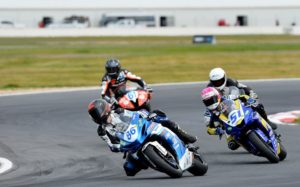 Sunday was a mixed day of racing and a lot of crashes due to the terrible track surface Winton has when there is only very light rain.
Race 1 saw me jump the start and I was right up the front in 5th thinking that I had to push so the ten second penalty doesn't push me to far back in the field. Thankfully for me the race was red flagged on the first lap because of a big crash in turn 2 which involved a few riders. I narrowly avoided the incident and was able to restart with 12 laps to complete. I was a little more hesitant on the start line this time and didn't get as good as start as I wanted. I knew because there was a four riders infront of that were out of the race I had a good chance at getting a good result. I was able to pull a gap on the rider behind me siting in 4th and put down some fast lap times trying to catch 3rd. I was having a lot of front slides and the rider ahead was too far gone to catch. On lap 10 I got passed by the rider that had caught up to me. I knew I had to beat him as I was 11 points behind him in the championship. We had a good fight for 4th place and on the last lap, second to last corner, he made a move but I got better drive into the last corner and got him back under brakes. Finishing in a strong 4th place was a good start to the racing. I got a new PB of 1min.25.201 and my best result in the 600  Supersport class yet.
Moving onto the final race of the day the weather was not looking good with the race before ours being cancelled due to rain. There was black clouds all around the track and I decided to go out on wet tyres. Unfortunately the rain that was expected did not arrive. I had to ride to finish the race on the wet tyres at a lot slower pace. It was a gamble that would have paid off with me and two other being the only ones on wets out of the 18 riders. Coming in at 13th was not what we planned after such a strong race 1. But we have learned some valuable information about what to do in a situation like that again.
The last race really pushed me back in the overall points finishing 8th for the round. With only 2 rounds now left in the championship it is going to make it difficult to move up from 7th in championship but we will try everything to gain as much points as possible. A massive thanks to everyone associated in our small team and making this possible. We now turn to Phillip Island in October where he have some serious testing to do so we can be really competitive.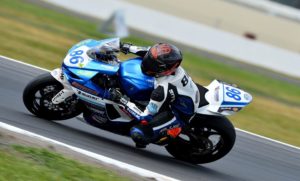 With a huge thanks to my 2019 partners;
Penrite Oils        
Barry Francis Motorcycles 
Suzuki Motorcycles Australia    
Stef's Transport Millicent
Nitron Racing Shocks
Suspensions R Us                        
Ron Angel Classic Racing
Trident Tyre Centre
TMA Racing
PirelliMoto
Cykel
Baker Group
Australian Technical Rubber
Campbell Classic Motorcycles
Beagle Racing Team
MB Automotive
Unitech
Plus Racing Gear
Nolan Helmets
Fly's Moving Colour
The Grinning Dingo
 SP 2 Stroke Motorcycle Parts & Imports            
Pro-Bolt Australia
Neville Lush Racing
Gino's Pizza and Pasta bar
West Sliders
K&S Fuels
Ignition Fitness
Mid-West Trader
Tim English
West Sliders
South East Welding Services
Southern Aerial Agriculture
Sew Unique  
Bannister & Son
R.C & M.Y Fitzsimmons  Painters