It was good to be back racing again and at my local track Mac Park after a 6 month break from seeing the lights go out. We had done 4 practise days at Mac Park since racing stopped in February and I had some good days and some other days where I struggled to find the pace I usually can do. Last weekend couldn't have gone much better with the weather being our only set back.
Friday practise was very warm with air temperature of close to 30 degrees which gave a false sense of what the weekend ahead was going to be like. We had chosen to ride the number one race bike that usually gets ridden in ASBK and I had never ridden it at Mac Park with the setup I usually race on. Friday was a lot harder than we thought with the bike not handling very good when entering the corners. Luckily Dad was able to get it pretty much sorted after 5 practise sessions. I was only able to manage a best of 1.11min.623 which was about .6secs off where I wanted to be.
Going straight into a single 20min qualifying session wasn't ideal as there was still one untested change done to the bike from Friday. It seemed to have made the difference as after 6 laps I was able to post a 1.10min.171 to secure pole position for the 600 Supersport class and 3rd on the gird the 15 lap Master of Mac Park feature race on Sunday. I was surprised to do that time as it's the quickest any 600 has gone around Mac Park and 0.5secs quicker than my PB, plus one whole second faster than my old lap record. As it was not a race the qualifying time doesn't count as a lap record.
There was 4 Supersport races with two on Saturday and two on Sunday, then the final 15 lap feature at the end of the weekend which included Superbikes! Saturday afternoon was forecast to be raining and thankfully it held out.
Race 1 was my best ride for the whole weekend after leading from start to finish I was able to pull a six second gap from second place and set a new lap record of 1.10min.040 smashing my previous 1.11min.162. Not only was able to do that lap, I was able to back it up the next lap with a nearly identical time of 1.10min.056 and comfortable stay within 0.5secs of that lap time over the 6 lap race.
Race 2 was a little more interesting with light rain threating but not actually wetting the track, so we were able to stay on slicks. Being cautious the first lap I got passed and was happy to sit behind and follow the other rider to see how they react to the track conditions with the slight rain. After 3 laps I had good confidence and was able to make a easy pass back into the lead and pull a gap of 2.5secs and a time of 1.10min.713 proving there was plenty of grip.
Sunday started with going straight into racing with an extra warm up lap for the first race. It had rained Saturday night so the track was wet but drying. To wet of the slicks but only just wet enough for wets. I didn't get a very good start and fell back to third off the line. I was able to stay with the two front riders for a lap but just didn't have the confidence in the conditions and dropped off the back of them. I finished third and was able to post a 1.15.797 over 10 seconds ahead of the next rider.
Race 4 and the final 600 Supersport race was in very similar conditions to race 2 on Saturday with light rain all race but the track staying dry. I once again fell back to second and sat there for 3 laps to feel the conditions out and then made a pass to take the lead and pull and instant gap. Posting a 1min.11.531 and finishing 3 seconds ahead after the 6 laps.
The final race of the day is where the weather finally broke and it meant that 15 laps where going to be in extremely wet conditions with a lot of standing water on the track. Being mixed with the Superbikes is always fun but a challenge as they have 400cc more than my Suzuki 600cc Supersport. I did not get a good start dropping two places by turn 1 off the line. The rider in 3rd had a mechanical problem early on so I was stuck in 4h behind a slower superbike for the first lap and half, by that time the leaders had a decent gap and I just focused on being smooth and gaining pace as I felt out the wet conditions. Being 15 laps I had to deal with a lot of lapped riders and that made my race a bit more interesting rather than just doing 15 laps by myself. By lap 12 I could see the superbike rider in 2nd slowing down so I upped the pace a little and kept pushing. Unfortunately it was too little too late and I settled for third only 1.8secs off of second and was able to nearly match the fastest lap done by the winner on a superbike, with a 1.15min.921.
It was great to be back racing and to do the lap times I was able to do which showed I didn't lose anything over the break and hopefully when ASBK starts again in November at The Bend Motorsport Park I can be real competitive. A big thanks to Dad for sorting the bike on Friday and standing out in the rain, also all the great sponsors and supporters that have been understanding with the Covid situation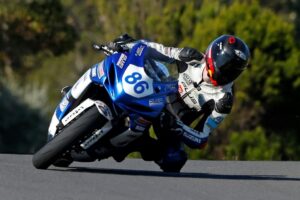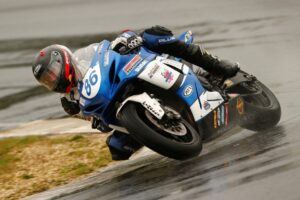 Pictures: damir8.com
Penrite Oils
Barry Francis Motorcycles
Trident tyre centre
Nolan Helmets Australia
Suzuki Motorcycles Australia
X-lite Helmets
Nitron Suspension Systems
Suspensions R Us
Stef's Transport
Pirelli
Unitech
Plus Racing Gear
Baker Group
Australian Technical Rubber
West Sliders
Fly's Moving Colour
Neville Lush Racing
TMA Racing
SpeedAngle
Superbike Accessories
Dekker Motor Body Builders
Mick Harrison Signs
MB Automotive
Gino's Pizza and Pasta bar
South East Property Sales and Management
K&S Fuels
Tim English
The Grinning Dingo
Sew Unique
Bannister & Son