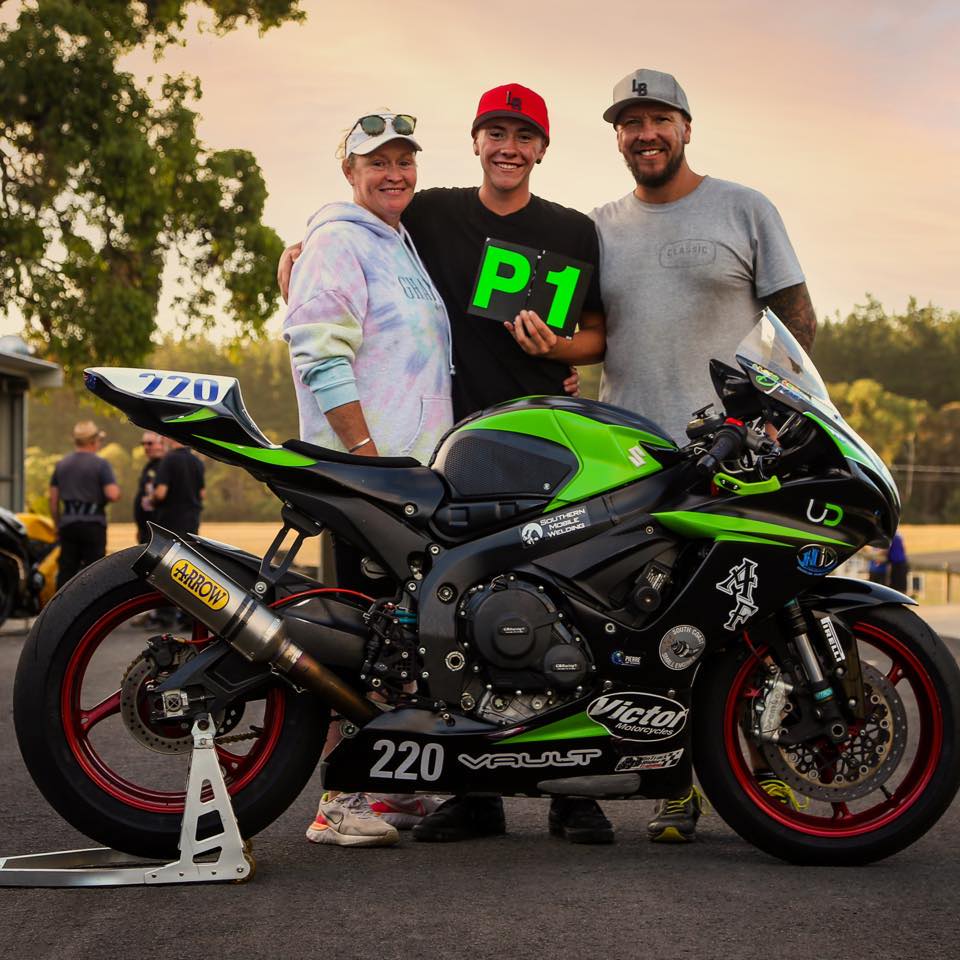 DECLAN CARBERRY RIPS THE BITUMEN TO SET NEW RECORDS FOR THE EASTER CUP AT MOUNT GAMBIER!
Round 2 of the 2021 SA Championship, which also featured The Easter Cup
here is the race report from Declan Carberry, who set the track alight at Mount Gambier over Easter to become the youngest rider to have his name etched on The Easter Cup trophy. At 16 years of age, our 2018 MSA Rising Star is having a brilliant start to 2021, and a perfect 5 from 5 was the culmination of  the hard work he has put into his racing so far!
Here's what he had to say about the weekend at Mac Park, where the Mount Gambier Club once again ran yet another high quality meeting, with some great racing as the SA Road Race Championship battles hot up!
Here's what DJ220 had to say;
What an amazing weekend. 
Friday was practice I ran the same Tyers I used for the whole 3 hour they had 70+ laps before I started the weekend. Dad changed the set up a little on the bike at home that week. Friday was the day to get used to the bike and changes made.
Everything was working well with the setup.
SATURDAY
Qualifying and race 1
In the first qualifying I went out to scrub in a new front and a 6 lap old rear tyre. I managed to set a lap of 1.11.3. This put me 1st for the 600cc's and 1st for The Easter Cup. This made me the quickest bike for the first qualifying of all classes.
In qualifying 2 of Superbikes  Jamie Banks did a 1.11.2 on his GSX-R1000 and another rider did 1.11.2 so this placed me 3rd for The Easter Cup.
I then went out for my 2nd qualifying  to do 4 to 5 laps and see if I couldn't do a quicker time than them. I pushed as hard as I could and did an 1.10.9 on my 4th lap. This was a new PB for me and it put me back on pole for The Easter Cup.
Race 1 was a 6 lap race. I got a ok start and got thought turn 1 in 1st position, then pushed for 4 laps till I got a big enough lead that I could maintain my gap to 2nd place. I took the chequered flag to take my first 600cc Supersport win.
SUNDAY
Races 2, 3 & 4 PLUS, The Easter Cup.
Races 2, 3 and 4 had great starts and tried to do the same as race 1 coming away with 3 more wins.
This giving me 4 from 4 wins in the 600cc Supersport.
By the time The Easter Cup race came around, I was getting nervous about it as I was the youngest person to put it on pole.
The 2nd quickest 600cc was in 12th.
On the start I was nervous as I had Jamie Banks next to me. The lights went out and him and I both had a great start.  Jamie just had  more legs to get in to turn 1 quicker Jamie had the inside line, I was right on him for the first 2 laps.
Turn 1 lap 3 I put it up the inside of Jamie and I didn't believe I was in 1st. For the next 12 laps I pushed like crazy.
Jamie pushed me so hard I stayed in 1st but he kept the gap small.  The biggest it got was 3 seconds when we got caught up  in lapped traffic.
I came across the line and couldn't believe I was now the youngest winner, and a 600cc, to have won The Easter Cup.
An awesome weekend where I was lucky enough to have won 5 from 5 races!
Thanks for your support.
#DJ220
Photo credits Pit Lane Studio – with thanks!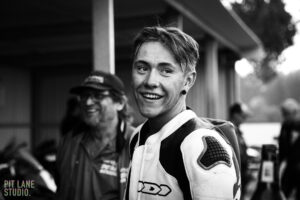 And thanks to these awesome sponsors for their continued support;