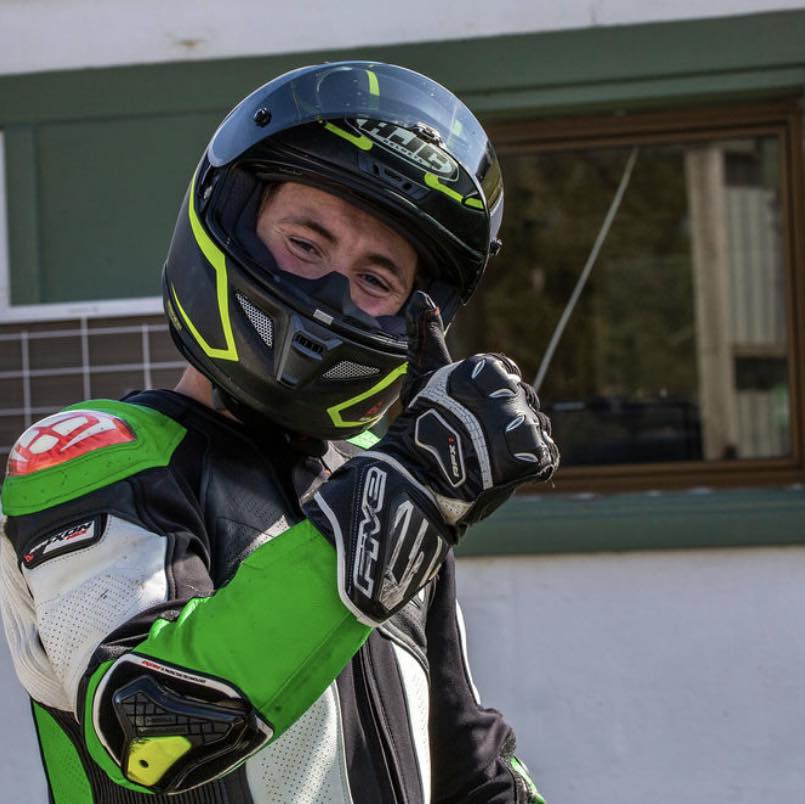 The 2018 Motorcycling SA Rising Star is looking at adding the 2022 SA Supersport 600 Championship to his trophy cabinet as he gears up for the final round on November 12 & 13 at Mallala Motorsport park – but first, here are his thoughts about round 3 at Mac Park over the October Long Weekend!
Over the October Long Weekend, I competed in round 3 of the 2022 SA Road Race Championships, and the annual Master of Mac Park event.
Friday was practice.
The track was great, and I had lots of fun trying the Michelin tyres for the first time here. They felt amazing and over the four sessions I was getting quicker and quicker each time pushing through the pain of my foot (which I smashed at work the week before) doing the best that I possibly could with the way I was feeling.  The track temp was great and I got to put a couple good laps down.
Saturday was qualifying and race 1. 
In first qualifying I was feeling good, bike was feeling great. I was in 2nd and feeling good out on track. I was going ok in the 2nd qualifying, but only managed to picked up a little time, so I was still in 2nd place – and that's where I was going to start race 1 from – but a front row start is still good.
Race 1. I didn't have the best start. On the second lap the rider in front of me crashed, I almost hit him but just managed to dodged him. Then the race was red flagged. On the restart I had a great start and had a great race.   Tyers felt so good though the whole race pushing them. I finished 2nd
Sunday, three more races and the feature race.
Race 2 I had a great start and was going well had no moments. I tried to ride smart and smooth as much as I could. The bike felt great everything went well finishing in 2nd. Race 3 I had an awesome start, had a great jump and went for it. I didn't want anything to go wrong and didn't want to hurt myself so rode to my capabilities which was still quick enough to finish in 2nd. Race 4 I had an alright start. I tried to just ride smooth and smart as I was hurting a little from putting so much pressure on my foot. I came away with 2nd for the weekend and gave me 80 points to help in the championship.
Master of Mac Park feature race
The Master of Mac Park saw me in with all the big boys on the 1000cc's, and we had a couple of red flags so a-couple restarts. On our 3rd restart and 4 laps taken off we had a great 11 lap race. I started from 4th and finished in 4th.
I had a couple of the boys I know well in front of me on superbikes. They got away from me and all I wanted to do was finish the race where I started and not go backwards. I would have loved to make up a couple places but having 1000's behind me and the pain in my foot I was proud of myself for doing as well as I did.  My quickest lap time in the feature race of a 1.10.2, and I can't complain about and couldn't wipe the smile off my face.
I love spending every minute on my bike, and thanks for your support
#DJ220  
Photo Credit; Bec at Pit Lane Studio