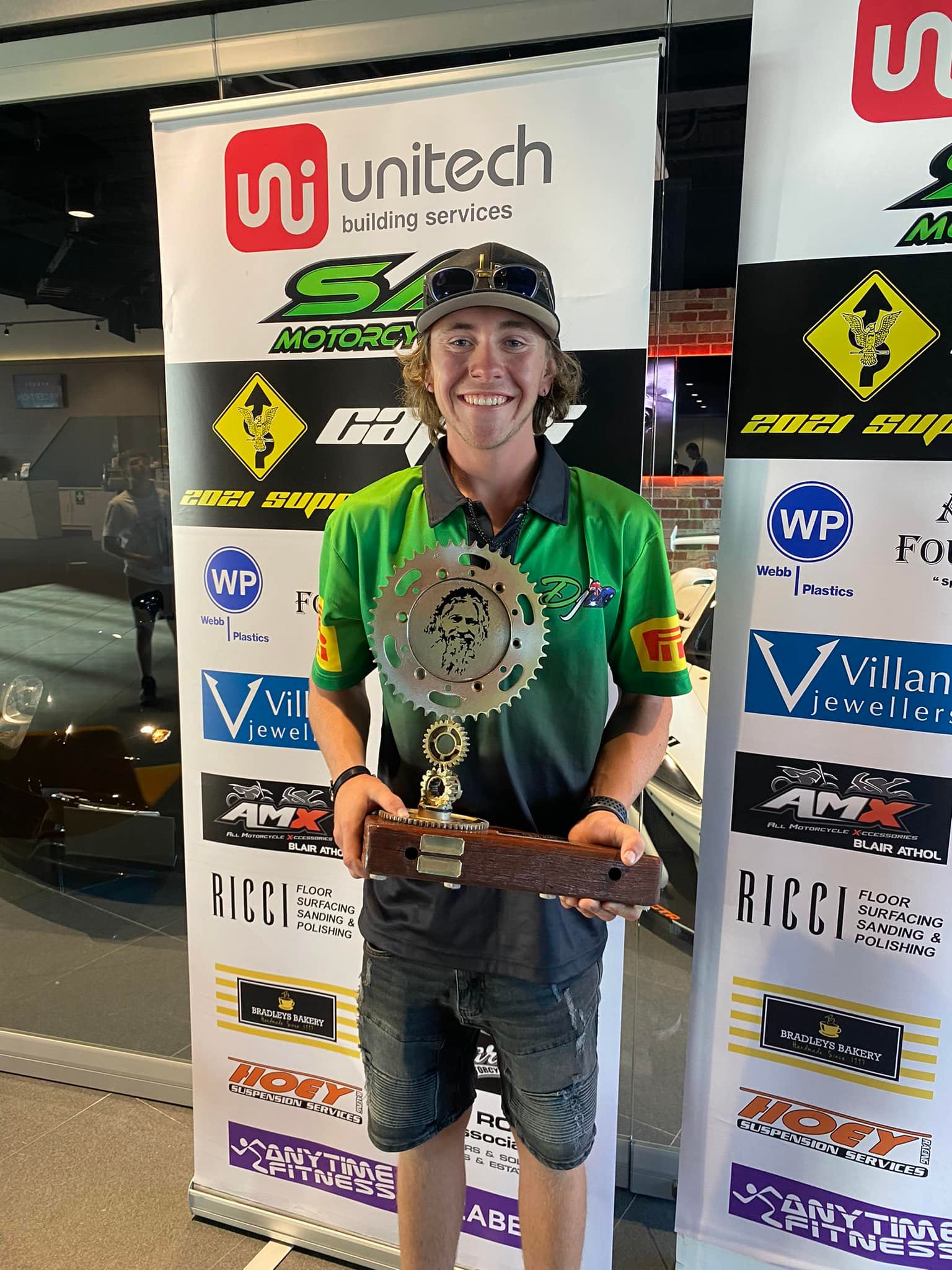 DECLAN CARBERRY'S SUCCESSFUL END TO 2021!
ROUND 4 SOUTH AUSTRALIAN ROAD RACE CHAMPIONSHIPS
Over the weekend I competed in round 4, the final round of the 2021 SA Championships at Tailem Bend.
The racing was held at the East Track. This was the first time a race meet had been held here.
The race meet started with practice on Friday. What can I say but 'WOW', what an amazing circuit. I had a great time learning the track and got my head around it fairly quickly and totally loving the 22 corners over the 3.9kms.
Saturday was qualifying and race 1. 
Qualifying; I went out for qualifying with a fresh rear tyre. I was feeling great so I pushed to go fast and did a 1.44 which put me on pole.
Second qualifying I went out to check if the changes to the bike setup we made worked or made it worse, but it made it so much better.
Race 1; I had a great start, one of the best I have had in ages and I lead from start to finish and learnt some new lines and had a great race.
Sunday was races 2 & 3.
Sunday we went straight into racing with no warm up.
Race 2 was great! I had a blast, lead from the start to finish and was such a good race. I had a few moments but kept it all together and did another best lap time again.
Race 3; I had a good start, but so did everyone else. I had a great run into turn 1 and started going for it. I had a great race and finished in 1st. I was so excited I did a nice stand up wheelie to celebrate finishing off the weekend and to take the 600 Supersport South Australian Championship, my first in seniors.
The Tim Inkster Cup; To finish off the race meet I entered in the Tim Inkster Cup feature race.  I was the only 600cc machine in it but qualified in second place on the grid. I had a great start and lead from turn 1 to turn 4 where I had a little whoopsie with a fellow rider but was all good nothing too bad.
I had such a great race following the older and more experienced riders putting in some great laps and learning new lines. I also did the best lap times for the weekend bettering my 600cc class times with a 1.43.596. One second slower than the winning 1000 Superbike of Jack Davis.
The icing on the cake for the weekend was at the presentations being awarded the Steve Smiley Kerr Perpetual 600 Trophy. I was so speechless and what an honour.
I had such a great weekend and can't thank the team and my family enough. To everyone who helps big or small can't thank you all enough it means a lot to me.
Thanks for your support.
DJ220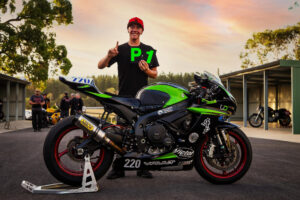 Pics courtesy of Rebecca Bowdidge – the brilliant Pit Lane Studios – and Kellie Carberry