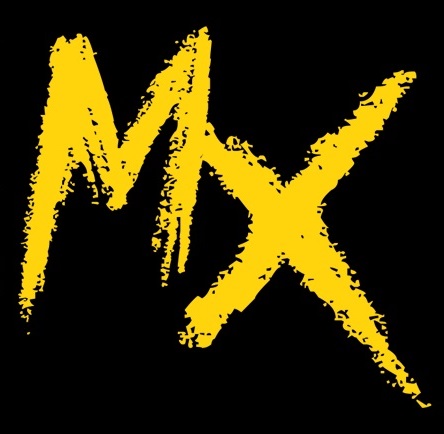 EAGLES TRAILERS, CAMPERS & CARAVANS 2022 SOUTH AUSTRALIAN MOTOCROSS CHAMPIONSHIPS AND 2022 EP SERIES VENUES RELEASED!
Motorcycling South Australia, along with the Motocross Sports Manager and the SA Motocross Panel are excited to announce the venues for the 2022 Eagles Trailers, Campers & Caravans 2022 South Australian Motocross Championships, which are also presented by AMX Superstores.
The 4 round Championship will start at Gillman at the end of April and finish at Andy Caldecott Park in Keith at the end of August, with round 2 to be held in the Riverland at Renmark, with round 3 heading, for the first time in many years, to Port Pirie, which is also home to the King of the Gulf meeting at Easter (for those who want to pre-ride the track!)
With the rounds now released, the program of events will follow early in 2022, but rest assured there will be some exciting changes coming to the formats, with the emphasis being put into giving ALL competitors great value for money, and an exciting series of Championship racing to decide who the 2022 South Australian Champions will be!
Yes, it is only a 4 round Championship – but – with June & early July swamped with major events like the Finke & Hattah Desert Races, it was almost impossible to schedule a round – but it does give our riders the chance to ride a National event and see how they go!
What can be teased here is this; multiple class entering will, not only be allowed, but will be encouraged across almost ALL classes – so just about every rider will be able to enter at least 2 classes in 2022 (where age and gradings allow) – and those who can't will be racing for a bit longer in each race!
Has that whetted your appetite??
Well, wait until early 2022 to get ALL the info on an improving and evolving South Australian Championship in motocross!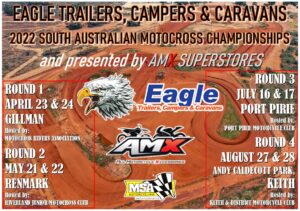 Also attached here are the dates and venues for the 2022 EP Series – the 14th Eyre Peninsula Motocross Series – 'Wild West' Motocross at its Best! 
Once again the EP Series will be a four round Series to decide the best in the west – with visits to Port Lincoln, Ceduna, Whyalla and Kimba – and with 3 of the rounds to be held BEFORE the opening round of the 2022 Eagles Trailers, Campers & Caravans 2022 South Australian Motocross Championships, presented by AMX Superstores, so there is ample chances to get some pre Championship racing in!
And with a planned possible return to the West in 2023 for a round of the SA Motocross Championships – this is an ideal chance to ride these tracks and get a feel for Eyre Peninsula dirt!