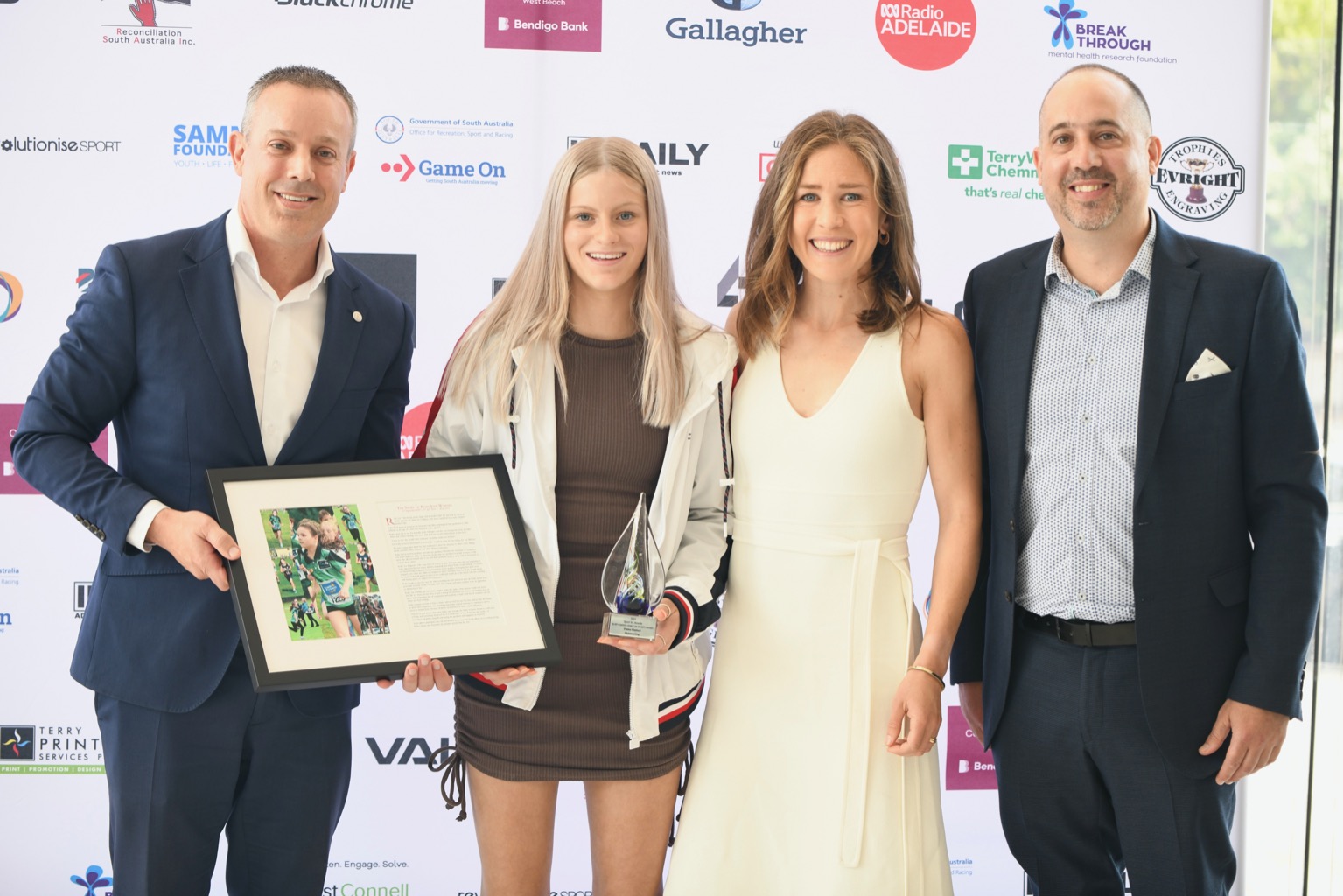 Hugest of congratulations to Emma Haylock, inaugural winner of the Ruby Warner Spirit of Sports Award! An outstanding achievement for Emma, and congratulations as well to Sarah Rayson from the Keith & District MCC, a finalist for Volunteer of the Year, but not getting the gong – this time!
For those who don't know what the Ruby Warner Spirit of Sports Award is, this may help (get the tissues out perhaps)
Presented in memory of Ruby Jane Warner.
The Ruby Warner Spirit of Sports Award will be presented to an individual athlete (under 16 years of age) who has demonstrated an innate talent and love for their chosen sport, and has also shown selfless care and commitment to others, to ensure they can participate and grow their ability and love for sport … just like Ruby did.
The Spirit of Sports Award is a reflection of Ruby and everything she stood for. It is a reflection of how Ruby saw the world – of innocence and purity, unspoilt, and seeing the goodness and happiness in everyone.
We invite you to read the story of Ruby Jane Warner, learn of her many talents, her love for sport, her incredible care and compassion for others –
https://bit.ly/2Xneq5d
Emma Haylock, an amazing young woman and sporting Champion, and a fantastic role model for young girls looking to enter motorcycle (or any) sport, as she is a great example of what hard work, sportsmanship and fair play can achieve, while not forgetting that future generations need to be encouraged and nurtured, which she is more than willing to do!
To Emma, motorcycle sport is her world, in her words, "I just want to ride fast and safe – and send it!" (hit big jumps), and at present she competes or practices most weekends, and across 3 disciplines of the sport, Motocross, Enduro and Trial, and she is always professional in her presentation and is a great role model for the sport, and is forever encouraging more girls 3 (specifically) to get involved, whether that be on the podium at events with a microphone in hand, or representing herself at promotional events, where she is more than willing to attend on behalf of Motorcycling SA and talk to people she doesn't know about her sport. At present she is also featured on Motorcycling SA's SA Women in Motorcycling poster for the discipline of motocross.
Sarah Rayson, Sarah's daily motivation and support in very challenging times again illustrated rare qualities and Sarah's passion for this sport which has made her a role model for all volunteers – as this year she has been, an official in many roles, event organiser for multiple clubs, a canteen organiser, plus a mum too 2 kids, one with major medical issues!
Sarah's dedication and drive in 2021 has surpassed the efforts of many other volunteers in motorcycle sport, where she is heavily involved in the Keith & Districts MCC, where her Husband Tim is also the President. Sarah's passion for motorsport runs deep into her heritage with the late, great Andy Caldecott a close uncle to Sarah and the legacy this family continues to leave on the sport is into its 3rd generation in the southeast.
View the full gallery here – https://bit.ly/3cgNJCW
To recap all the 2021 winners and read about their achievements, click here – https://bit.ly/3CjUz5f…

OTHER NOMINEES
All up, Motorcycling SA put in 7 nominations across the various awards, with only Emma & Sarah being selected as a finalist, with the other nominees being;
ATHLETE OF THE YEAR; MARK PLAISTED 
EVENT OF THE YEAR; THE SELLICKS BEACH HISTORIC RACES
EMERGING ATHLETE OF THE YEAR; ALISHA HARRY
COACH OF THE YEAR; DAVID 'DAVO' JOHNSON
ADMINISTRATOR OF THE YEAR; IAN HAYLOCK
Whilst they may not have been successful, they were all very worthy nominees – also, in relation to Sellicks, Mark & Alisha, it is a bit tough when you are up against Olympic qualifying events and/or athletes!