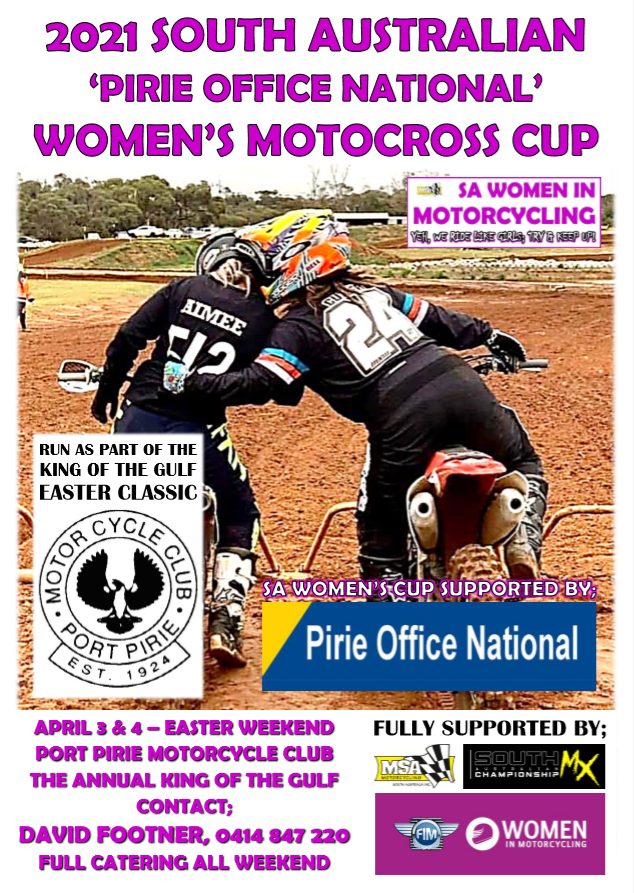 EMMA MILESEVIC CROWNED 'QUEEN' OF THE GULF IN WINNING THE 2021 SA WOMEN'S CUP!
Easter saw the annual trek to Port Pirie for the King of the Gulf motocross meeting that features the King and Prince of the Gulf, the Classic King of the Gulf, and, the SA Women's Cup for motocross.
Now well into its second decade as a feature event over Easter, the 2021 SA Women's Cup was once again supported by Pirie Office National and saw 14 riders front the starter – an entry list up from previous years which is great to see, with 14 also the new record for entries for the SA Women's Cup for motocross – which is awesome for the future of the event and the sport here in SA, and to top it off, 6 junior girls also got in a hit out before round 1 of the 2021 SA Motocross Championships fires up at Gillman over the ANZAC weekend!
Like last year, the SA Motocross Championships will feature TWO (2) CLASSES for Junior Girls, 85cc 11-U16 and 125cc 2str / 250cc 4str 13-U16 Girls, as well as the Open Women's Class as well. Entries are now open through your Ridernet profile, so get around it – SA Women's Motocross is on the up and an exciting thing to be a part of in 2021!
But, we digress, back to the SA Women's Cup for 2021 – and what the riders thought! Well, here is a selection of what the riders have put up on their socials since the event – and by the looks of the comments, it was event not to be missed – so if you did, best lock it in for 2022 – Easter at Pirie!
Congratulations to the hard working team at the Port Pirie Motorcycle Club for another job well done, and well done also, to the 200 strong field that rode the weekend in very warm conditions!
EMMA MILESEVIC
What a way to spend Easter!
Raced the King of the Gulf in Port Pirie and what a great event it was!
Enjoyed getting a lot of bike time on a great track, and am happy to come away with some solid results
SA Women's Cup – 1st
MX2 Pro – 4th
King of the Gulf, Pro All Powers – 9th
Thanks to the Port Pirie club for their effort, and all my sponsors who make racing possible!
Congratulations to @bmetty24 for taking out the King of the Gulf!
@honda_racing_aus @honda_mc @mongrelboots @flyracingaus @fmf73 @m2rhelmets @didchain @skda.moto @uswesports @uswesports_au @wearelusty @nutrienagsolutions_au @bserc_au @indulge_apartments
@dirtworxridepark @nuetech.nitromousse.tu @nikos.suspension.services
STEPH CUTLER
Good day at Women's cup yesterday! Went 2,3,2,2 for 2nd overall! Was just happy to lead one lap in front of legend Emma Milesevic
Plenty of fun had in the heat with battles with Amy Bartsch as per usual!
Good job to the rest of the BMS team
Can't thank these guys enough
MX Wraps – Custom Dirtbike Graphics
Salty Locs – Dreadlocks Adelaide
AIMEE BUTLER
Was awesome to be back at Pirie for the king of the gulf! I competed in the women's cup going 4-4-4-4, which I was pleased with considering the minimal bike time I have had this year
Really enjoyed being back at the races and was great to have a whole heap of my family and friends come and support me, especially my sister who made a humungous effort!
Massive thanks to everyone for making it possible
Butlers Mechanical Service
D&G Tyres
Wakefield Trucks
Shock Treatment
Pirie Signs & Designs
MX Wraps – Custom Dirtbike Graphics
CHLOE BARTON
Wow that's the SA woman's cup completed in Port Pirie. To say I'm pretty tired and sore tonight is an understatement, I raced the woman's then MX2 Clubman and then the Clubman All Powers Feature Race, so it worked out that I did roughly 44 laps today.
It was great to see 14 females there racing.
Pretty happy to finish 5th in the SA Women's Cup considering the talent we had over here for it. In the MX2 Clubman I'm unsure where I finished up but it would have been in top 10.
In the feature race I finished 8th out of 16, I was very happy with this result considering the heat and how fatigued I was.
Have to say a huge thanks to all my team for getting behind me and making sure I was eating and drinking lots today in this heat.
Massive shout out to my sponsors;
Utilities Construction
KOBY KITCHEN
King of the Gulf 2021 was a blast! Had heaps of fun racing at Port Pirie over the weekend.
On Sunday I raced MX2 Clubman and SA Women's Cup.
Unfortunately, in race 2 of the Clubman I had a crashed and had to DNF the race, I was lucky to only come away with a few bruisers. Due to the crash I choose to only race the women's class for the rest of the day.
Super stoked on how the Women's Cup went, had some great battles with people all day and improved on lots of things.
7-6-7-7
SA Women's Cup – 7th overall out of 14
Looking forward to round 1 of the 2021 SA Championships in a couple of weeks.
Massive thanks to everyone who supports me
LARA ANTHONY, nee WEDGE
SA Women's Cup
Had an awesome day racing at Port Pirie on Sunday. Was far too hot but slowly starting to get the hang of riding and racing again. Ended up 8th for the day.
Can't thank Mum, Dad & Brian enough for all they do for me so that I can go racing. Couldn't do it without your support
@dirtdolls @briananthony_19
@wedkm
CHARLOTTE BERRILL
SA Women's Cup at Port Pirie on Sunday. Definitely not the best hit out, 9-10-10-11 for 11th overall
Not where I'd like to be and I didn't measure up on the day. Back to the drawing board for the next region in a couple of weeks.
@bridgelandmotorcycles
@rapidmxgraphics @flyracingaus @m2rhelmets @sidisport_official
@bridgestonemotoaus @didchain @castrolmotoaus @funnelwebfilterau @asvinventions @motoseataustralia @yamaha_park4mx @motocrossmasterclass
AND JUNIOR
EMMA HAYLOCK
Had a good day Saturday at Port Pirie racing in the Juniors 125-250cc class. The track crew did an excellent job on watering the track all throughout the day so it didn't get too dry.
I had great starts all day with some hole shots which was good. It was also good having some battles with the boys.
I came 6th in my class and 8th in the feature race which I was happy about.
Massive thank you to my sponsors;
Titanium Security Australia Pty Ltd
Specialised Career Solutions – RTO 32292
Specialised Career Solutions RTO 32292 – South Australia