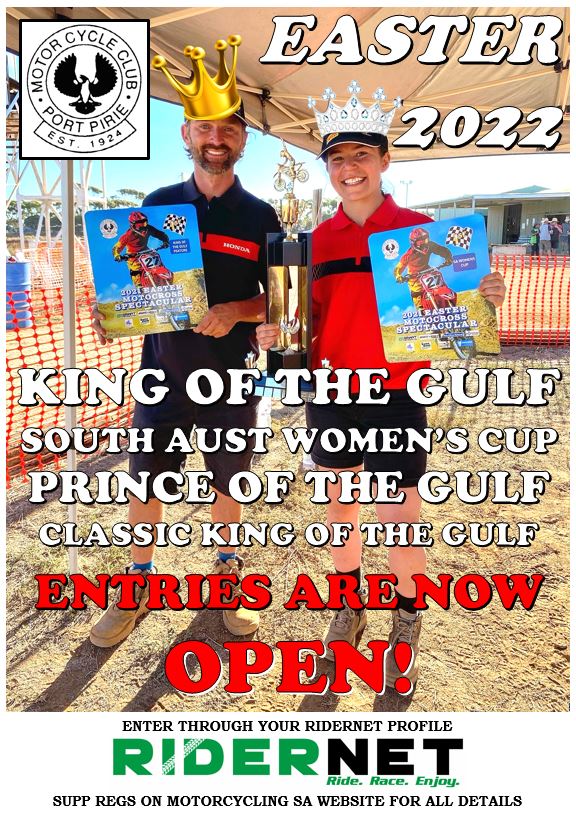 ENTRIES ARE OEPN FOR THE EASTER CLASSIC MOTOCROSS AT PORT PIRIE – THE KING OF THE GULF MEETING!
Entries are now open for the annual Easter Classic Motocross at Port Pirie, the King of the Gulf meeting, which will be held on the Saturday & Sunday of Easter, April 16 & 17. Supp regs and all the details can be found on the MSA website's supp regs page – and all riders can enter through their Ridernet profile.
Feature events at this traditional season opener for motocross will be the 2022;
KING OF THE GULF
SOUTH AUSTRALIAN WOMEN'S CUP
PRINCE OF THE GULF
CLASSIC KING OF THE GULF
events, with which day each event will be run listed in the supp regs! 
A full range of support classes will also be offered in what will be a great hit out in preparation for the Eagle Trailers, Campers & Caravans 2022 South Australian Championships, & presented by AMX Superstores, which will kick off just 2 weeks later at Gillman – and will return to Port Pirie for round 3 later in the year (so get some track time in!)
Full canteen all weekend – so get around it as season 2022 kicks into gear at Pirie! 
CLASSES ON OFFER ARE;
JUNIORS
50cc Auto 4-U9yrs Demo
50cc Auto 7-U9yrs
65cc 7-U10yrs,
65cc 10-U12yrs
85cc 2stroke / 150cc 4stroke 9-U12yrs SW only
85cc 2stroke / 150cc 4 stroke 12-U16yrs BW & Std
100-125cc 2stroke 13-U16yrs
128-150 2stroke / 200-250cc 4stroke 13 – U16 yrs
SENIORS
CLUBMAN MX2 Up to 250cc 2 Stroke or 4 Stroke,
CLUBMAN MX1 255cc & over 2 Stroke & 4stroke,
EXPERT MX2 Up to 250cc 2 Stroke or 4 Stroke,
EXPERT MX1 255cc & over 2 Stroke & 4stroke,
PRO MX2 Up to 250cc 2 Stroke or 4 Stroke
PRO MX1 255cc & over 2 Stroke & 4 stroke
VETERANS (35yrs & over) ALL POWERS
WOMEN ALL POWERS
CLASSIC
CLASSIC – 125cc Cup             125cc Pre 75, Pre78/EVO, Pre 85/90, Pre 95/P20 models
CLASSIC – 250cc Cup             250cc Pre 75, Pre78/EVO, Pre 85/90, Pre 95/P20 models
CLASSIC – 500cc Cup             263+cc Pre 75, Pre78/EVO, Pre 85/90, Pre 95/P20 models
CLASSIC – All Powers              Pre 75, Pre 78, EVO
POST CLASSIC – All Powers   Pre 85/Pre 90, Pre 95/P20