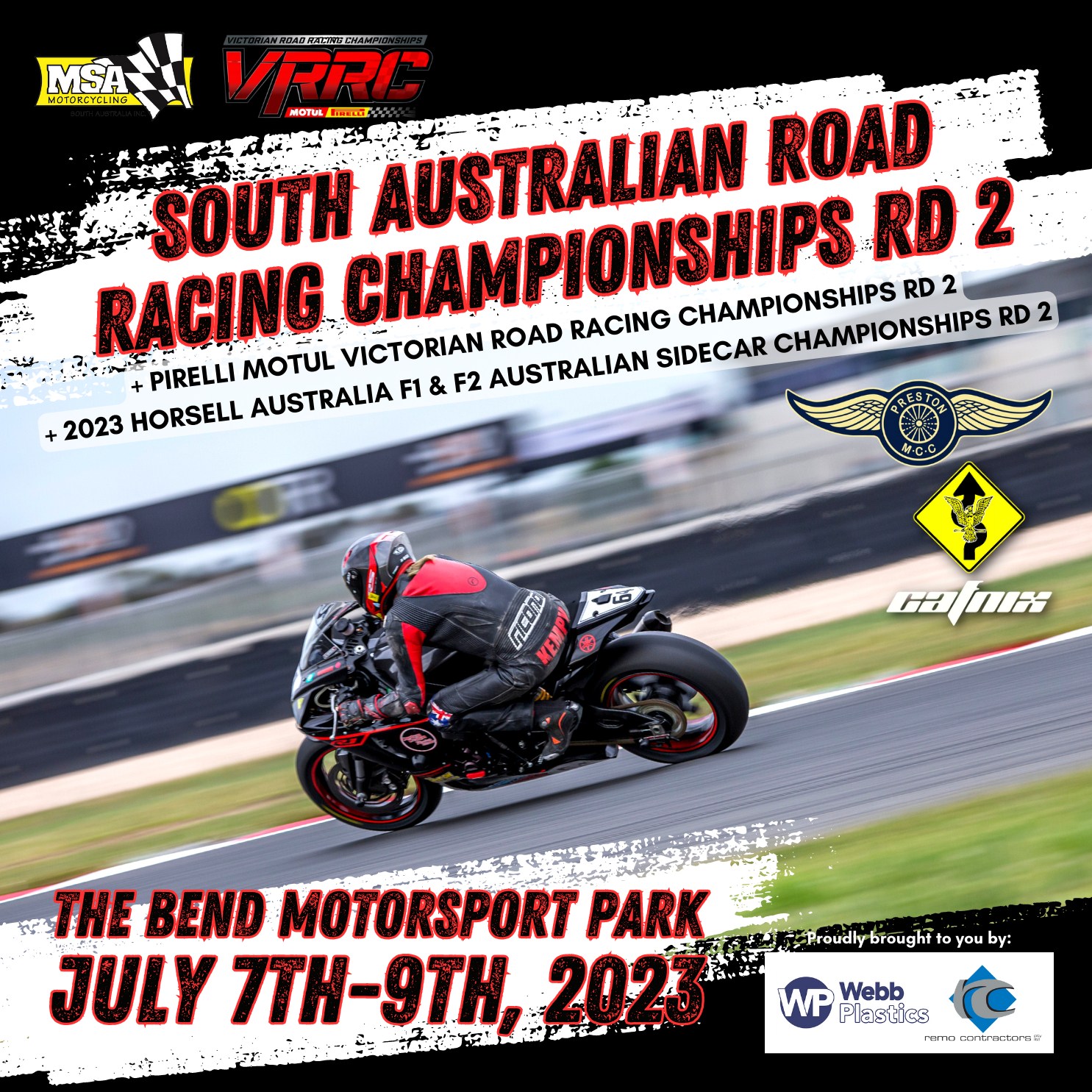 Entries for the: Webb Plastics South Australian Road Racing Championships Round 2, the Pirelli Motul Victorian Road Racing Championships Round 2 and the 2023 Horsell Australian F1 & F2 Australian Sidecar Championship Round 2, to be held at The Bend International from July 7-9 close THIS SUNDAY NIGHT, the 25TH of JUNE!
So far there are 116 registrations totalling over 160 bikes!
Across the SA & Vic Championships there is a total, so far of 31 Superbikes, 15 Supersport 600's and 18 Supersport 300's – with some of the big names entered including  Jack Davis and Michael Kemp headlining Superbikes, the Simpson brothers Olly, Mitchell and Jordan in Supersport 600's. Current Mallala lap record holder Tara Morrison will be joining Georgia Stephens and Phoenix Agar in Supersport 300.  
And in what is awesome for the future of Road Race – so far there is a total of 18 juniors entered, with riders from SA, Victoria & NSW – would be nice to get a couple more as it would be rare to see a field of 20 or more juniors outside of the Oceania Junior Cup!
The bLU cRU SA Junior Cup will also be run, with 12 riders lining up, the 10 that have signed on for 2023, plus for this round, 2 wildcard riders Elijah Andrew and Judd Plaisted join the crew. 
The Australian Sidecar Championship will also feature over the weekend, with almost 20 sidecars already entered. Current Australian Sidecar Champion Phillip Underwood will again face off against Patrick Clancy in Formula One Sidecar. Previous Isle of Mann racer Royce Rowe has broken in his new bike at Mallala and will be one to watch going up against the stiff competition of Jamie Crass and Michael Alton in Formula 2.
Also on the card are the following classes Junior 11 – 16, Limited, Naked Bike, Pre-Modern 2007, Bears B Roaring Sporties. 
AND – FOR SPECTATORS – FREE ENTRY ACROSS THE WEEKEND – GET AROUND IT!
If you have any questions contact Gareth Deacon at president@phoenixmcc.org.au.