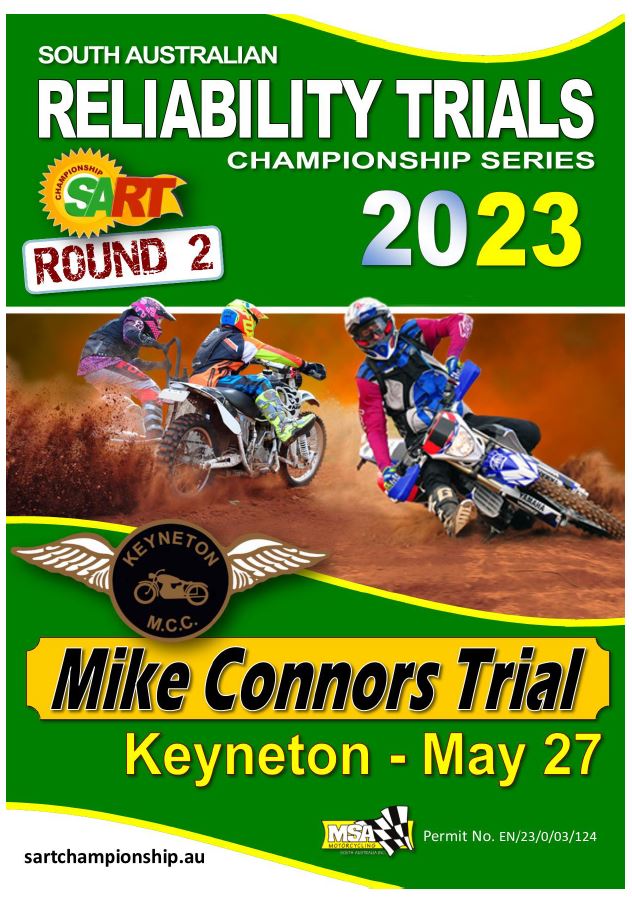 Hosted by the Keyneton MCC the 2023 SA Reliability Trials Championship story continues into the Barossa district for the Mike Connors Trial this coming Saturday 27th of May 2023. It's certainly looking to be a huge day ahead with entries hitting a maximum capacity of 191 riders and closing earlier than expected. It's fantastic to see the sport returning to its former strengths after Covid, with racers from all of SA and wider Australia rearing to take to the track again. 
The Mike Connors Trial will be testing riders with a daytime format of 2 laps and approximately 6-8 hours of riding, over what is looking to be an absolutely fantastic track. Work has been well underway to ensure there is something for everyone, including a weekend for all families young and old, to take in all the action. There have already been exceptional amounts of work undertaken to mark a fantastic course ahead of the weekend. 
With hunger always kicking in early, the Keyneton Progress Association will be taking care of spectators, volunteers and riders by providing catering all day from 7:30 am, right through to the final rider finishing around 5:30 pm. To make sure thrusts are quenched for adults during the action, a fully stocked bar is available from mid-afternoon presented by the Keyneton MCC. Make sure you bring cash though as there is only cash accepted at the bar. 
(Above: Just some of the course terrain facing competitors)
Entry List
Selling out before the closing date with a strong list of competitors lining up to continue their 2023 SART Championship story, Keyneton is going to be the place to be this weekend. 
Jayden Rudd is lined up with sights set on taking back the lead off Rowan Pumpa in A Class after narrowly missing out by 1 second due to some challenges in the final stage of Round 1. 
Looking in red hot form after their  Expert Sidecar win and 13th outright finish from round 1, the A team duo, Shane Schiller / Brian Anthony are back and surely keen continue their winning run. Can they break into the top 10 outright finishers results for this round?? – Only time will tell!! 
(Above: Chris Paunola piloting with Alex Turner asking the big question, "are you coming to watch?")
Check out the full entry list – HERE.
Where:
Situated in the picturesque Barossa District, Keyneton is the perfect spot to bring families and friends for all the Reliability Trials action this weekend. The Keyneton Oval (Google Maps location) is going to be a buzz with anticipation and is the perfect spot for Main Control.  All within walking distance from the last competitive section, it will surely be a fan favourite for spectators to get a good feed at catering and stroll down to watch all the action. 
(Above: Keyneton Oval, calm before the storm)
When:
Riders are going to be starting their day early with first rider leaving Keyneton Oval Control at 8:31am straight after an 8:30 am riders briefing. Make sure you get your family and friends there early to secure the best seats. 
First Rider Times and Distance: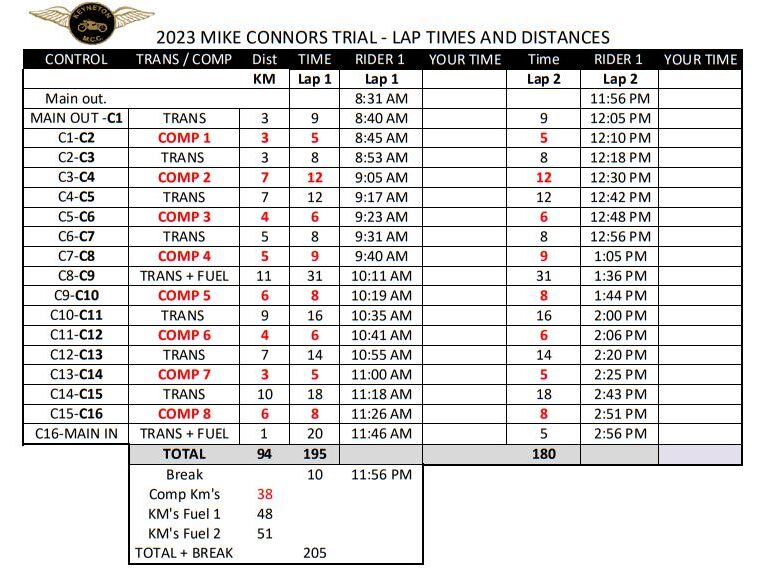 Spectator Areas:
There will be 3 spectator friendly sections on the course. If you are a spectator at the event please respect the landowners and use these areas provided for viewing. Programmes & course maps with the spectator areas marked, will be available at Main Control on the day.
Important Notes:
All Competitors are required to complete a SELF-SCRUTINEERING FORM (included in the Competitor Info) which must be filled in and brought to sign on.
Competitor Info – HERE. 
Live Timing:
Provisional Live results will be published on my.raceresult.com.
To access live timing…
 Go to sartchampionship.au and follow the "LIVE TIMING" links.
 Scan the QR code in the program or at Main Control.
 Live timing viewing will be available on screen at Main Control.
Final results published on the SART Championship Series website.
For Supp Regs, Rule Book, latest news & more, please visit sartchampionship.au
Socials*
You can also follow all of the SART action on our social media by following SA Reliability Trials on Facebook and Instagram.