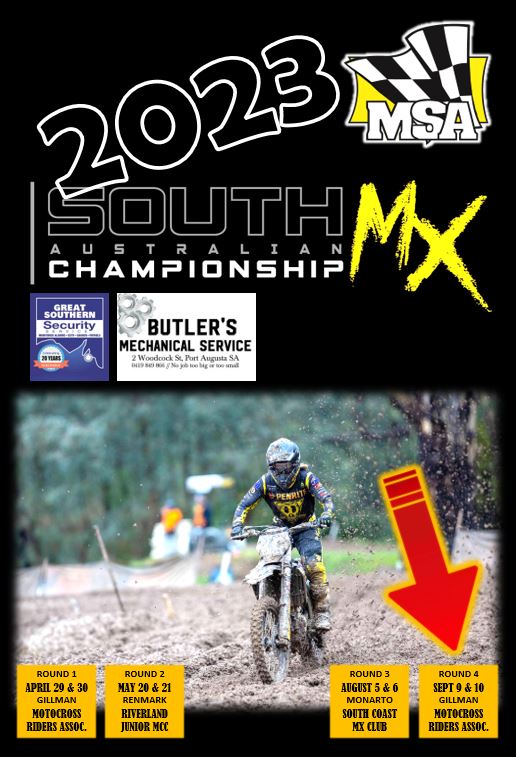 Taking a final bow, the 2023 SA Motocross Championships returns back to where it all started at Gillman with the Motocross Riders Association this coming 9th and 10th of September. With the Championship yet to be decided and very little between many of the class leaders, this final weekend of competitions is going to be filled with bar-to-bar racing right down to the line. 
If you're somehow still undecided… entry over the weekend is free for spectators so round up all the kids and come down to the MRA to see the SA Motocross Championships for the last time in 2023. Don't fret if you forget your lunch either, the MRA team has you completely covered with a fully stocked canteen dishing out hot food and cold drinks all day. 
Continuing our journey right to the end are our amazing series sponsors, Butler's Mechanical Service and Great Southern Security. We can't express how appreciative we are for all the support they have both provided to the South Australian Motocross Championships – Thank you so very much. 
Entry List:
Just shy of 200 riders will be lining up for the final time in this years Motocross Championships with still plenty of opportunity throughout the weekend to replace points leaders and see overall Championships stolen away. 
Joining the masses of juniors lining up this weekend in the 13-U16 125cc class, points leader Wil Carpenter is back to continue the 2023 Championship charge, but with only a 27 point gap to Jayke Hansen, he can't afford to relax for a second.
Don't miss seeing the points table change in the 150cc/250cc 13-U16Yrs Girls with Amelia Gwiazda unfortunately out injured. This opens up the opportunity of Charlize Waldhuter to close the 6 points gap to take over control of the Championship class. This however is certainly not set in stone with Lexy Hayes lining up as a contender for the 2023 150cc/250cc 13-U16YRS Girls Championship. 
With 23 riders set to put on a show in the Junior Lites 250cc 13-U16Yrs class, you are going to want to make sure to keep an eye out for all the Championship battles set to go down. Can Clayton Bogucki make up the 39 point gap on Will Carpenter or will third place points holder Jackson Rossi get the round win?? Only time will tell.
Still on a high after taking a 7th overall in the Aus Pro MX – Women's MX and determined to hold onto the SAMX Butlers Mechanical Service Women's All Powers lead, Amy Bartsch will take to the track again this weekend. She will need to keep her head on a swivel though with Great Southern Security and Butlers Mechanical team rider Emma Haylock looking for any opportunity to close the Championship 21 points gap. 
Turning the speed up to level 10, current Pro MX1 Championship leader, Brett Metcalfe is back this weekend with current third place contender Levi McManus lining right up next to him. With Siegah Ward out injured from a crash in the ProMX round 8, Levi will be doing everything he can to hold off the field and close the points gap.
   
Image: Wil Carpenter                                                                                                       Image: Amy Bartsch                                                 Image: Charlize Waldhuter
Weekend Schedule:
Saturday:
06:00 – 7:00am Junior Rider Sign-on and self-scrutineering.
07:10 – 07:40am Presentation from Round 3
07:45am Compulsory Riders Briefing.
08:00am Practice (racing will commence immediately following practice).
5.00pm – 6.00pm Early Bird sign on Sunday competitors.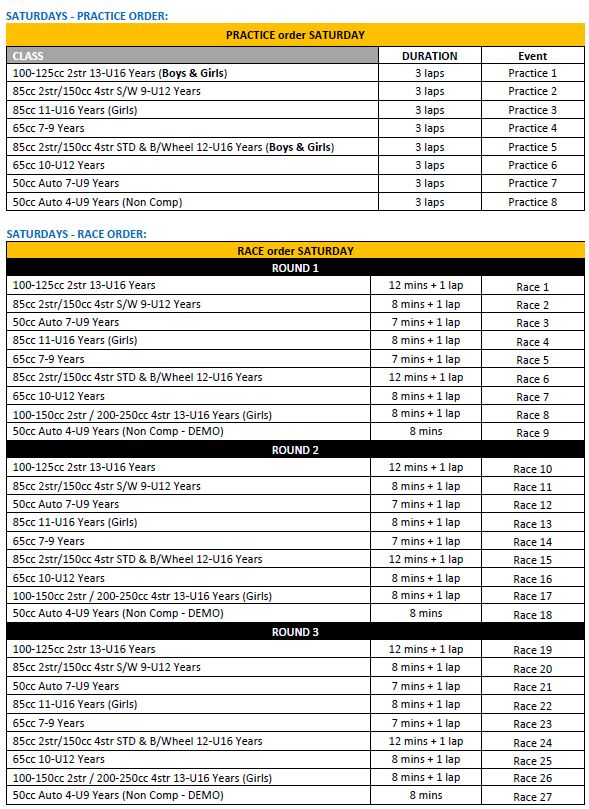 Where:
Motocross Riders Association located on Wilkins Rd, Gillman, only a 20-minute cruise down the expressway from the Adelaide CBD and with some of SA's most talented motocross riders all in one place, you can't afford to not be trackside for all the action.
Plan your trip – HERE. 
Timing:
Follow all the action as it happens and stay up to date with all the timing and results through the Mylaps Speedhive Page, or you can download the MYLAPS app via the App Store or Google Play.*
Socials*
Stay up to date with all the happenings of the 2023 SAMX Championship by following SA Motocross on Facebook as well as Motorcycling SA on Facebook and Instagram.