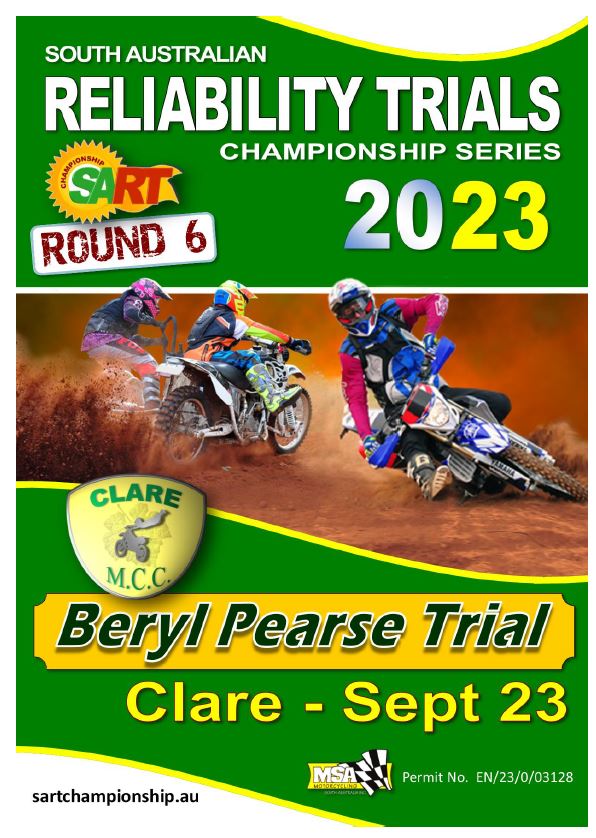 After a fantastic 2023 Reliability Trial Championship that felt like it all just started yesterday, the Clare MCC will present The Beryl Pearce Reliability Trial and officially wave the checkered flag on the 2023 SA Reliability Trials Championships this coming Saturday the 23rd of September.
After unfortunately not being able to go ahead in 2022 due to weather, all lights are green for this weekend and we couldn't think of a better way to finish such an action-packed year. To decide the final positions on the Championship points table, the Beryl Pearce Reliability Trial will be a full daytime format of 2 laps and around 6 hours of bike time to bring it all home. Don't miss out and have to wait till 2024…BE THERE!!
Entry List:
A stacked field of 106 riders are all set to take to the circuit for the last time this year and we couldn't be more excited. Returning with a 30-point lead for Outright Solo and the pressure off his shoulders, Rowan Pumpa will start his final championship round at 10:31 am from Main Control. With second place still up for contention, Clinton Voigt will be doing everything he can to keep the 17-point lead, ahead of the current Championship third place, Adam Wright.
After their round 5 win, the dynamic duo Max Hutchesson and Sam Hutchesson sit 1 point behind Sidecar Outright Championship leaders Shaun Buckley and Brett Harding. Only time will tell, who has all the right moves at Clare to take the top spot for the Championship outright Sidecar and who will have to settle for second place. Third-place team Ross Watson / Cooper Winter will still be feeling the heat coming into the weekend with current Championship fifth-place overall sidecar team Zak Smith / Brendon Noble sitting just 7 points behind. With current Sidecar outright fourth place team Daniel Plowman and Bradley Brook not taking to the course this weekend, this could be the perfect chance for Zak and Brendan to put the pressure on them to take over the podium third place for 2023 – Only time will tell!!
Check out the full competitor list & start times – HERE.
Picture: Shaun Buckley & Brett Harding by SandPlow Photography.                    Picture: Max Hutchesson and Sam Hutchesson. 
Where:
This year's Main Control has a fresh backdrop in the Clare Showgrounds Club Rooms and not in the pavilion as in previous years. Most importantly spectators, riders, family and friends can all come together for hot food and cold drinks behind the clubhouse.
With perfect weather conditions on the horizon for the upcoming final Reliability Trial of 2023, there's no better excuse to make the trip out to the Mid-North and take in everything Clare has to offer whilst you see all the final points dashes of the 2023 SA Reliability Trial Championships.
Competition Information:
Welcoming riders and spectators will be a picturesque challenging course spanning across the region and with the dry conditions coming up to the event, you can bet there will be plenty of dry, dusty unpredictable corners to catch out unsuspecting riders and add some spice to the day. Maps to all the perfect spectator spots will be available at Main Control, so head there first get all stocked up on food and work out where you're going to cheer on your favourite rider for the last time in 2023.
With riders briefing scheduled for 9:30 am and the first rider leaving main control at 10:01 am, better save the sleep-in for Sunday and get trackside early for a full day of Reliability Trial competition.
Course Information:
Below are all the key times to catch your favourite solo and sidecar riders at this year's Beryl Pearce Reliability Trial –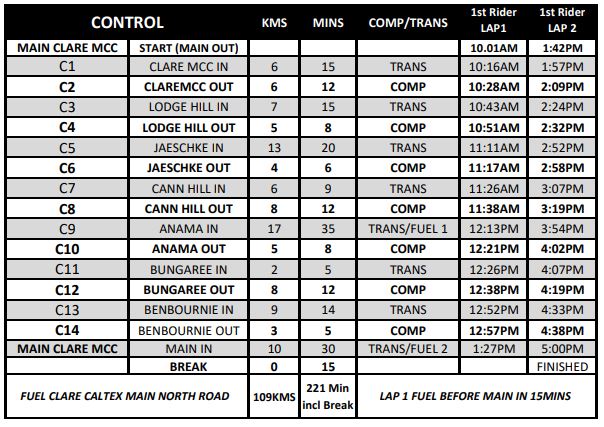 Live Timing:
Provisional Live results will be published on my.raceresult.com.
To access live timing…
 Go to sartchampionship.au and follow the "LIVE TIMING" links.
 Scan the QR code in the program or at Main Control.
 Live timing viewing will be available on screen at Main Control.
Final results published on the SART Championship Series website.
For Supp Regs, Rule Book, latest news & more, please visit sartchampionship.au
Final results will be published on the SART Championship Series website.
For Supp Regs, Rule Book, latest news & more, please visit sartchampionship.au
Socials*
You can also follow all of the SART actions on our social media by following SA Reliability Trials on Facebook and Instagram.
Save The Date:
The 2023 awards presentation night will be held on Friday the 13th of October 2023 at the Vine Inn Hotel – 14-22 Murray Street, Nuriootpa.
Make sure you save the date for a great night celebrating all the highlights of the 2023 South Australian Reliability Championships series. Bookings are essential so RSVP today to Kristy Schultz on 0419039728.