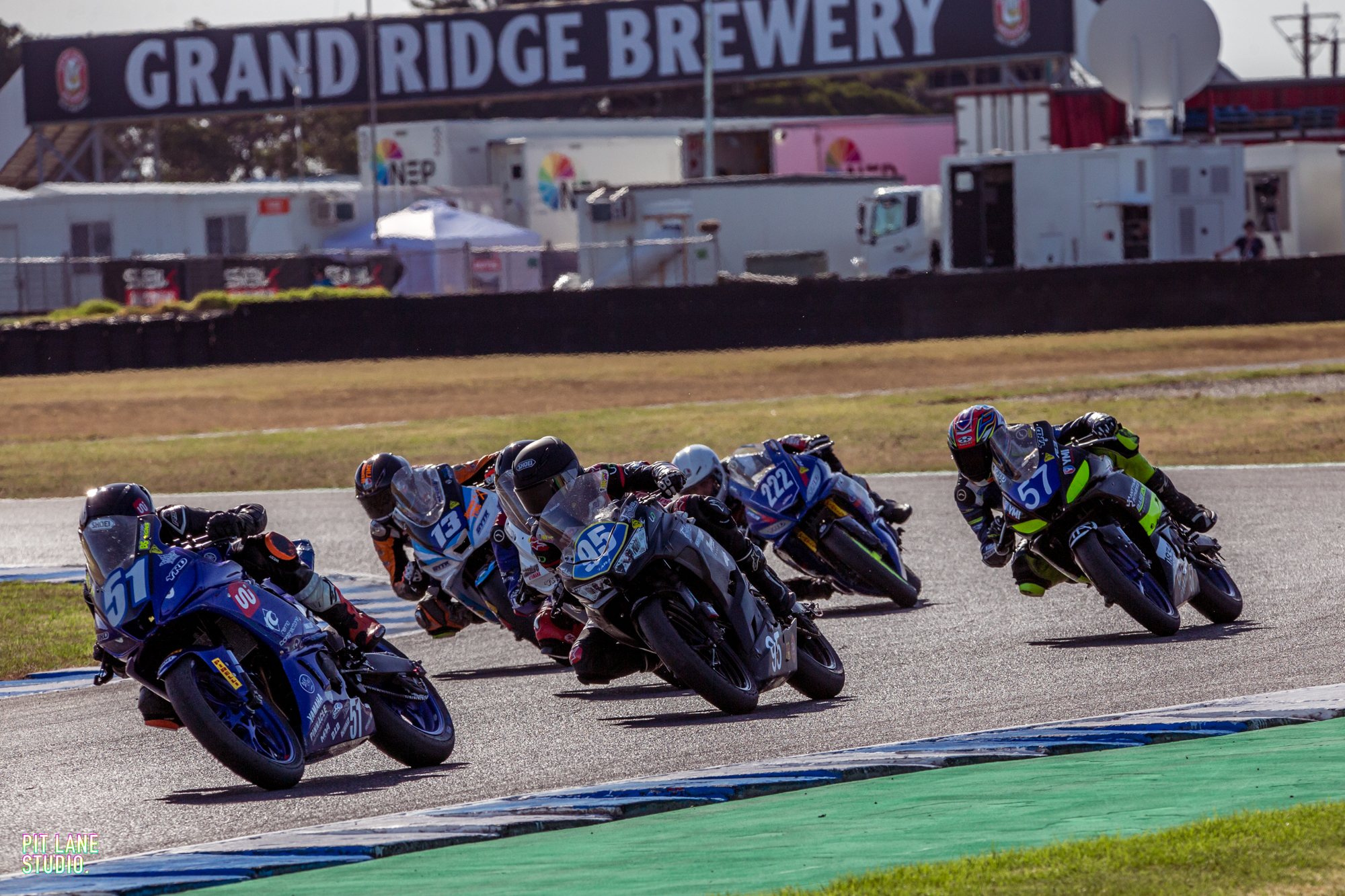 After a huge 2022 of fairy tale finishes and upset losses ASBK has made a roaring return and SA riders are there in force to make a statement.
2023 saw SA talent continue to beat personal bests and stand tall on podiums. Continuing the chase there was a hum of excitement leading into this years season through some incredibly fast times being put down in ASBK testing at Sydney Motorsport Park, giving a sneak peak into what's to come or Round One.
Round One kicked off on the iconic Phillip Island over the weekend of 25th to 26th February 2023 and SA was there in force with 15 riders lining up on the grid in their respective classes.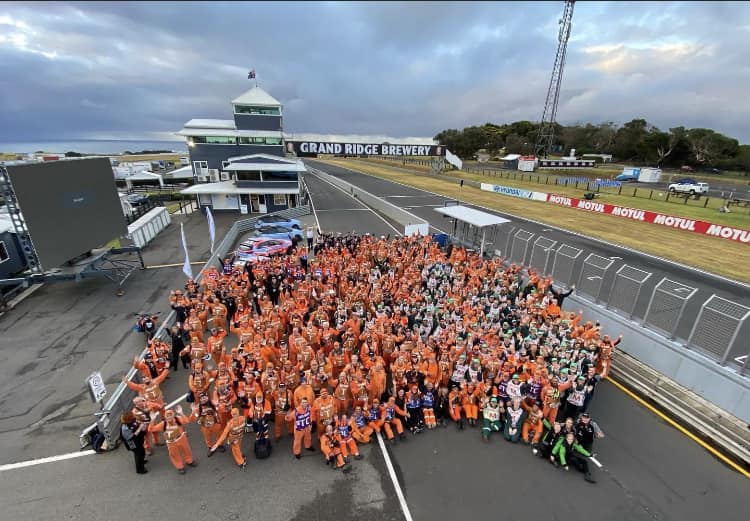 (A Great shot of all the officials from 📸 Russell Colvin)
Pit Lane Studio was one of the amazing photographers there catching the  action shots – See the photos: HERE. 
Superbike:
Superbike saw Arthur Sissis finished qualifying in top Ten with a Eighth Place, ready for Race One. Riding hard he came out shook off the previous start and finished Round Three in Fifth place. Race Three, riding very consistent he was able to finish in Seventh placing, giving him a strong Sixth place overall finish.
After a tough Qualifying 18th Michael Kemp pulled it back working hard up to a Ninth Place for Race One. Not Able to hold onto the Position he fell back in the field through Race Two and Three to a 14th and 15th place Finish, giving him a 12th overall. 
Jack Davis had a roller coaster weekend overall, Qualifying 16th place, he was taken out in both races One and Three, resulting in him needing to ride without traction control. After the 12th and 15th place finish in Races Two and Three, he walked away in 16th overall to round out the weekend. 
Supersport 600:
Ty Lynch had a cracker weekend in Supersport 600, just warming up from qualifying 11th, he clawed up to Eighth in Race One with sights set firmly on Race Two, fighting hard finishing on top with a First place. After getting caught up in the action on track Ty settled for a Fifth in Race Three but all the hard work had payed off sitting in First overall to kick off 2023 ASBK Supersport 600.
(The Champ, Ty Lynch. 📸 Pit Lane Studio)
Olly Simpson was riding hard as ever qualifying Third fastest, coming into Race One with a Fourth place finish narrowly missing podium. He was looking to take that podium place in Race Two sliding into second place before slipping off into the gravel at Turn Two, taking two other riders with him. Shaking off the outcome of Race Two, Olly charged hard taking out a podium Second place in Race Three and sitting Fifth place overall to round out ASBK Round One.
(Photos from James O'Hagan Photography 📸)
Dallas Skeer had a hectic start to the season to say the least. After a massive crash at the original practice weeks prior, there was doubt of him being able to make Round One. After both the team and he working their butts off to get everything in race condition, he arrived at Phillip Island and was there ready for Round One. Qualifying Fifth Saturday surprising himself and everyone and considering the crash left him three weeks prior with a fractured back. From then on Dallas took everything in his stride, including the weather. Race One left Dallas dropping down to 12th after a tough start. Pushing back up to top Fifth, he ended up with a Seventh overall. Last two races were a challenge when he was sent off the track early in Race Two and after working to get used to riding on an unpredictable drying track with wet spots, he ended up 15th and 13th in those races, and walked away with a 10th place overall. 
Mitch Simpson started the weekend getting his feeling of the track with exceptionally fast competition qualifying 25th and determined to make up the places. Race One saw him claw up 3 positions to finish 22nd. Not satisfied and with more in the tank, he had a spectacular Race Two, fighting through the field and finishing in Fifth place. Race 3 he rode well, in the mix of all the action finishing Eighth and leaving the weekend within top Ten in Ninth position.     
Young Declan Carberry was in the mix from the get go and pushing hard. With some bike challenges he was only able to ide 5 laps in the 25 minute Qualifying session but still taking a qualifying place of 19th out of a 28 rider field. The Team pulled the bike apart but and things were looking good with a great start to Race One but the bike temperature rose again after Lap Five, resulting in Declan needing to ride cautiously to get it over the finish line in 21st Place. With wet conditions in Race Two and being on the Second Bike Declan had sights set on making up lost time. With an exceptional start and working hard 10th place had been claimed by the Champ when a competitor crashed in front of him Ninth for the race. Sunday was a mixed bag of conditions with a drying track in places and exceptionally wet in others. After an ok start he fought his way into top 10 and getting in the position to battle for Third Place, it was looking to be an exceptional PB finish.  With his wet tires getting hot and traction becoming non existent, he continued on to finish Seventh place and leave with a 11th Place standing overall.  
(#220 Declan Carberry 📸 Pit Lane Studio)
(Above: The Iconic Phillip Island and our amazing officials. 📸 Pit Lane Studio)
Supersport 300:
You couldn't throw a rock without hitting a South Australian in Supersport 300. Cooper Rowntree lead the charge for the South Aussies qualifying a strong top Ten in seventh place heading into racing nailing a Tenth in Race One, bringing down to a fourth in Race Two, seventh in Race Three and finishing the weekend in ninth overall.
(Below – 300 Supersport Race 3 front runners coming over the rise and down into MG. 📸 Pit Lane Studio))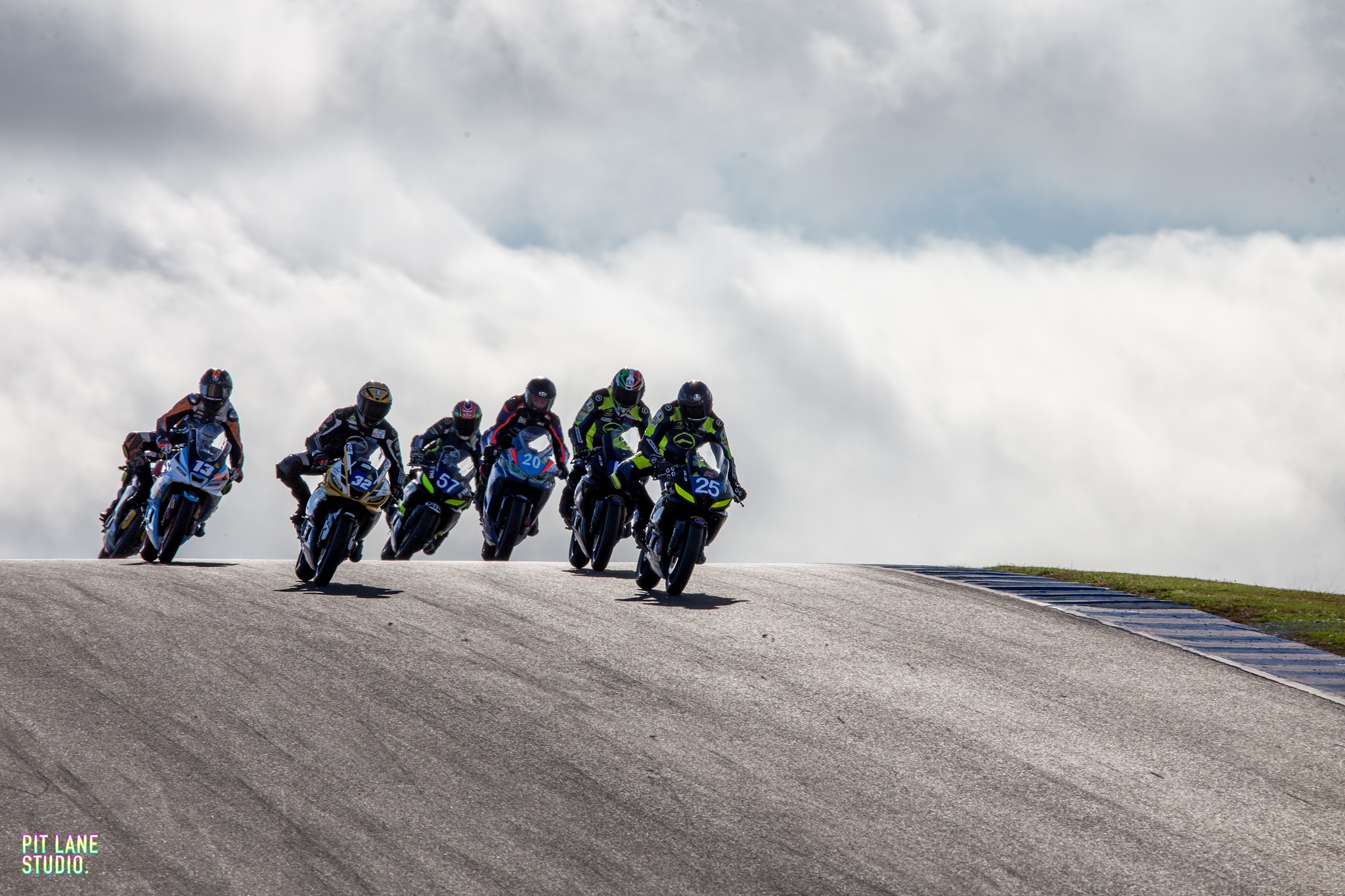 Tara Morrison had an up and down weekend, starting strong with a personal best eighth place qualifying but ran into trouble crashing in race one with fellow South Aussie Sam Pezzetta, fighting back with a 10th place finish in Race Two, however crashing again in Race Three and finishing in 17th overall.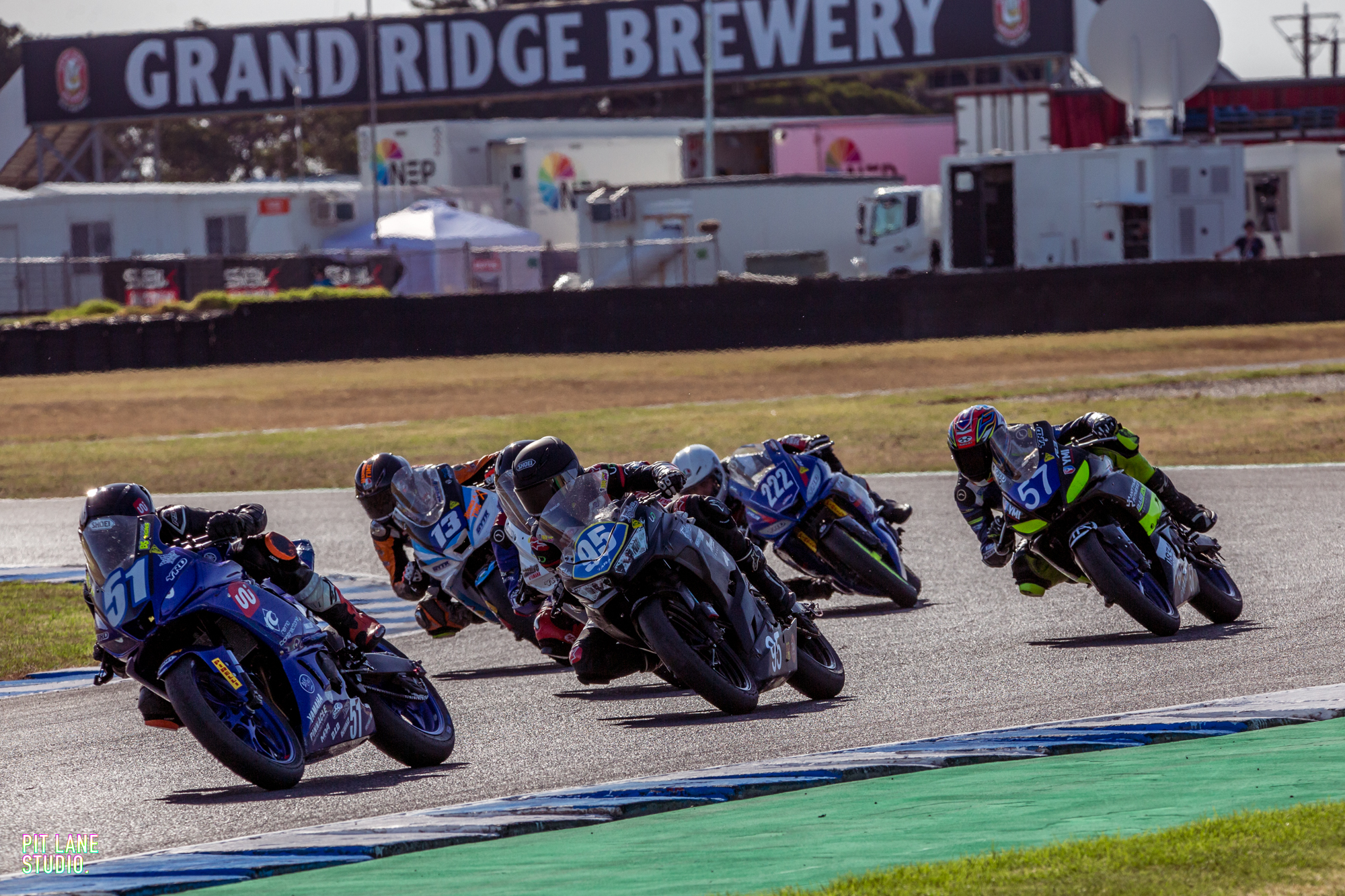 (Above: Tara Morrison #95 chasing Sam Pezzetta #51 with Cooper Rowntree #57 and the pack 📸 Pit Lane Studio))
Sam Pezzetta started the weekend incredibly strong running top times in Supersport 300 before a crash Friday. Fighting hard he ended up walking away with a qualifying 11th position. In Race One he and Tara Morrison had a massive crash and was not able to line up on the grid for Race Two. Determined to come back and score valuable series points he took out 11th place in Race Three and finished the weekend in 19th.
Sunday arvo saw Sam invited up on onto the main stage for some interviews with fellow South Aussie Ryder Gilbert whom both had the crowd laughing at their antics before being completely surprised by a visit from Toprak Razgatlıoğlu right before he was out for his race.
(Above: Pics of Sam on Stage from Pezzetta51 Racing)
Jordy Simpson rode exceptionally well and consistent starting off the weekend Qualifying in 18th, showing he wasn't to be taken lightly, picking off the competition places until finishing in 13th for Race One. Starting in 18th on the grid for Race Two, Jordy worked hard to move through the pack making up places, getting into 16th position by Lap Three  and  holding it off until Steve Sforzin and fellow South Aussie Ryder Gilbert managed to get past leaving Jordy in 18th Position for the race. Race 3 saw Jordy make his move early overtaking knight in the first lap and holding 17th position for 3 laps until he was able to make the move and jump up to 14th in Lap Five. Fending off constant attacks on the position, Simpson was taken and moved back into 16th Position where he finished the race and the weekend in 14th overall.
Brock Quinlan started the weekend taking all the conditions in his stride and working with everything the weather and his competitors could throw at him. Qualifying just outside of top 20 in 21st Place. Race One saw a jousting battle between Ryder Gilbert over the early laps until he was able to negotiate the carnage of the race and move from 23rd place in lap Four up to 18th position in the last 4 laps. Race 2 saw Brock and Steve Sforzin have a battle early on until Sforzin continued his charge up the ranks and Quinlan get pipped by Gilbert and Moylan in lap 5 to finish Race Two in 22nd. From early Race Three Quinlan got the move on Sforzin up to 20th position in the first lap. Mills managed to get past Quinlan between Lap One and Two, holding Brock in 21st until Brock could make the move stick on Lap 3 moving past Mills and hold on to finish the race in 20th and take home the rank of 22nd for Round One.
Phoenix Agar still finding his groove through practice and qualifying, was still smashing PB's and keen to show what he could do. After qualifying 26th, race one was going well chasing the group in front of him when a mistake into Turn Four of the First Lap meant he was unable to catch up but still able steer clear of crashes and finish in 21st with a personal best time. Race Two saw Phoenix work through the challenging weather conditions to start in 26th but keep in composed and finish the race in 23rd. Continuing his run of PB's Phoenix kept it upright and consistent finishing the weekend for Race 3 in 24th Position. 
Below are the overall results of all the South Aussies for ASBK Round One: