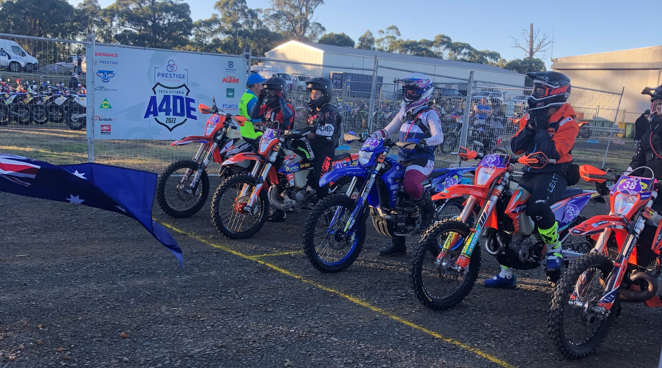 A regular on the SA Motocross and Enduro circuits, Chloe Barton recently had a crack at the unforgiving Australian 4-Day Enduro in Erica, Victoria alongside friend and fellow SA rider Isabelle Keane. Unfortunately, both riders were forced to retire from the event after the first day, battered and bruised from the ordeal. We sat with Chloe to speak about her preparation, what happened in the event, and what's next for her.
"Preparing for the event. I did as much riding as possible to get my bike fitness up and also went to the gym when I could," said Barton. "Like most people, I haven't been able to do much travelling over the last year, and have mainly just been on SA tracks. And I didn't go to Mildura in March for Triggy's Farm Enduro which was literally 3×30 minute motos in deep sand and hot weather!"
The lead up to the event was an endurance in itself, with a number of last minute hurdles thrown in Barton's way. "I seriously can't thank everyone enough who helped me get ready for the event because it was a stressful time! I'd had troubles getting moose tubes, tyres and other little things. But on the Friday before we were going to leave, I nearly set my bike on fire due to the lights' wiring system firing! But we were lucky enough to have some good friends who could quickly fit a new wiring system that same night, and we took off for Erica the next morning."
After arriving in Erica, Barton commented that the event was literally buzzing with activity. "Everything that was set up at the event looked so awesome, with all the teams and riders working together to get their bikes ready before going into scrutineering. It was great to see all the SA team riders under the same tent and there was a real sense of community amongst everyone. So many people jumped in to help me finish getting my bike ready, like trying to fit a side stand to my motocross bike!"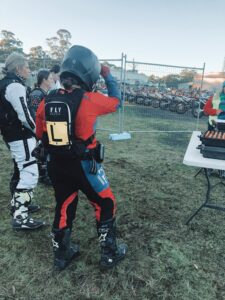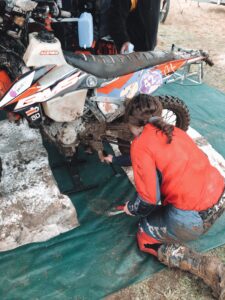 It was all systems go for day one, but a rocky first day saw Barton with some issues from the start. "On day one I had a few too many crashes which led to me being very sore," she recalls. "As the Saturday night progressed I started to get some abdominal pain. I was hoping it would go away overnight but unfortunately it didn't! I started day two and managed to get two tests in but by the time I had got to the fuel stop I was just in too much pain and overwhelmed. After I got back to main, I headed straight to the hospital to get checked out. Thankfully, I came out with muscular pain, it could have been much worse! I hate quitting, I can tell you that much, but due to the pain I decided to pull out.
"It was extremely challenging – nothing like I have ever ridden before that's for sure! It was tough when the quicker riders had to keep passing me as it was very tight so was hard for them to just pass me, plus the weather conditions it made it super tough as well. I was tempted to pull out on day one but told myself no, I can do this! But I tried my best to keep going but just couldn't."
Not deterred, Barton is already talking A4DE 2023. "I definitely want to give it another crack that's for sure," she exclaimed. "I'm not done yet! It's in Western Australia next year which is sand and that's more my thing. Fingers crossed I can make it over there but in the meantime I will continue to work on myself as a rider and person
In the following weeks I have the 2022 Finke Desert Race coming up so that's the next challenge and then few weeks after that I have Penrite Hattah Desert Race. Plus in between, I have the SA Motocross and SA Off-Road Championships to focus on."
Facebook: /Chloe-Barton-28
Instagram: @chloebarton28
Sponsors : Fly Racing Aus, BMS Racing, Butlers Mechanical Services, Paint Tech, Utilities Constructions, Emar Seats, Get Displays, Funnel web filters, Bike Tune, GBF clothing,  Methanol Moonshine and AGI Hire.