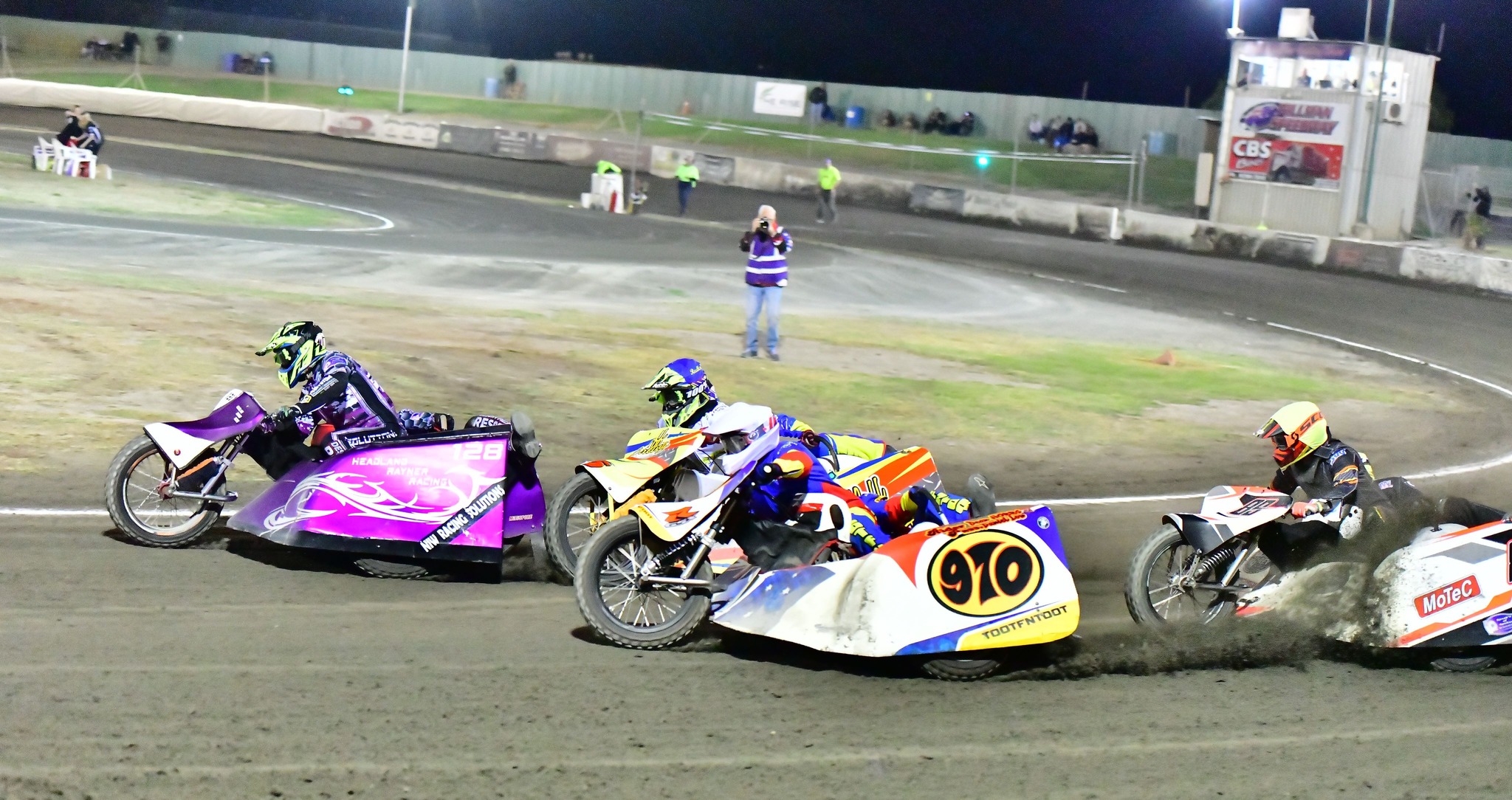 Gillman Speedway was the place to be Saturday, 25th March, with the Speedway Riders Association of SA presenting the 2023 Paintmaster SA Sidecar Cup. Spectators were in for a huge final meeting of the season, with a stacked field of sidecars battling it out for both the main race and also one lap, $500 dash for cash. Adding this with solo racing, flat track solos and packed support categories, resulted in a massive night for one and all.
With cold hard cash on the line, riders were giving it their absolute all to take home the biscuits. After exceptionally tight lap times being thrown down, Shane Rudloff and Scott Morris took home the cash prize with a stellar time of 14.53. Well done lads!!
Nate Headland / Byron Mordaunt had a clean, fast night. After a second-place finish in the first race, they made up for time lost to power through the remaining heats with firsts, to get into the finals and take the top spot. Followed closely in second after a great night of racing, Shane Rudloff / Scott Morris held off Dean Hobbs / Daniel Low, who had to settle for third. After a night of fighting through the packs and qualifying through the Semifinals, Nathan Fleet and Eric Melton rounded out the podium in fourth place.
A full breakdown of night heats – HERE
Photos courtesy of Derick Thomas Photography.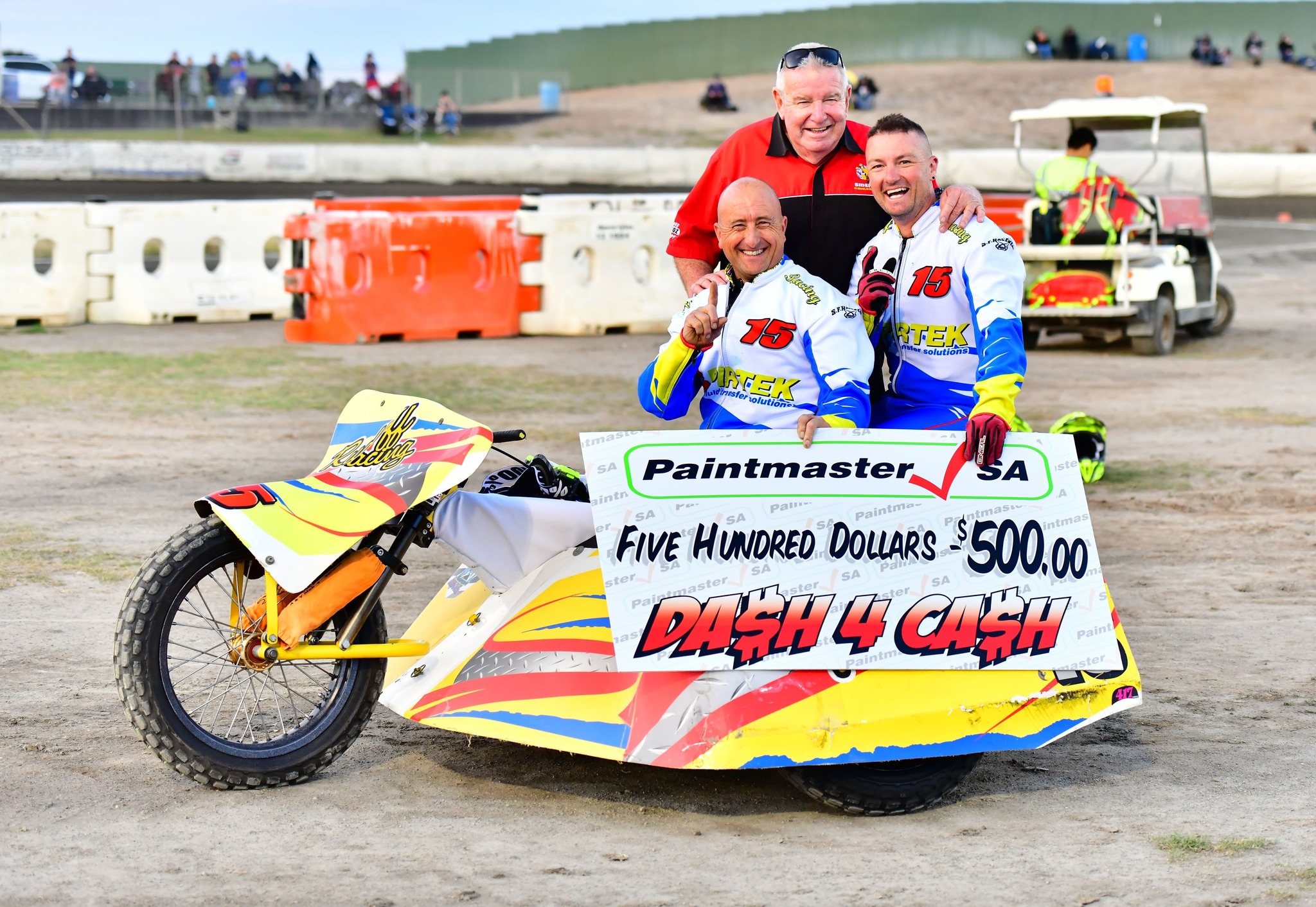 Rankings for the night:
$500 Dash for cash:
Shane Rudloff / Scott Morris 14.53
Paintmaster Sidecar Cup:
1st Nate Headland / Byron Mordaunt 11 Points.
2nd Shane Rudloff / Scott Morris 11 Points.
3rd Dean Hobbs / Daniel Low 10 Points.
4th Nathan Fleet / Eric Melton 5 Points.
5th Brian Silvy / Dean Cottrell 9 Points.
6th Jash Pascoe / Matt Crawford 4 Points.
7th Aaron Silvy / Jaron Silvy 5 Points.
8th Kane Golding / Isaac Amos 2 Points.
9th Adam Pascoe / Axel Brereton 0 Points.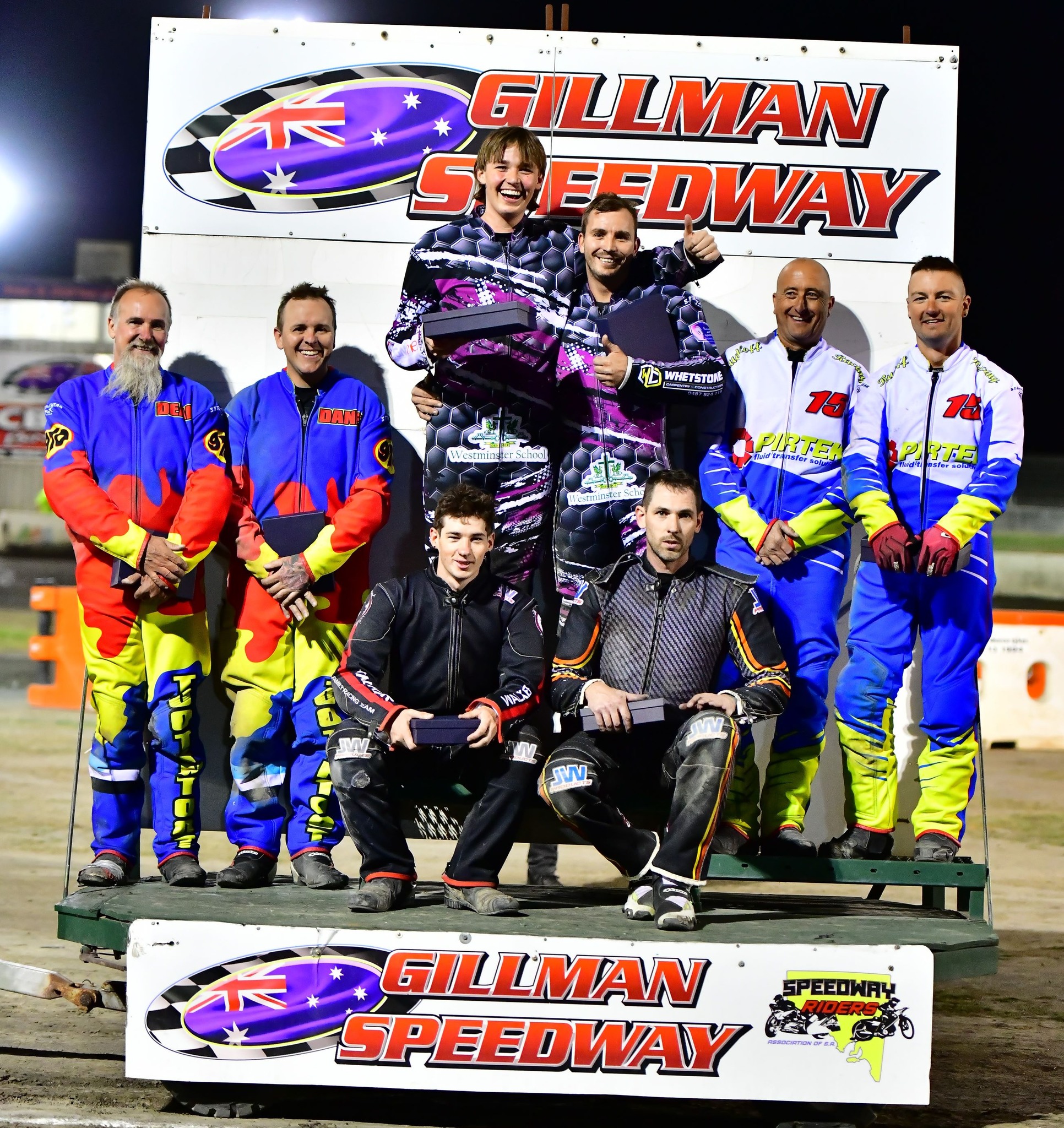 Solos:
Michael West 11 Points.
Brayden McGuinness 10 Points.
Flat Track Solos.
1st Michael West.
2nd David Footner.
3rd Brent Webley.
4th Con Twist.